University of Washington School of Public Health
Jane Vaccaro
Share: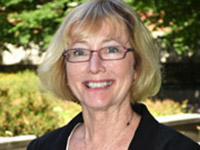 The 2015 wildfire season was the worst in Washington State history. It was particularly devastating for tribal communities that fought to protect their lives, homes and businesses, while the blaze engulfed thousands of acres of traditional hunting and gathering grounds they regarded as sacred.
For Jane Vaccaro (MPH, Occupational and Environmental Health Nursing 2016), the fires underscored the impact that disaster can have on Pacific Northwest tribal communities. Especially those already geographically isolated and historically disadvantaged.
Vaccaro, who worked as a nurse for several decades and volunteered with the Pierce County Medical Reserve Corps (MRC), wanted to help tribal communities build capacity to respond to and recover from disasters and emergencies.
An MRC is a group of volunteers trained to respond to natural disasters and emergency situations. The MRC program, run by the U.S. Department of Health and Human Services, has more than 200,000 volunteers enrolled in 1,000 units nationwide.
For her practicum, Vaccaro went to work with the Northwest Tribal Emergency Management Council as an MRC coordinator. NWTEMC helps tribes develop offices of emergency management and provides training to tribal members to prepare them for managing incidents. NWTEMC's members include federally recognized tribes in Alaska, Idaho, Oregon and Washington.
The Council worked to create tribal-based MRC units that strengthened the community's emergency response, while remaining culturally sensitive to tribal sovereignty. As sovereign nations, tribes self-govern and enact their own laws.
Vaccaro helped to develop a toolkit to guide the tribes through the process of starting an MRC. She also planned a blood drive at the annual Northwest Tribal Emergency Management Conference and helped to create a social media strategy for NWTEMC to use in the event of a disaster.
"One of the most valuable aspects of this practicum involved attending NWTEMC meetings and hearing members share the emergency situations they have recently faced, " Vaccaro said. Issues have included wildfires, smoke exposure, floods, hazardous material spills and avian flu. Future issues could include the security of their "first foods" and threats from hazardous rail shipments.
"The practicum really drove home what we can learn from the tribes, and the relevance of the work we are doing in DEOHS," Vaccaro said.
After she graduates, Vaccaro wants to pursue a career in disaster planning. She wants to address the public health implications of climate change, and its impact on a community's resilience to disaster.