University of Washington School of Public Health
Equity, Diversity and Inclusion Committee
The Equity, Diversity and Inclusion Committee is a school-wide governing body that works to foster a diverse, inclusive, engaging, challenging, and supportive social, intellectual, and scholarly learning environment that is open to diverse beliefs, values, ideas, perspectives, and backgrounds.
The current charge of the Equity, Diversity and Inclusion Committee is to develop and advocate for policies and initiatives that will improve the diversity of the SPH community. The Committee reports to the Dean of the School of Public Health and is responsible for mobilizing students, staff, and faculty to support and implement such policies and initiatives. Further, the Committee will establish mechanisms to monitor, measure progress, and promote accountability towards these goals.
Consistent with the SPH Strategic Plan 2012-2020, the Committee will focus on the following priorities:
Curricula: In collaboration with the SPH Curriculum and Educational Policy Committee, strengthen diversity within the school's curricula, including material and methodologies for understanding and addressing socioeconomic status, class, race, and other social determinants of health.
Faculty, Staff and Student Recruitment and Retention: Develop and implement recruitment policies and measurable goals that ensure searches produce a diverse applicant pools. Develop and implement initiatives for mentoring and retention of underrepresented minority faculty, staff and students.
Climate: Work to create and sustain a welcoming climate for diversity. Develop and implement activities including ongoing professional development for faculty and staff so that they can provide such a climate for students and for each other, and a built environment that is welcoming and accessible for all people and cultures.
Race and Equity
MLK Award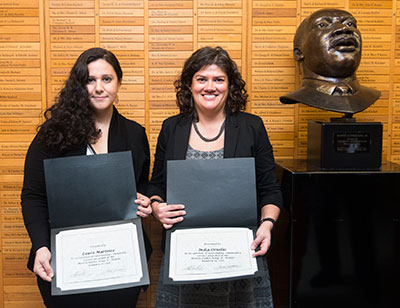 Diversity Committee Wins - Martin Luther King Award