University of Washington School of Public Health
William Foege Awarded Presidential Medal of Freedom
Share: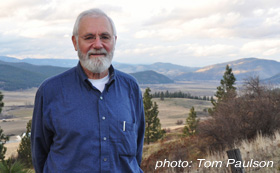 He's helped save millions of lives around the world, received numerous distinctions, and has a building named after him at the University of Washington.
Still, when William Foege learned of his latest award – the Presidential Medal of Freedom, the nation's highest civilian honor – he responded with typical humility. "They need to improve their vetting process," he said.
Foege, a UW alum and global health visionary, was named one of 13 recipients of the medal. The late UW alum Gordon Hirabayashi, a Japanese-American who fought being sent to an internment camp during World War II, also was named a recipient. President Obama will present the awards at the White House later this spring.
"It came as a complete surprise. It's one of those things you don't think about," Foege said from his home in Atlanta, where he moved from the Pacific Northwest earlier this year. "The personal embarrassment is balanced by the attention that it gives to global health. Global health when I was in school was not something that was talked about at all."
Foege is credited with devising the strategy to eradicate smallpox in the 1970s, saving countless lives.
He has served in numerous posts throughout his life, including director of the US Centers for Disease Prevention and Control and most recently Senior Fellow at the Bill & Melinda Gates Foundation. He also is a professor emeritus at the Rollins School of Public Health at Emory University in Atlanta and an affiliate professor of epidemiology at the UW School of Public Health.
Foege attended Pacific Lutheran University, received his medical degree from the UW and earned a master's in public health from Harvard University.
When he was a medical student, Foege recalled, there were only about three faculty members interested in global health.
"It has just gradually come of age, and then in the past 10 years everything has changed," he said. "I often tell students that when the book is finally written about global health, it will say the tipping point was about 2000 and due to Bill and Melinda Gates. They changed everything."
Now the UW has a global health department, companies make products related to global health, and numerous research programs are devoted to it. "I hope this [award] actually highlights that rather than me," Foege said.
He said one of the most pressing health issues is "getting a delivery system that is as good as our tools." The US now routinely uses 18 vaccines, compared to two when he was a child, but Foege said not enough people are getting vaccinated.
His message for other scientists? "The real leaders in public health are those who can pull together a coalition and make it work. No one does it alone."
Although many people had a hand in containing smallpox, Howard Frumkin, dean of the UW School of Public Health, said Foege was "absolutely central to it."
"I can't think of anyone in the world more deserving of the Presidential Medal of Freedom than Bill Foege," said Frumkin, who worked with Foege at Emory. "His public health accomplishments are enormous, but more than that, his moral vision, his personal integrity, his humility and his humor have been an inspiration to everybody he worked with. He's an absolute legend."
King Holmes, chair of the UW Department of Global Health, noted the William H. Foege Genome Sciences and Bioengineering building and the endowed chair of the global health department are named after the scientist.
"Far beyond the eradication of smallpox, he has been a mentor and an inspiration for everyone in the field. And he has been responsible for the emergence of the field of global health," Holmes said.
Foege said he was honored to be on the same list as Hirabayashi, a UW student who challenged his arrest for refusing to board a bus to an internment camp during World War II. "Gordon Hirabayashi has been a hero of mine for a long time," said Foege, who once spoke with Hirabayashi about 40 years ago after reading a book about the internment camps.
"I just always regarded him as a class person," Foege said. "Part of my joy [in receiving the award] was mixed with real sadness." Hirabayashi died in January at the age of 93.