University of Washington School of Public Health
A Global-to-Local Approach in the START Program
Share:
It's a dream assignment: Helping the Bill & Melinda Gates Foundation tackle some of the world's most pressing health problems. For the last two-and-a-half years, more than two dozen UW graduate students have been doing just that, under an innovative program in the Department of Global Health called START (Strategic Analysis, Research & Training).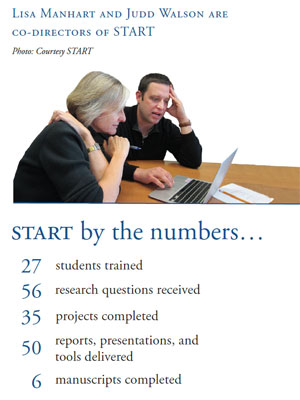 Which new drugs work best to fight tuberculosis? Which mobile health tools should be scaled up to improve HIV care? Is indoor air pollution a major cause of health problems in developing countries?
These are some of the questions students have pursued in small teams—mentored by faculty—during their work with START. Students get real-world experience and training while the Gates Foundation gets help to achieve the greatest impact.
"The caliber of student we get is incredible," says Saara Romu, a senior project officer for the Gates Foundation. "They and the faculty are so passionate about the subjects they are researching." Romu established this and a similar program at the UW Foster School of Business, where she earned her MBA. Both programs were modeled on a previous small agriculture venture with the UW Evans School of Public Affairs.
The highly competitive START program is open to all UW graduate students. Students receive a tuition waiver and stipend, and handle anywhere from two to three projects at a time. Ideas are fine-tuned until they become specific research questions. "The teams bounce ideas back and forth, and we have a rapid response and turnaround time," says START Co-Director Lisa Manhart, an associate professor of Epidemiology and Global Health. "Because it's not tied to an academic calendar, we can take a project at any point in time."
One research project centered on low-cost solutions to treat diarrhea, the second leading cause of death in children under five, worldwide. Oral rehydration (ORS) and zinc are inexpensive and highly effective, yet are not widely used in all settings. Why did some countries scale this up successfully and others did not? Students wrote case studies that showed where and why implementation of ORS worked best. The findings were published in the Journal of Global Health and discussed in a New Yorker article by Atul Gawande.
"START has been an incredible opportunity to use my field experience in an innovative research setting," says MPH student Jillian Pintye, who contributed to the ORS study. A registered nurse by training and a former Peace Corps volunteer, Pintye also was able to interview some of the world's leading researchers on soil-transmitted helminth infections, a neglected tropical disease affecting the world's poorest communities.
The START program has worked so well that it's about to expand. It will become a formal center and will begin to accept assignments from other global health organizations in Seattle. "There's no limit to the number of potential clients," says Judd Walson, START's other co-director and an associate professor of Global Health and Epidemiology. The ultimate goal is to become a self-sustaining center, Walson says.
At the same time, START will begin working on domestic public health issues, applying a global-to-local approach. Tao Kwan-Gett, director of the Northwest Center for Public Health Practice, will head the local projects. They will likely be similar in scope to recent projects done by UW student–faculty teams at Public Health - Seattle & King County, he says. One of those projects looks at determining how to monitor the impact of the Affordable Care Act in the region, while another surveys local health departments to learn about their sugar-sweetened beverage policies.