University of Washington School of Public Health
New Study Aims to Find Links between Mental Health, Drug Use and Gun Ownership
Share:
Grandmothers Against Gun Violence makes its first-ever donation for gun violence prevention research to the UW School of Public Health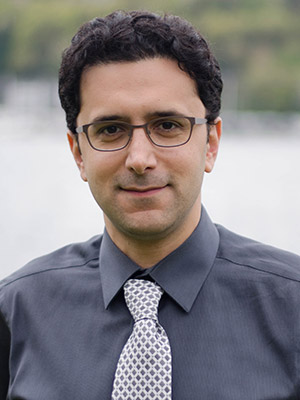 The University of Washington School of Public Health is taking an important step toward reducing gun violence in communities, thanks to a gift from Grandmothers Against Gun Violence (GAGV). The School will lead the first study in 10 years to use mental health data from the longest-running national survey system to inform gun safety policy.
The Grandmothers group donated $10,000 to support the study by Ali Rowhani-Rahbar, a pioneering gun violence researcher and associate professor of epidemiology at the School. GAGV President Margaret Heldring presented Rowhani-Rahbar with the gift during a Sept. 22 meeting in Seattle.
Over the past few years, Washington state has collected valuable information on firearm ownership and storage practices through the Behavioral Risk Factor Surveillance System, a large telephone survey system tracking health-related risk behaviors, chronic health conditions and use of preventive services.
"This generous gift will provide us with a unique opportunity to analyze these data and examine the relation of mental health and substance use with firearm ownership and storage practices," Rowhani-Rahbar said. "Our investigation will be the first in more than a decade to use data from this surveillance system for answering impactful questions that can inform firearm safety policy and practice."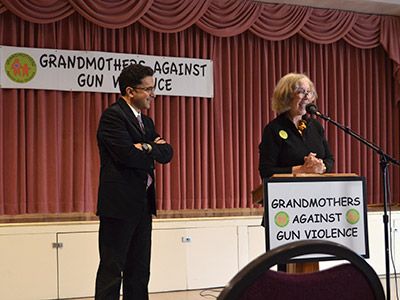 With the funding, Rowhani-Rahbar will work with Erin Morgan, a master's student in epidemiology at the School, to parse through recent data from the surveillance system regarding gun ownership and storage in Washington state. The GAGV contribution will support this analysis through the School's Gun Responsibility and Injury Prevention Research Fund.
Washington Gov. Jay Inslee also attended the GAGV event, where he outlined his support for policies and programs that emphasize responsible gun ownership and stronger community-based mental healthcare. GAGV is a grassroots organization committed to working "collaboratively with other groups to reduce gun violence and remedy the complex societal factors that contribute to a culture of gun violence."
Learn more about Rowhani-Rahbar and his gun violence research.