University of Washington School of Public Health
SPH students recognized by Washington State Public Health Association for impact
Share:
Two students from the University of Washington School of Public Health received Exceptional Student Awards from the Washington State Public Health Association during its annual conference last month in Wenatchee.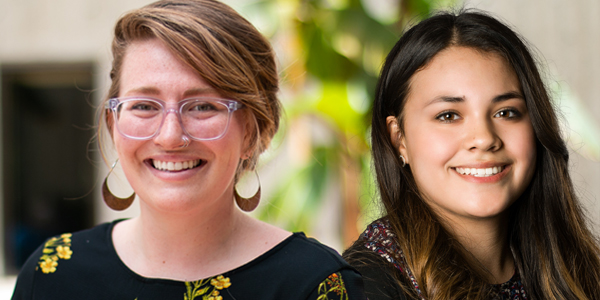 The awardees were Jessica Rock, a graduate student in the Community-Oriented Public Health Practice (COPHP) program, and Teresa Mata-Cervantes, a senior in the Public Health – Global Health major.
Rock, who is working toward her MPH, has worked on several evaluation projects over the last two years that span criminal justice reform, homelessness and racial disparities in academia. Currently, she is developing an evaluation and some recommendations for a local organization that supports restorative justice and community-driven youth felony diversion in Seattle.
Prior to the UW, Rock worked for the Whatcom Alliance for Health Advancement in Bellingham, Washington, where she oversaw health insurance enrollment across a five-county region. In this role, she successfully connected 60,000 people to health coverage. Rock has a bachelor's in political science and American public policy from Western Washington University.
Mata-Cervantes is also passionate about health equity. This past year, she conducted a literature review that will inform the development of a culturally tailored mobile health device to expand access to health care for Latinx families and to enhance health promotion efforts by promotoras de salud or community health workers. Mata-Cervantes also conducted a qualitative focus group in Wenatchee with promotoras to explore their education practices and technology needs and to understand how they can be better supported in their work. Additionally, she is assisting on a project that aims to prevent sexual harassment in agriculture through online resources and a worksite training video.
Mata-Cervantes plans to pursue her MPH after she graduates in December. She hopes to return to her hometown of Wenatchee to work for the local public health district to advocate for policies and design programs that improve the health and well-being of minority groups.