University of Washington School of Public Health
Close Up June 2015: SPH Omenn Award-Winners
Subscribe to Close Up | Close Up archives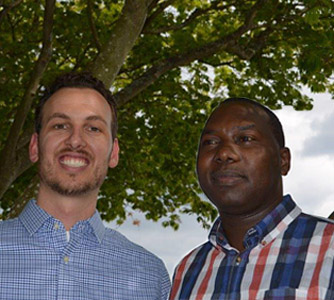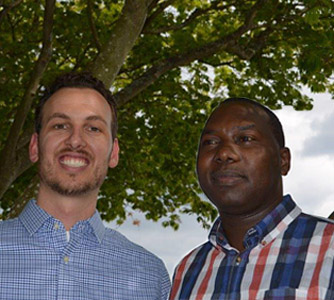 "The Gilbert S. Omenn Awards for Academic Excellence recognize outstanding scholarship and commitment"
Omenn Award-Winners


Trevor Peckham, Peter Cherutich
Each year, the School honors two outstanding graduate students – one PhD and one master's – for their academic excellence and commitment to public health. This year's winners of the Gilbert S. Omenn Award for Academic Excellence are Trevor Peckham, who earned dual MS and MPA degrees, and Peter Cherutich, the first graduate of our new PhD program in global health metrics and implementation science.
Peter Cherutich, PhD, Global Health Metrics and Implementation Science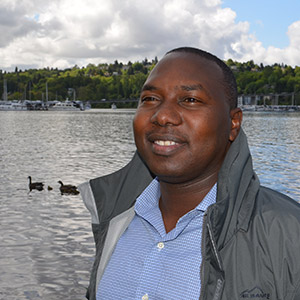 Peter Cherutich isn't about to apologize for a recent controversy over condom ads in Kenya. As deputy director of Kenya's National AIDS and STI Control Program, he took heat two years ago after government-sponsored ads promoted condom use among married couples who had affairs.
"We have to go out of our way to address very difficult questions," Cherutich says. "This was an ad targeting a very key group."
Surveys had shown up to 30 percent of married couples had other sexual partners, but most did not use condoms. The ads were ultimately withdrawn after complaints from religious leaders, who said they encouraged extramarital affairs. But Cherutich remains unrepentant. Kenya, after, all, is a country where 6 percent of adults are HIV positive.
"I got in trouble for it, but I think it's worth it," Cherutich says. "In the long run, it's better to be on the wrong side of bureaucracy and do something that's right."
Cherutich isn't afraid of tackling difficult subjects. As a PhD student, his research explored ways of reaching out to the partners of HIV-infected people – a huge public health issue in a country where it's estimated more than half of those infected don't know they have HIV.
"We ask those we test to give us the names of their sexual contacts," Cherutich says. "We reach out to the partners and get them to test and then link them to HIV care."
Cherutich, who has a medical degree and is founding chairman of the Public Health Society of Kenya, is also proud that Kenya was one of the first countries to adopt an intervention on medical male circumcision as recommended by the World Health Organization and the UN. He helped design strategies that provided circumcision to about 800,000 men between 2008 and 2012.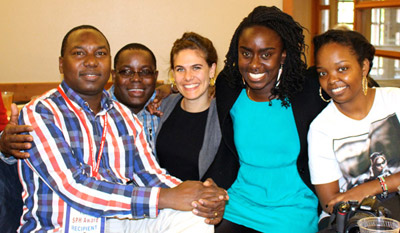 "Previous trials showed that male circumcision was approximately 60 percent effective in protecting against acquisition of HIV," Cherutich says. "We are confident we've made an impact, but we need to demonstrate that, and I think that's part of the reason why I came to the UW – to gain expertise and competence to evaluate large-scale programs. We are putting together a partnership to evaluate that program."
Cherutich actually came back to the UW. He earned his MPH (Epidemiology – International Health) here in 2006, after Ruth Nduati (MPH, Epi '94), an affiliate associate professor, encouraged him to seek further public health training.
Cherutich says he looks forward to "diving into the deep end" and applying his latest skills in Kenya's Ministry of Health, where he holds a deputy director-level position. He defines implementation science as the field that seeks to translate what is already known – from scientific experiments – into policies and programs that "are good for the health of the people. It's also the art of designing, delivering and measuring the impact of programs at a population level in order to reduce the health gap."
"My desire would be to continue with unfinished business in HIV, but I am also keen to provide innovative solutions to the emerging non-communicable disease burden. Because of changes in demographics, Kenya is beginning to witness increases in diabetes, hypertension and cardiovascular diseases, which really no one is paying attention to."
Trevor Peckham, MS, Environmental Health, MPA, Specialty: Environment and Natural Resources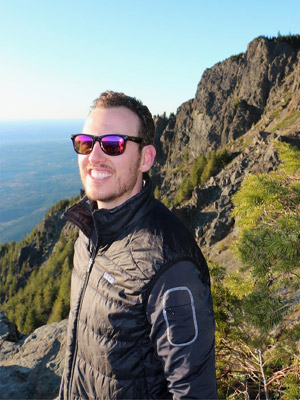 After three years earning two master's degrees at the UW, Trevor Peckham says he is able to "connect the dots to see the broader picture about how science interacts with policy."
The Southern California native sees environmental health in broad terms, and believes policy plays a huge role in making better decisions about the way we manage the environment. His graduate research focused on benzo[a]pyrene – a chemical byproduct of combustion at industrial sites – and risk assessment.
"Risk assessment, basically, is trying to analyze – through available scientific knowledge and accepted methods – the level of risk that's present for human health," Peckham says. "To do a risk assessment, you first have to do an exposure assessment. Risk is exposure times hazard, and hazard is how toxic the chemical is. Exposure is how it gets into the body."
Working with John Kissel, professor of environmental and occupational health sciences, and other colleagues, Peckham says there is reason to doubt the current science used to calculate the risk for benzo[a]pyrene at contaminated sites. "There is particular concern that we're underestimating risk for all chemicals that can be absorbed through skin from soil," Peckham says. "It's because of the method we're using to evaluate it."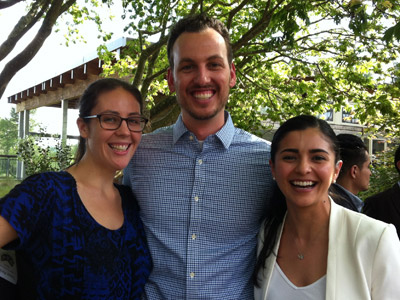 He explains: "My experience was all about finding this one number, a default value for a risk assessment. But that number can have millions of dollars of impact because the risk assessment sets the level of contamination that's acceptable at a site. Depending on what level you have to remediate at, that has huge cost implications."
Peckham's research includes a recommendation to the U.S. Environmental Protection Agency that strengthens the case for adjusting the way exposure is calculated. "The funding for my project comes from the Departments of Defense and Energy and the EPA because the government is really concerned about all the contaminated sites they have and the safety for workers who clean them up," he says. "It's not only workers. This can happen at a site they want to develop into houses. Children playing in the dirt is a big driver. We're advocating for a more health-protective, science-based approach."
Before coming the UW, Peckham worked as a project manager for James Dahlgren, a medical doctor who was the primary expert in the chemical-dumping case made famous by the Erin Brockovich movie.
Peckham traveled across the U.S., studying populations living near sources of chemical pollution, such as manufacturing plants. "It was an eye opener – seeing places I would not likely see otherwise and getting a deeper understanding that all of these goods we consume are made somewhere," Peckham says.
The cases he worked on were usually litigated, and it made him wish for more collaborative approaches. "There's got to be a better way than to hash this out in the courtroom every time," he says.
That's what eventually led him to pursue degrees in public health and public policy at the UW.
"I've got to have a sense that I'm making positive change," he says. "Public health is a great place to operate, obviously."