University of Washington School of Public Health
Graduate Student Profile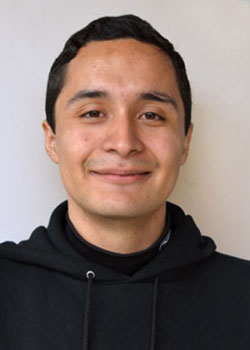 Cesar Torres
3rd-year PhD student, Biostatistics
Hometown: Chula Vista, CA
What's your interest in public health?
Since I was a kid, I've always wanted to help people. I want to have a positive impact. With my strength in mathematics, I figured biostatistics was the way to go.
What did you do before you came to grad school?
I was a substitute teacher for 1½ years in the Chula Vista elementary school district. While it was fun, it was a lot of work. People said I should use my math for other things.
Why the UW?
It has one of the top Biostatistics departments. When I visited in February, I fell in love with the city. There's such a variety of food, even more than San Diego. My mother's from El Salvador, and there's even a Salvadoran restaurant here. The pupusas were authentic.
Memorable experience?
In February, I walked around at night. I fell in love with the architecture of the campus.
You're working now?
Ten hours a week at the UW Clinical Trial Center. I'm cleaning data and de-identifying it for submission to the government.
Future plans?
I'm still exploring other areas, but I wouldn't mind working for a research institute or the Food and Drug Administration – making sure things are safe for people and the market. My research interests are clinical trials and cancer research. Growing up, I always felt sad that we hadn't found a cure for cancer. That's my lofty dream. Maybe contribute to that before I die.
Difference between grad school and undergrad?
It takes 100 percent of your effort. It's a lot more work, especially the level of thinking required for an assignment. As an undergraduate (at UC San Diego), an assignment took me about an hour. Here, it takes about four or five hours.
What do you do for fun?
Physical activity, Skyping with friends. When I have the time, I go to Green Lake for a jog. In winter, I'm looking forward to trying snowboarding.