University of Washington School of Public Health
Graduate Student Profile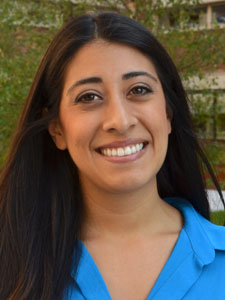 Jonae Perez
2nd-year MPH student, Nutritional Sciences
Hometown: Moorpark, CA
What draws you to public health?
I like the idea of having a larger impact on society through policy development. I'm really passionate about the preventive aspect of public health – fixing it before it happens.
Why study Nutritional Sciences?
I studied kinesiology at California State University, Long Beach and knew I wanted to be a health care professional. I was very interested in behavioral health, and was studying exercise science, but through volunteer and personal experiences I became extremely passionate about working with the maternal and child health population. Nutrition is especially important in these individuals, so it seemed like a perfect mix between hard science, public health and behavioral interventions.
Why choose the UW?
I applied here because the Nutritional Sciences program is one of the best in the country. The Graduate Coordinated Program in Dietetics combines public health coursework with nutrition-related internships that are required to become a registered dietitian. I love UW's emphasis on an interdisciplinary approach and evidence-based practice.
Advice for others?
I cannot say enough about the people in the program. The faculty are not only some of the best known professionals in their fields, but they also really care about us and our aspirations. Get to know your professors. Opportunities come up all the time. The more people you know, the more they know you. I've had so many opportunities to network and gain experiences in things I'm interested in. They really encourage you to work with anybody you want to.
Memorable moment?
I have had many. I have enjoyed being the nutrition program's maternal and child health trainee for the past two years. Networking, attending leadership seminars and conferences, and working on interesting projects with other trainees has been great. Also, I was able to intern with the Healthy Eating Active Living section at the local Public Health Department this past summer. As my first hands-on public health experience, I loved the fast-paced, health-promoting environment and I look forward to gaining more.
Future plans?
To practice as a Registered Dietitian. I really want to work clinically with children with special health-care needs, such as those with autism or neurological disorders. And I hope to develop experiences that will help me pursue a future in maternal and child health policy development.
When you have free time?
I like to play sports. I played first base on my college softball team and continue to play volleyball, golf, football and other things. I like to go hiking and kayaking. There's truly nothing better than a summer in Seattle. It's beautiful and I take every opportunity to get outdoors!