University of Washington School of Public Health
Graduate Student Profile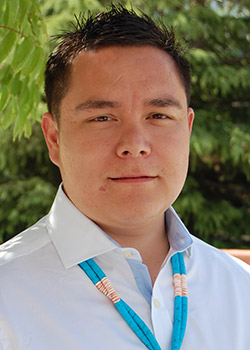 Gabriel Cortez
MPH student, Health Services (Community-Oriented Public Health Practice)
Hometown: Aztec, New Mexico
Can you tell us a bit about your background?
My mom was Navajo and my dad is Hispanic. I'm one of four kids, all boys, and the first to finish college and go to graduate school. My mom raised us 40 minutes away from the Navajo reservation, because she wanted us to have better educational opportunities. She thought she was giving us a leg up—and now I'm here at one of the best schools in the nation.
What motivates you about public health?
How I can actually make change in my community. For example, New Mexico has a lot of issues that need addressing, including food insecurity. There are kids going to school hungry and that can't be happening. I think about how much of a need there is in my home state and my community to improve people's lives.
Also, I lost my mom when I was 21 from complications with stress, hypertension and type 2 diabetes. All of these health issues persist in Native American communities. It has to do with colonization, poverty and lack of opportunity. She had to work two jobs all her life and still barely made ends meet. That's the economic disadvantage of someone who doesn't have a college degree or limited opportunities to succeed. It's the social determinants of health.
How did you find your way to the UW?
I wanted to go to a graduate school that offered financial and faculty support, was located in a city where I'd want to live for a few years and had Native American communities in the area. The UW School of Public Health had several prestigious programs and I thought that if I was going to pursue graduate education, I wanted to go to one of the best schools in the country. It was on my birthday last year that I got the acceptance call from the COPHP program. I was really excited; the UW was my reach school.
Why did you choose the Community-Oriented Public Health Practice program?
I like the problem-based learning structure. I knew I would gain a range of skills that I didn't have. I also wanted to go to graduate school with people from diverse backgrounds, so I can learn from them.
How did you know the COPHP program was a good fit?
I had a gut feeling. I remember meeting some admitted students and thought, What am I doing in life if I don't want to be among the best?
What sort of research are you interested in?
I'm interested in evaluating public health programs and interventions within Native American communities. Grant funding tends to flow into these communities, but they're not effectively evaluated. I want to fill a need as a Native public health professional who knows the people and the culture and can evaluate from an asset-based perspective, highlighting the successes of the programs in the community.
What do you like to do in your free time?
I try to stay active and get to the gym as much as possible. I started to play more video games again to avoid the costs of going out all the time; flight simulator is what I'm into right now. I also watch Gordon Ramsay cooking videos on YouTube and try out different dishes with my own personal touch.
On campus, I take part in the Committee on Oppression, Racism and Education through the COPHP program. I also joined the Society for the Advancement of Chicanos and Native Americans in Science (SACNAS). I often volunteer as a student representative for the APHA's American Indian, Alaska Native and Native Hawaiian Caucus.
What are your goals for the future?
I'd like to stay here for at least two years after my program. This is a rigorous and fast pace, and we're learning a ton of new skills. I'd really like to apply what I've learned here in Seattle before going back to New Mexico.
Do you have any advice for students?
For Native American students? Keep your culture and traditions alive and practice them. Without them, you lose your sense of self. Find what you're truly passionate about and find mentors who support you.
What do you like most about Seattle?
I like the water. We don't have much water in New Mexico. I'm hoping to do some salmon fishing when the weather gets nice.

Cortez Named 2017 Rattlinggourd Endowed Fellow