University of Washington School of Public Health
Undergraduate Student Profile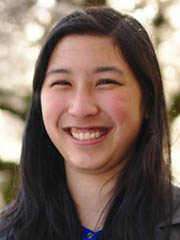 Sara Mar
Senior, Environmental Health
Hometown: Shoreline, WA
What questions or issues drove you to choose Environmental Health as a major?
I have always been interested in disease transmission, and was intrigued by how Environmental Health approached this topic from a prevention, rather than treatment, perspective. The major opened my eyes to how the environment plays such a huge role in human health. Whether it be the physical environment such as air and water quality, or the built environment such as the places we live and work, our health is constantly being affected by the environment around us. I love the breadth of the Environmental Health major, and how it takes research and applies it to communities so we can have healthier populations.
Tell us about research or internships have you participated in.
This past summer I was a research assistant for the Pacific Northwest Agricultural Safety and Health (PNASH) Center. The project studied the effectiveness of Integrated Pest Management (IPM) strategies in decreasing pesticide exposures among dairy workers in Washington. My research involved weekly field visits to the dairies to collect fly cards so that we could monitor the fly populations over time. We also collected wipe samples to determine the level of pesticide residues before and after a spray, as a way to assess the opportunity for exposure.
Finally, we conducted a decay study to figure out how long these pesticide residues stick around in the dairy environment. Through this experience I learned a lot about agricultural and dairy operations and found out that field work is something I really enjoy. Every visit offered something new or challenging and I enjoyed interacting with the dairy owners to better understand their occupation and perspectives on the study.
Watch Video: Lessening Risks to Dairy Farm Workers
What classes or lessons learned in the program have had the most impact on you?
Sampling and Analysis has been my favorite course in the program so far. I love learning about the methods and instruments used to take samples out in the field, and how those samples are used to make exposure assessments. Being that field work is something I am interested in doing in the future, this class is an important step in helping me reach my career goals.