University of Washington School of Public Health
Undergraduate Student Profile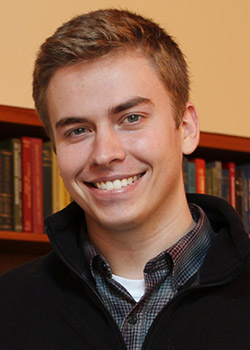 Maxwell Schrempp
Senior, Environmental Health
Hometown: Kirkland, WA
What do you think is most interesting about public health?
The field directly impacts all of our lives, whether we realize it or not. It's tied to everything from the water we drink, to the roads we drive on. I was drawn to the field because there are plenty of opportunities for one person to have a positive impact on the lives of others.
Why did you choose environmental health?
I wanted to enter a science-related field, so I explored several majors, including oceanography. I even participated in sea-going research expeditions onboard the University of Washington R/V Thomas G. Thompson. I started attending the quarterly environmental health seminars, which prompted me to take a few department courses. I was fascinated by what I was learning and pleased with the career outlook.
What experience has been most influential?
My internship with Amazon was vital in helping me to determine the right path. I worked as a safety specialist in Connecticut at a one-million-square-foot fulfillment center with more than 500 full-time employees. I applied much of what I learned in college and learned how to work effectively with a team of safety professionals in a fast-paced environment.
What are your professional goals?
I plan to work full-time after I graduate in a position focused on occupational safety and health. I'll continue to network and explore additional educational opportunities. I'm considering graduate school, as well as safety and management-related certifications to further my professional development.
What kind of work or volunteering do you do?
I have worked with the UW Libraries Preservation Department since my freshman year. I also volunteered with Bloodworks Northwest.
What do you like to do in your free time?
One of my passions in life is mountaineering. Each climb has encouraged me to challenge my own physical and mental limitations. I've had the opportunity to visit some remarkable places and witness many memorable events—my favorite being the sunrise from high on Mount Rainier. Mountaineering has helped me to grow, to remain calm in stressful situations and always have a positive outlook on life.