University of Washington School of Public Health
Undergraduate Student Profile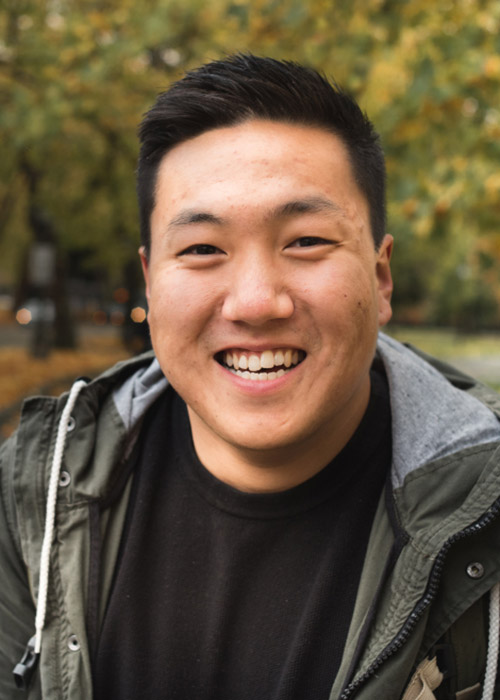 Francis Haegil Kim
Environmental Health
Hometown: Lakewood, WA
Helping wounded warriors on the road to recovery
Francis Haegil Kim had only been at Bagram Airfield in Afghanistan for three weeks before a suicide bomber detonated an explosive device on base during a Veterans Day 5K. Four Americans were killed and 16 others were injured in the attack.
"I remember a loud boom and the walls shaking," says Kim, who was just down the road. "I was stunned at first, but my training kicked in and I got to work to help where I could."
A trained medic, Kim rushed to help victims and worked with others to carry out life-saving procedures amid the chaos. Later, he and his team would prepare a 282,000-pound aircraft (C-17) to transport the wounded soldiers and personnel to Germany for advanced medical care.
Kim had trained for this and other combat scenarios many times since joining the Air Force Reserves in July 2013. As a medical technician on an en-route patient staging squadron at Bagram's Craig Joint Theatre Hospital, he had real lives in his hands. His squadron was responsible for keeping patients stabilized, while preparing them for air transport to a safe location.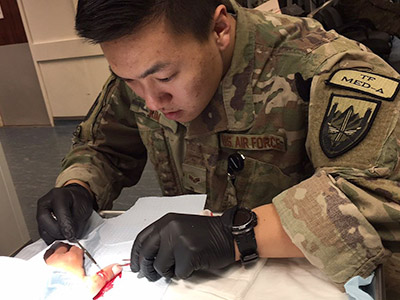 "We get patients out of the danger zone and into a greater echelon of care," Kim says. "We're able to send people back home to see their families again, which is a good feeling."
Kim was just finishing his sophomore year at the University of Washington when he was called to active duty. He put school on hold and deployed to Afghanistan in October 2016, alongside 16 other reserve members from the 446th Aeromedical Staging Squadron out of Washington state. The team, which included nurses, medics and an anesthetist, returned home this past June.
When asked about his most memorable experience, Kim recalls teaming up with soldiers from the Czech Republic, a member of NATO (North Atlantic Treaty Organization), to hold security for a VIP visiting the hospital.
"We were on the roof for hours in prone position, freezing, but I enjoyed it because I knew it was necessary," Kim says. He relished working effortlessly with people from other countries. "This was when I realized I was part of something bigger than myself. You have all these people from all over the world coming together for one common goal."
Kim is working toward a bachelor's of environmental health through the School of Public Health's Department of Environmental and Occupational Health Sciences. The conditions at Bagram, he says, often reminded him of the public and environmental health factors he learned about in his classes. For example, how burning garbage on base could impact human health and contribute to air pollution, or whether exposure to large amounts of dust in the air could be toxic.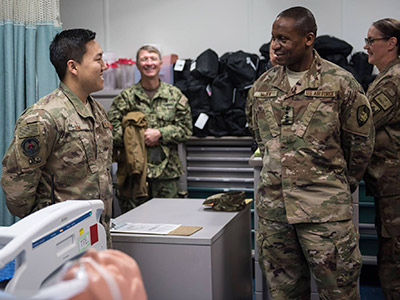 "Public health ties into everything around us," Kim says. "With this degree, the limits are endless. It's broad enough that you can put your foundational studies toward more specific areas of interest."
Kim finds epidemiology and workplace safety most appealing. Later this school year, he hopes to secure an internship in industrial hygiene at a large manufacturing company such as Boeing. He didn't always want to study public health, however. He originally wanted to be a doctor, but after working in hospitals, he realized he could have a greater impact by focusing on the prevention of disease.
Since returning to Seattle, Kim has focused on school. He recently completed his midterm exams, which he says, "are a different type of stress" from that he experienced in Bagram. Though he is classified as a veteran, he still puts on his uniform and goes to work once a month, and whenever the mission requires. Over the years, Kim has received an Air Force Achievement Medal, Afghanistan Campaign Medal and a NATO medal for Operation Resolute Support. He's also been recognized as Airman of the Quarter.
"It's hard to balance your civilian and student life with your military life," Kim says. "I may miss class from time to time due to mission and training requirements, and it's difficult to catch up, but joining the military was the best decision of my life."