University of Washington School of Public Health
About the School of Public Health
About SPH
The UW School of Public Health is grounded in teaching, research, and service. For more than 40 years, our 10,000 graduates have gone on to transform communities and lead health organizations.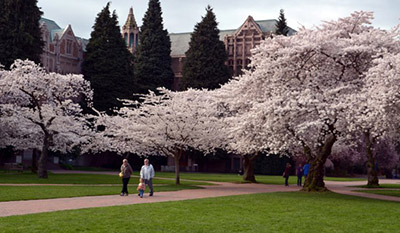 Our faculty and students accomplish innovative research to meet the emerging challenges of the 21st century, such as environmental change, obesity and nutrition, health policy, health systems that work, and the social factors that affect our health. They promote the well-being of people locally, regionally, and globally.
Our major departments are Biostatistics, Environmental and Occupational Health Sciences, Epidemiology, Global Health, and Health Services. We offer interdisciplinary programs in Health Administration, Maternal and Child Health, Nutritional Sciences, Pathobiology, and Public Health Genetics. Our more than 30 centers and institutes bring together faculty from throughout the School to collaborate and do research across disciplines.
In addition, we have a strong undergraduate program, offering a public health major, global health minor, and degrees in Environmental Health, Health Informatics and Health Information Management. We have multiple certificate programs as well.
Our School, which is ranked among the top ten public health schools in the U.S., partners with many health organizations such as the Bill & Melinda Gates Foundation, Fred Hutchinson Cancer Research Center, Group Health Research Institute, Seattle Children's Hospital, U.S. Department of Veterans Affairs, PATH, and local and regional health departments across a five-state region.
The impact of our work, research, and graduates is deeply felt by diverse communities around the world, from Seattle's Duwamish River neighborhoods, to the Washington state Yakama Indian nation to Alaska's public health departments to the slums of Lima to villages in Timor-Leste.