Ahoua Koné, co-chair of the School of Public Health Equity, Diversity and Inclusion Committee, has received the 2022 Martin Luther King Jr. Community Service Award.
This award honors individuals or groups who exemplify Martin Luther King, Jr.'s principles through: Commitment to addressing community needs, particularly communities of color and low income; development and implementation of significant programs to improve the human condition; and outstanding efforts to protect and empower all individuals.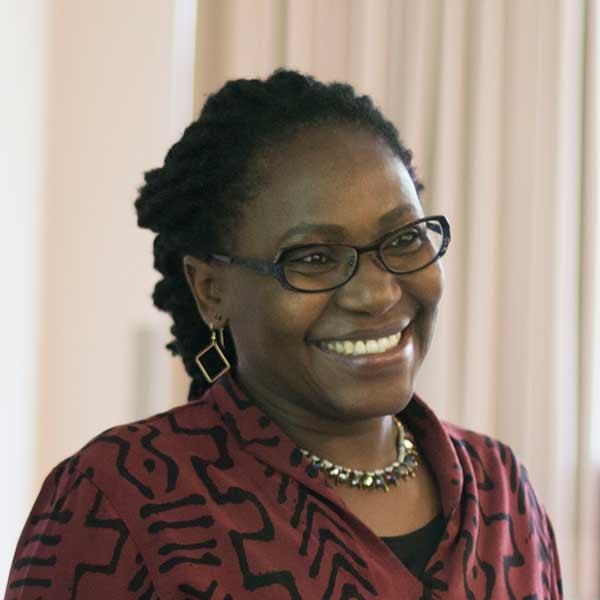 Koné, JD, MPH, a native of Côte d'Ivoire, is a clinical assistant professor in the Department of Global Health. As co-chair of the SPH Equity, Diversity and Inclusion Committee, she works closely with the Office of the Dean to promote anti-racism within the school. Koné is a mentor to many students. She also co-teaches the core yearlong MPH workshop course that focuses on cohort building and cultivating an understanding of power, privilege, positionality and racism in public health.
As co-Chair of the SPH Equity, Diversity and Inclusion team, Koné serves on the team of trainers leading the SPH Universal Anti-Racism Training (UART), which conceived, developed, refined, evaluated, and led all the sessions. In the 2020-2021 academic year, over 986 faculty, staff and students took part in levels 1A and 1B of the training. Koné's contribution was pivotal to offering a training grounded and centered in the discipline of public health.
Koné's longstanding commitment to addressing the needs of communities of color includes her co-creating and leading the African Communities Network, being the principal support of the Somali Family Safety Task Force and the Somali Health Board in multiple projects to improve the conditions of Somali families in the region.
She has also been leading efforts to combat COVID-19 locally, including organizing vaccination clinics targeting People of Color (POC) in the Seattle area, identifying the challenges of African Immigrant caregivers (she was the PI on a Public Health Initiative grant for this), and co-directing a project to identify reasons for vaccine hesitancy among POC in the region.
As a Black woman, a community activist and a lawyer, Koné is actively involved in social justice and community development projects working with like-minded individuals and organizations to challenge racism and inequality.
Koné, in partnership with community organization Sprout, has been engaged in a project to allow BIPOC Seattle-area community members and UW community members to express and share their ideas about the Black Lives Matter slogan through artistic expression. A panel of judges and discussants will award prizes to the participants for their time and the quality of their presentations. Amid this pandemic year, the project continues to recruit participants and will culminate in a winter quarter showcase. 
Koné has developed and led health research and community empowerment projects locally and internationally, including in Côte d'Ivoire, Mozambique, Ghana and China. From 2005 to 2020, she was the principal investigator on several large-scale UNICEF and CDC funded HIV care and treatment implementation projects in Côte d'Ivoire, including a model integrated care and treatment project covering the northern regions. She is a founding member of the Institut de Recherche et d'Actions en Afrique (IRAA), an Ivorian-based health and research organization.
Koné has mentored and taught hundreds of students, especially Black and Brown students who seek the support of a loving and kind adviser. She does this while helping the School of Public Health move through the challenges required to succeed in academia and beyond.
It is not unusual for Koné to bring bowls of soup to her students or flowers to a coworker's house who might be sick or going through a tough time. Koné is that person who not only says she cares about people but goes the extra mile to do so. Koné has unconditional love for her students, her colleagues and community. The School of Public Health is so fortunate to have her as part of our team. 
Read more about the MLK Community Service Award