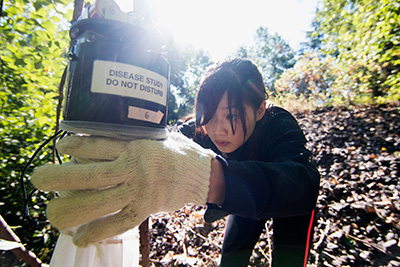 The University of Washington School of Public Health is committed to experiential learning. Internship, capstone, practicum, volunteer, and other field-based experiences provide students with opportunities to integrate and apply classroom learning in a public health work environment.
The range of experiences vary in focus and depth of engagement to align with student and partner needs.  The School partners with today's public health leaders to help prepare the next generation. These partnerships are vital for our mission of education, research and service and empower students to transform communities – locally, nationally, and globally.
For questions about field-based experiences, please contact the Manager of Experiential learning at sphpractice@uw.edu
The table below describes key differences between the various types of experiences that SPH students may complete during their time at the University.
|   | PRACTICUM for CREDIT | ACADEMIC INTERNSHIP OR CAPSTONE for CREDIT | REGULAR INTERNSHIP OR VOLUNTEER OPPORTUNITY |
| --- | --- | --- | --- |
| Experience is open to graduate and undergraduate students | GRAD MPH ONLY | Either undergraduate or graduate | Either undergraduate or graduate |
| Benefits to students' education and career development are clearly defined | Yes | Yes | Yes* |
| Intentional learning outcomes are developed and incorporated into project details | Yes | Yes | Optional |
| Student is supervised by a professional in the field with a background in public health | Yes | Yes - although supervisor experience could also be in another relevant field | Optional |
| Student project hours are prioritized toward applying skills learned in the degree program | Yes | Yes | Optional |
| Majority of project hours are spent working on site or among public health professionals | Yes | Yes | Optional |
| Hours required | 160 or more | 30 or more - consult with individual programs to learn more about their required hours | Determined by site/student* |
| Compensation | Allowed but not required | Allowed by some programs, but not required - consult with individual programs for further information | Allowed but not required* |