Blog Featured Image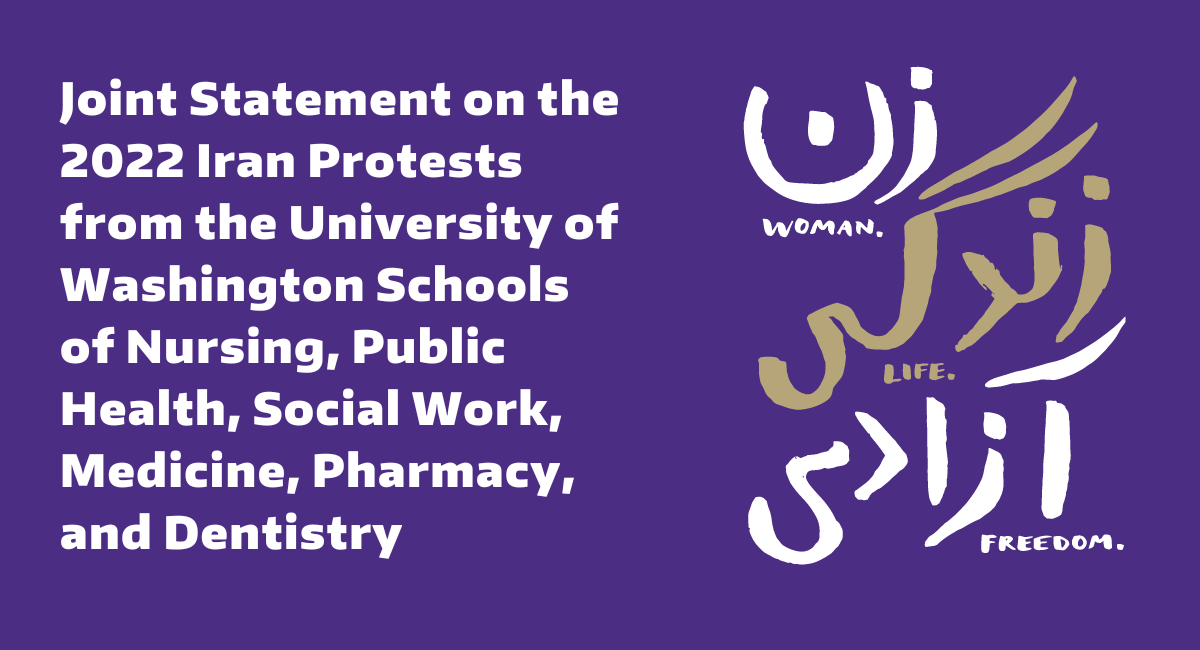 The six health science schools at the University of Washington stand united with the people of Iran. Threats to women's health, bodily autonomy, and peaceful protests are extremely concerning and we, the deans of the University of Washington's Schools of Nursing, Public Health, Social Work, Medicine, Pharmacy and Dentistry recognize that our institutions have a unique leadership role in making the world a healthier place through public health advocacy, education and research.  
The world has been shocked by scenes of Iranian protesters being beaten and imprisoned for their outrage over the in-custody death of Kurdish woman Mahsa (Zhina) Amini, and over the 43-year oppressive rule of the Islamic Republic of Iran. Amini was arrested by Iran's "morality police" for wearing her mandatory hijab "improperly." Since Amini's death and subsequent protests, the Iranian government has restricted internet and media communications and acted with violent military force against its citizens, including attacks on and arrests of several students and faculty who were peacefully protesting at Sharif University of Technology, Iran's top academic institution. Reports suggest that at least 154 others have lost their lives and thousands have been imprisoned since Amini's death.  
Autonomy is the foundation for a healthy, well-functioning society. We support the human rights and safety of all people in Iran, including an individual's right to choose whether to wear a hijab based on their beliefs or preferences.  
We have the utmost respect for and support the safety of the Iranian civilians and university students who are now on strike to assert their most basic of human rights. We stand united with all those touched by this tragedy, and against attempts to infringe upon the wellness and rights of women, LGBTQ+ people, and racial, religious and ethnic minorities, including through repressive laws, coercion, physical brutality, imprisonment, and extrajudicial executions. 
To all our students, trainees, faculty, and staff of Iranian descent or affiliation, and others with ties to the region, we extend our concern, sympathy, and understanding of the many ways in which these events are profoundly disturbing to you. Below are some resources to support you during this difficult time, and ways to get involved.   
Resources 
Ways to get involved: 
Faculty panel "Iran: Gender and Right after State Violence" at UW Bothell, Saturday at 10:30 a.m., hosted by UW Persian and Iranian Studies program 

Upcoming demonstration and candlelight vigil Friday, October 7 starting at 4 p.m. 
In solidarity,  
The University of Washington Deans of the Health Sciences Schools 
Dean Azita Emami, School of Nursing 
Dean Hilary Godwin, School of Public Health 
Dean Edwina "Eddie" Uehara, School of Social Work  
Interim Dean Timothy H. Dellit, School of Medicine 
Interim Dean Peggy S. Odegard, School of Pharmacy 
Dean Andre V. Ritter, School of Dentistry 
Special thanks to the Iranian faculty and staff who helped review and inform this statement:  
Dr. Azita Emami, Dean, School of Nursing 
Dr. Aria Fani, Director of Persian and Iranian Studies 
Shiva Shafii, Director for Marketing and Communications at SPH 
Header artwork design is courtesy of Seattle Iranian artist Misha Zadeh, UW '97 Alum in Graphic Design (now Visual Communications). Learn more about her work at mishazadeh.com.