Blog Featured Image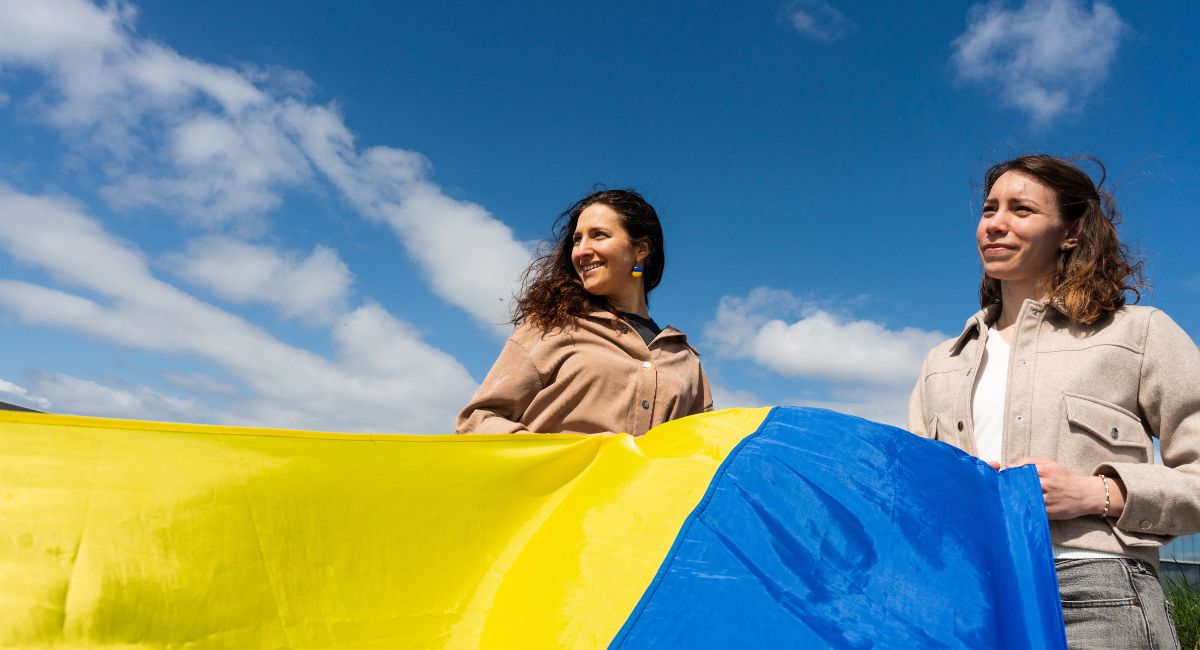 Olena Bidovanets (left) and Olga Vitruk (right) hold the Ukrainian flag at the University of Washington. Photo by Elizar Mercado.

When Russia invaded Ukraine in February 2022, Olena Bidovanets was pursuing her Master's of Public Health (MPH) degree at the University of Washington School of Public Health (UW SPH). An infectious disease and psychotherapy medical doctor, Bidovanets wanted to study public mental health. After receiving a 2021-23 Fulbright award, she moved from her home in Ukraine to Seattle.
But with the escalation of the war, there was only one place Bidovanets wanted to be: home. What use was a public health master's degree, she thought, if she was not supporting the health of the place that needed her most?
So, with the support of the Fulbright program and SPH's Department of Global Health, Bidovanets packed up and flew back to Ukraine to continue her work in public health. Once in Ukraine, she began working with Team Rubicon, and then moved to the STEP-IN Project, delivering medical supplies to areas destroyed by war. These seven months of work in Ukraine became her practicum, a field-based experience with a public health organization required for her master's degree at UW SPH, and the new focus of her thesis. 
"I had to go and to fight for the right to live and survive," Bidovanets said. "For me, coming back to Ukraine, it's to help people, but it's coming back to where you are needed the most."
Bidovanets was one of several students supporting the health of Ukrainians both abroad and locally as part of their practicum experience this past year at the UW, as war left a mark upon the physical and mental health of millions. At the one-year point of the war, the UN Refugee Agency reports that 13 million people have been uprooted from their homes, with 8 million refugees across Europe and 5 million internally displaced within Ukraine. 
While much support for the health of Ukrainians and refugees is still needed, the students and their practicum site supervisors have remarked upon the willingness of people, even those most impacted by the trauma of war, to make remarkable sacrifices in support of each other's health.
"During the darkness, you see the light the most," Bidovanets said.
In Ukraine
After arriving back home in Ukraine in March 2022, Bidovanets began working with Team Rubicon, an organization that serves communities during global crises. Then, one of her friends who is the coordinator of STEP-IN in Ukraine invited Bidovanets to join. The organization was just beginning to build up its Ukraine headquarters, after years of working in Iraq. 
STEP-IN is a Slovakian nonprofit that provides health care support in both the Iraq and Ukraine regions. In Ukraine, it runs crisis intervention sites for refugees who are crossing borders, provides capacity-building for medical professionals, delivers medical supplies to hospitals, and runs mobile medical centers for areas that are lacking health care centers. This is especially important amidst a war that has seen over 700 recorded attacks on health care facilities and workers in the past year following the Russian invasion, the BMJ reported.
Bidovanets helped support the delivery of "clinics in a can," to areas in eastern Ukraine where war has destroyed medical centers. These containers include medical equipment like trauma supplies, ultrasounds and x-ray machines. Around 15 of these clinics are currently operating around Ukraine, which run on solar energy and just require a connection to water.
Bidovanets was overwhelmed by the war, but said she didn't cry until she saw instances of ordinary people stepping up and doing extraordinary things to help their country. One school she stepped into had completely transformed into a central support area for people who had been internally displaced. A kitchen provided simple but fresh food for everyone who came; one room provided clothing, another provided medical care. From the school principal to community volunteers, people without specialized training were running the center.
People across Ukraine continued to show great care toward each other. As humanitarian aid came into Ukraine, organizations like STEP-IN assisted in determining where it could go. Bidovanets called hospitals to see if they had need of these supplies and surprisingly, many of those calls ended with hospitals saying they could make do with what they had, and that the supplies should be sent to others with more need. 
Zuzana Ulman, who is the head of mission for the STEP-IN project in Ukraine and Bidovanets' practicum site supervisor, said partner organizations also shared with her that some hospitals were turning down donations. 
"You can really see that people care for each other and they are trying to put the support where it's most needed," Ulman said.
Because Bidovanets is from western Ukraine, she was also able to bring cultural sensitivity and knowledge to her job when working with fellow Ukrainians. At the Ukraine STEP-IN project, she was the only student on staff, but Ulman described her as "one of the cornerstones of our team."
Bidovanets said she quickly learned the importance of empathy when working with communities who had been impacted by the trauma of war, and it's inspiring her plans for after she graduates: working with refugees in the area of psychotherapy.
"A lot of other people are fleeing disasters and war and they need not to be marginalized, they need to be seen, and they need to receive our support," Bidovanets said. "It's something that is an important topic that should be talked about a lot in global health."
In Seattle
Since the war began one year ago, about 271,000 Ukrainian refugees have come to the United States, 16,000 of whom now live in Washington state.
Health care providers looking to support Ukrainian refugees have been turning to EthnoMed for help. EthnoMed is Harborview Medical Center's ethnic medicine website containing medical and cultural information about immigrant and refugee groups. These resources help health care providers understand the backgrounds, practices and traditions of different cultural groups, so they can be mindful and sensitive as they're providing care.
"The health system is really in need of such information to become more intelligent and capable of embracing cultural humility," said Ehsan Shayegan, program coordinator at EthnoMed. "Sometimes, health providers don't know how to deal with the cultural complexity or as I say, the richness of the cultural background of the patients they see. There are many sensitive and culturally complex areas that providers need information about."
For example, if a patient is practicing fasting for religious reasons, such as a Muslim during Ramadan, and a doctor instructs the patient that he or she couldn't fast for their health, the patient might say, "well this is totally against my belief and I don't feel healthy or comfortable doing that," Shayegan said. Another example, he added, is that typically, female and male Muslim patients prefer to be seen by female and male doctors, respectively. This is mostly due to their belief system and cultural values, Shayegan said.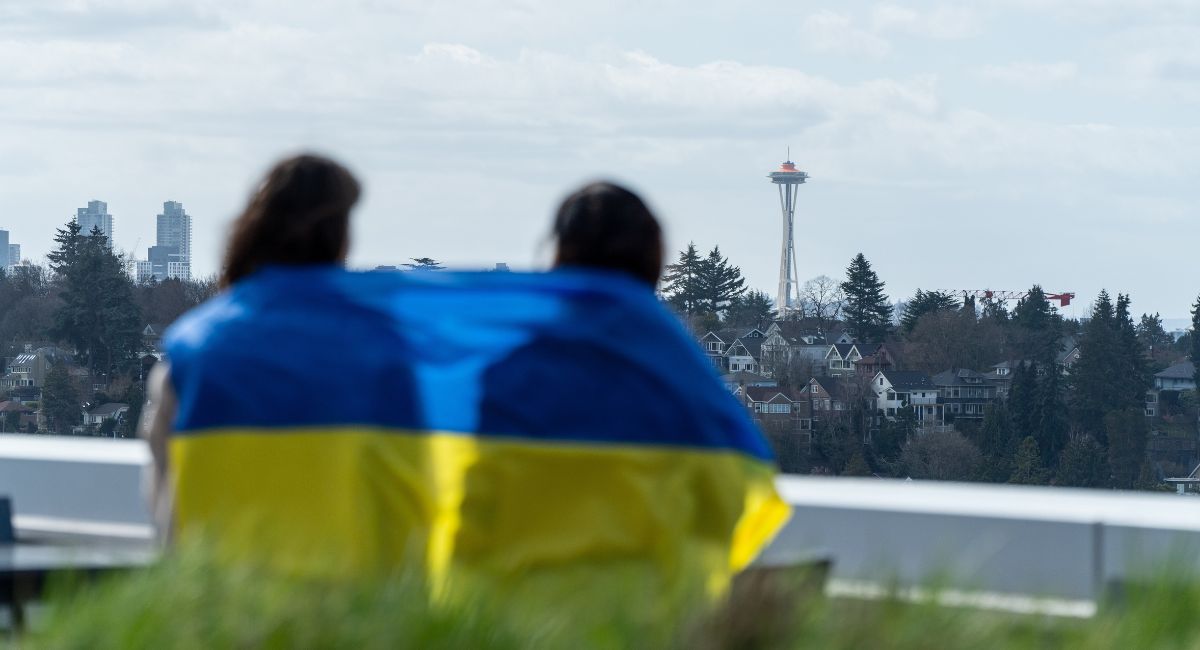 "Basically we are bringing this type of information to providers so that they are aware of these deep, cultural topics and how those prospects can impact the health of their patients," Shayegan said. "Providing medical care that is embedded in cultural understanding makes it more respectful and intelligent."
While EthnoMed began in 1994 to support Seattle-area health care providers, its resources now reach nearly a half million users globally each year, Shayegan said.
Olga Vitruk, a MPH student in SPH's Department of Epidemiology, began working with EthnoMed last year to develop a resource for mental health care providers serving Ukrainian refugees. Vitruk proposed the idea to Shayegan at EthnoMed, after seeing a similar resource the organization created for Somali refugees, and upon hearing from news outlets and Ukrainian family members that mental health was a big need.
Shayegan said MPH students like Vitruk bring expertise, respect and sensitivity to working with communities at EthnoMed. "The students we get from the UW MPH program are so talented and brilliant. They are very well organized and skilled professional people and they are very comfortable dealing with different communities," he said.
To create this resource, Vitruk read recent mental health literature and interviewed local mental health care providers and Seattle-area Ukrainian organizations to understand what their clients were dealing with. Vitruk learned that many refugees are experiencing trauma, anxiety, depression and difficulty sleeping, so getting help as soon as possible is critical. Some reported feelings of hopelessness, and weren't aware of resources available to them. 
"Sometimes people underestimate how important mental health is," Vitruk said. "When they get here, new arrivals focus on other issues that seem more pressing, which makes sense if it's housing or jobs or education, and they wait at least a few months to get looped into mental health services. But some of the consequences of waiting can be devastating, so it seems like it would be really helpful to address mental health as quickly as possible, or at least know that they have resources available."
In her interviews, Vitruk learned that children in particular are experiencing trauma from being separated from family members, as sometimes one parent stayed behind in Ukraine while the other left. Interviewees also mentioned that men in particular are having challenges accessing mental health care due to stigma, yet they are often in need of care as some took on roles as heads of households and made many of the stressful decisions to help their families leave Ukraine. 
Stigma around mental health has traditionally been a large barrier in accessing care, especially among older generations of Ukrainians. However, Vitruk learned that after experiencing  COVID-19 and the war, people are becoming more open to seeking mental health support.
Some Ukrainian-centered community organizations in the Seattle area have been holding emotional support groups for Ukrainian refugees. Some refugees shared that they would prefer to seek services in their own language from a fellow Ukrainian, so it's helpful for health care providers to know about these groups so they can connect their patients to them.
One of the benefits of this type of resource is the immediacy in responding to community needs. While traditional health research may take several years to publish, this mental health guide for providers can be responsive to community input and disseminated quickly across Seattle, and may also be useful to people across the country or world.
"That specific perspective of what the situation is like in the greater Seattle area is something that you can't just gather from literature," Vitruk said. "There's no other way to get a community's perspective than talking to people in the community."
MPH Practicum Symposium
25th annual MPH Practicum Symposium
Virtual Sessions on April 17-20, 2023
Symposium Information »