Blog Featured Image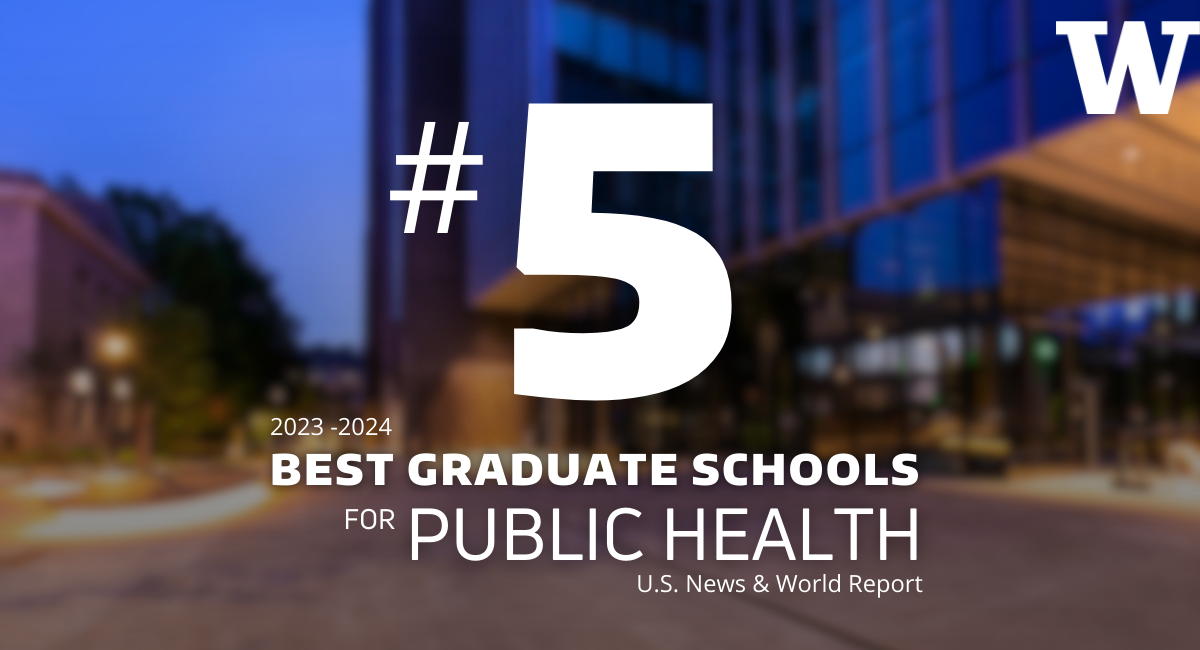 The University of Washington School of Public Health (UW SPH) has been ranked No. 5 among public health graduate schools in the U.S. News & World Report rankings for 2023, up from last year's position of No. 9.  
The School tied with Columbia University and the University of Michigan — Ann Arbor for No. 5, and had four departments — biostatistics (No. 6), environmental and occupational health sciences (No. 8), epidemiology (No. 9) and social behavior (No. 10) — in the top 10. The School's health policy and management program also ranked 12th in the country.  
This year, the UW School of Medicine, which jointly houses the Department of Global Health with UW SPH, withdrew from the U.S. News rankings citing concerns that some of the methodology in the rankings for those specific disciplines incentivize actions and policies that run counter to its public service missions. 
Rankings for schools of public health are based on the results of a peer assessment survey sent in the fall of 2022 and early 2023 to deans, administrators and faculty at more than 206 public health schools across the country that are accredited by the Council on Education for Public Health. 
Hilary Godwin, dean of UW SPH stated, "In this time when public health has taken center stage, we are deeply grateful for the recognition given by our esteemed peers in this year's U.S. News & World Report rankings. At UW SPH, we remain dedicated to providing high-quality education and conducting groundbreaking research in public health. We believe that our impact should be measured not only by our rankings, but also by the meaningful contributions we make to our community and the world."  
"While we are proud of our rise in the rankings this year, we also recognize that these rankings do not necessarily reflect the quality of education or research at each institution," Dean Godwin continued. "Some ranking methodologies may give more weight to factors that are more relevant to certain types of institutions or students, such as a school's reputation or the amount of research funding it receives. Those methodologies can reinforce systemic inequities in higher education. As a school committed to social justice and equity, we will continue to critically evaluate the methodologies of rankings and encourage students to evaluate schools based on their personal priorities and goals." 
2020 marked the 50th anniversary of the UW School of Public Health. The School opened in 1970, becoming the first school of public health in the Pacific Northwest and grew rapidly in the 1970s and '80s to become a research powerhouse and sought-after training destination. 
Today, UW SPH is home to five departments, five interdisciplinary programs, more than 30 research centers and over 60 degree and certificate programs. Over 11,000 alumni have gone on to work in Washington state and beyond, seeking equity-driven solutions to the greatest health challenges in our region and around the world with a shared vision to create a world of healthy people.