About DACS
The School of Public Healths Dean's Advisory Council for Students (DACS) is a leadership opportunity open to all SPH undergraduate and graduate students. This past year, we held our first DACS leadership class, a 1-credit (optional) weekly session focused on personal and professional leadership development and this same format will be used for AY2022-23. DACS is also a space to discuss student concerns, emergent school issues, policies, and budgetary matters. The course is facilitated by Dean Godwin and supported by our fantastic SPH staff Juanita Ricks and rukie hartman.
The scheduled class time for DACS is Monday from 5:00-6:00PM across fall, winter and spring term. DACS aims to be a representative group across degree level, department and programs. We seek up to 24 student participants for the full academic year.
Course Overview
Fall Term | Personal leadership development skills
Winter Term | Leading groups and teams in academic settings
Spring Term | Leadership in practice community contexts
We encourage students from all SPH departments and programs to apply. Final decisions will be made in early September, at which point you will receive an add code to register. If you have questions about DACS, please contact rukie hartman: mrht@uw.edu.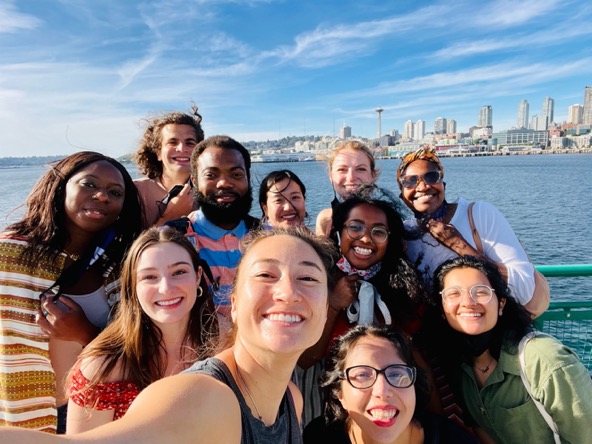 "DACS taught me how to work with a team of passionate individuals to create change within public health on campus. I learned how to use my voice and constantly was inspired to do so through this group. I found my community and home at UW through DACS. I truly am grateful for the resources and opportunities I received through this group as they set me up for success for my time at UW and beyond. I wouldn't be where I am today or who I am today without DACS!"
"I had no idea what to expect when I signed up for DACS at the beginning of the school year. I wanted to be more than just a student at UW, I wanted to be involved in the community, and DACS ended up being perfect for me. I learned a lot about leadership and teamwork, and about the functioning of UW, and we were lucky to experience some amazing guest lecturers. More interestingly, we were privy to and sometimes essential for some internal discussions and decision making, helping guide administrators and sharing our views as students. The best part though, was the community. Every student in DACS had something to add. We started as a diverse group of students and ended as a tight-knit community of undergraduate, masters and PhD students, serving as a solid support structure, always ready to help one another out as needed."
"Being in DACS and taking classes with everyone was great. Meeting weekly with everyone meant sharing eye-opening perspectives and experiences. Sharing ideas and feedback helped me realize what type of public health do I want to practice and promote. The invited speakers also contributed greatly to my own development and helped me feel more comfortable with my present and my future in public health. This class was a great place to grow and to learn from others."
"Serving on DACS was a phenomenal experience. I was able to meet like-minded individuals within the School of Public Health across different disciplines and programs, and grow in my own leadership skills to understand how to effectively and meaningfully enact change within the UW SPH community. Hilary, rukie and Juanita truly care for each student and foster a safe, inclusive environment for all DACS members to feel heard and accepted."
"This year on DACS really broadened my understanding of leadership and growth in academia. I really enjoyed the various speakers from a variety of public sphere organizations. The DACS teaching team is extremely invested in each student's growth personally and professionally. Overall, the environment was excellent in providing opportunities for self-learning and to give back to the School of Public Health."
The DACS cohort is comprised of undergraduate and graduate level students from across the School of Public Health. We aim to be a representative cohort of the following departments and programs.
Departments
Biostatistics
Environmental & Occupational Health Sciences
Epidemiology
Global Health
Health Systems and Population Health
Interdisciplinary Programs:
Health Administration
Maternal & Child Health
Nutritional Sciences
Pathobiology
Public Health Genetics
Fee-based Programs
Community-Oriented Public Health Practice
Executive Master of Public Health
Health Informatics and Health Information Management
Health Administration
Executive Master of Health Administration
Note: students who are enrolled in fee-based programs or who already have a full-load of courses and still wish to fully participate in DACS may do so without formally registering for the course, with approval from the instructor.
Expectations for DACS participation include:
Actively participate in 8 class sessions each quarter in Fall 2021, Winter 2022 and Spring 2022.
Respond to 4 discussion prompts based on assigned required readings each quarter. Students must post their responses to the prompts on Canvas before the class session to receive credit.
Work collaboratively on a group project with other members of DACS.
Jointly host feedback sessions for the SPH students with the Dean. 5. Act as a liaison to gather feedback and relay information discussed in DACS with SPH students.
To receive credit in the course, graduate and undergraduate students must additionally: 
Submit an evaluation of teammates of group project.
Submit a quarterly reflection on course learning and growth.
To apply for the AY 2021-22 DACS cohort, please fill out the application.
Completed applications will be reviewed periodically during August and September. Final decisions will be made in mid-September, at which point you will receive an add code to register.