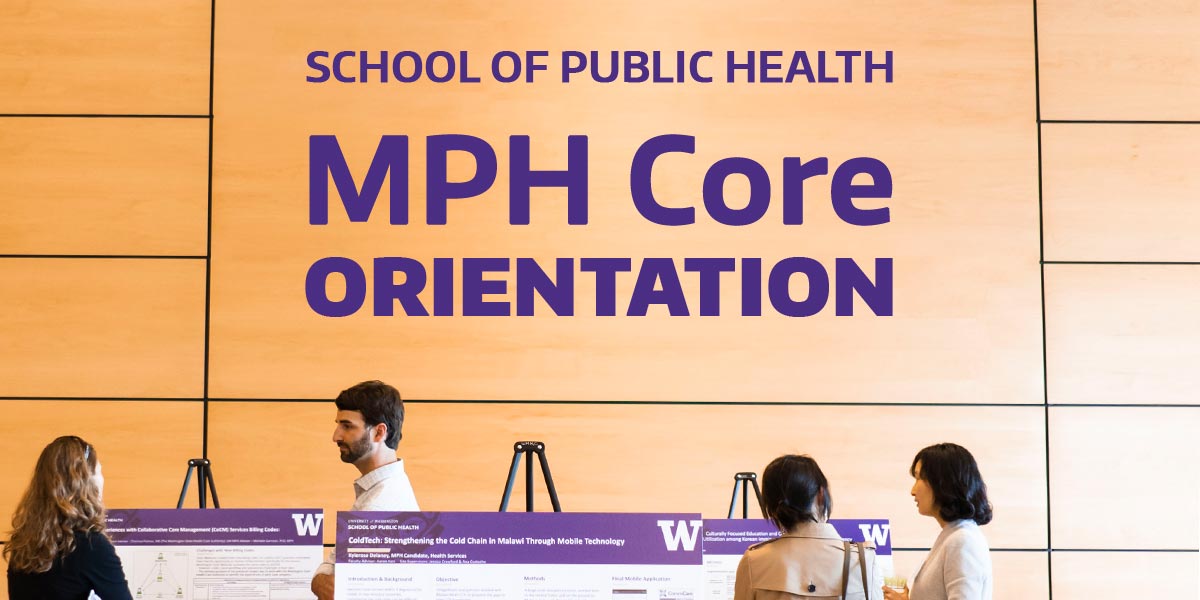 Welcome incoming MPH students! On September 21st, we will have a MPH Core Orientation to introduce you to the first year curriculum. This online meeting will be an opportunity for incoming Masters of Public Health students from across the School to begin getting to know one another.
Students will have a chance to meet the MPH Core Program Director, core faculty, and staff from the Dean's office. In this orientation, you will learn how the MPH Core Curriculum was developed, the teaching techniques that will be used in each of the classes, and have a chance to interact with other incoming students. 
Please register using the link below and make sure to sign in using your UW netid when logging in.
Please note: All students are also encouraged to attend the School of Public Health's New Student Welcome, which will be held the following day, September 22nd. Check here for more info.
Important Information
Date: September 21, 2020
Time: 10:00AM-12:00PM (PST)
Who: All incoming MPH students (except COPHP students)
Location: Zoom.
Not able to attend? Please see these recordings from the event. Also check out a PDF copy of our presentation! (*Please Note: Due to technical difficulties, the recording starts a bit late but only the first slide was missed. See the information on the PowerPoint.)
Schedule-At-A-Glance
| Time | Session | Presenter |
| --- | --- | --- |
| 10am-10:05am | Welcome & Kick-off | Jalen |
| 10:05am-10:15 | Introduction to MPH Core | India Ornelas |
| 10:25am-10:45am | Introduce MPH Core Faculty & Courses | All |
| 10:45am-10:55am | Break Time | TBD |
| 10:55am-11:40am | Meet your Learning Community  | All |
| 11:40am-11:50am | Closing Remarks | Dean Godwin |
| 11:50-12:00pm | Wrap Up | Jalen |