The Multi-Ethnic Study of Atherosclerosis (MESA) – a 20-year study of the characteristics, predictors and progression of subclinical cardiovascular disease and other risk markers – has been renewed for another five years with nearly $15.6 million in funding from the National Heart, Lung and Blood Institute.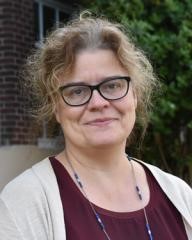 The study's coordinating center is housed in the University of Washington School of Public Health's Department of Biostatistics, at the Collaborative Health Studies Coordinating Center, and is co-directed by faculty members Robyn McClelland and Richard Kronmal. McClelland, a research professor of biostatistics at the School, is the principal investigator on the award.
"Among other things, MESA has contributed a great deal to our understanding of racial and ethnic differences and disparities in heart disease," McClelland said. "The cohort has been extensively phenotyped and genotyped, including imaging, adjudicated cardiovascular endpoint surveillance, stored biospecimens and numerous assessments collected over six in-person visits spanning two decades."
The study involves a racially and ethnically diverse sample of more than 6,800 men and women, ages 45-84, who had no signs of cardiovascular disease at enrollment. The renewal includes funding for ongoing research and a seventh in-person examination of study participants, as well as a diversity supplement to support Natalie Gasca, a biostatistics doctoral student at the UW School of Public Health.
More than 1,600 papers have been published in well-known medical journals using MESA data – expanding what scientists know about heart disease, diabetes, diet and nutrition, and stroke. MESA has also developed a widely used online tool and smartphone app to help patients and physicians use risk factors to estimate an individual's risk of coronary heart disease.
MESA has served as a platform for major ancillary studies led by investigators at the UW and the School of Public Health, including landmark studies on:
air pollution, led by Joel Kaufman, a professor of epidemiology and environmental and occupational health sciences at the UW School of Public Health;
vitamin D, led by Ian de Boer and Bryan Kestenbaum, professors of nephrology at the UW School of Medicine and adjunct professors of epidemiology at the School of Public Health; and
atrial fibrillation, led by Susan Heckbert, a professor of epidemiology, also at the School of Public Health.
In this next phase of MESA, McClelland and the research team aim to enhance statistical power to perform analyses of predictors of clinical events, particularly in informative subgroups; study the progression of subclinical cardiovascular disease; and identify new risk factors or interactions among risk factors that inform disease pathophysiology. An important part of the study will be to continue to serve as a training ground for junior investigators, who will work with senior investigators and be provided with access to MESA data and guidance on conducting research.
Co-investigators include Kronmal, Heckbert, William Longstreth, Bruce Psaty, Annette Fitzpatrick and Lyndia Brumback. MESA research staff at the Collaborative Health Studies Coordinating Center are led by Project Director and biostatistician Craig Johnson, associate director for research at the center.