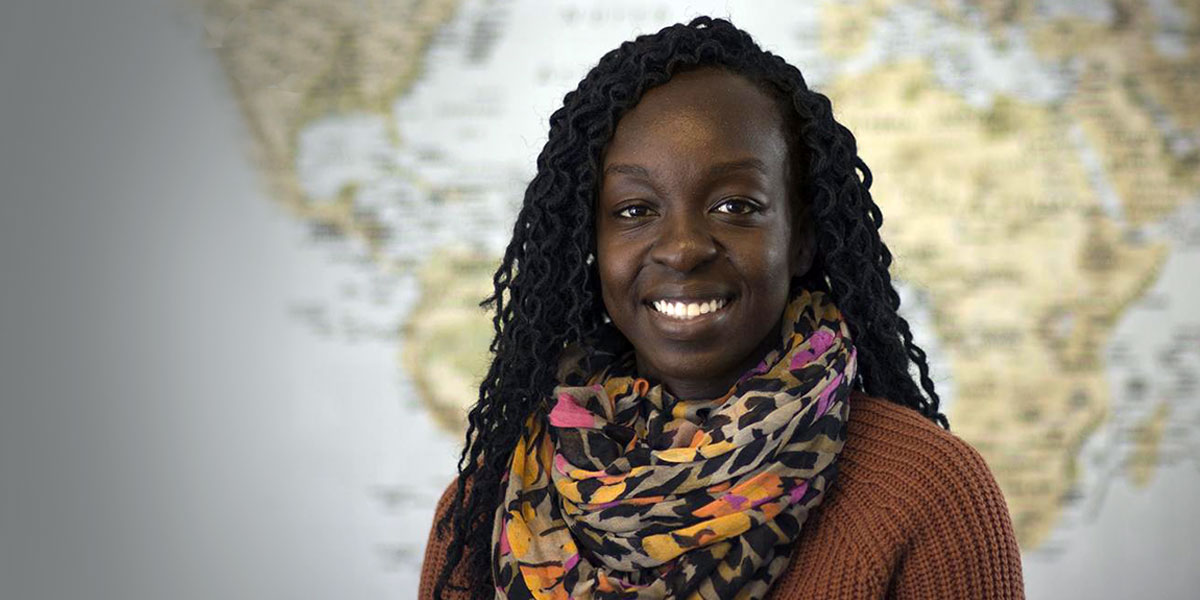 Marie-Claire Gwayi-Chore has spent the better part of a decade traveling the globe – examining what public health interventions work, for whom and under what circumstances, and how they can be adapted and scaled up in ways that are accessible and equitable.
It's no surprise that she's taking the same approach to create a healthy, safe and supportive learning environment for University of Washington School of Public Health students, particularly students of color.
Recognized for these efforts, Marie-Claire was selected by the School to receive the 2020 Martin Luther King Jr. Community Service Award. She will be honored at an MLK celebration today, Jan. 16, in the Magnuson Health Sciences Center.
"The way I carry myself in the world is rooted in pursuing social justice through empathy, advocacy and representation," said Marie-Claire, a third-year doctoral student in implementation science in the Department of Global Health (jointly housed within the UW Schools of Public Health and Medicine).
"It is incredibly humbling to be linked to a global hero such as Dr. Martin Luther King, Jr. We are similar in our commitment to intentionally and confidently embracing our identities to serve as advocates for our communities," she said.
Marie-Claire is a student member of her department's Diversity, Equity and Inclusion Committee and, as such, is working to find evidence-based solutions to improve the learning experience for and to raise the voices of students of color. Touted as "a born leader" by those who nominated her for the MLK Award, she spearheaded an equity-centered qualitative study to better understand the learning climate at the UW School of Public Health. The project expands on the School's 2018 climate assessment by gathering lived experiences from students, faculty and staff of various roles, race, ethnicity, gender and sexual orientation, and inviting them to be part of the solution.
She designed the study, coordinated data collection and performed the subsequent analysis – all as a volunteer and on top of her PhD studies, field research and teaching assistantships. She also helped to secure vital funding for the project from the UW School of Public Health, Department of Global Health and Office of Minority Affairs & Diversity. The committee plans to share findings from the study with students, staff and faculty in the department, and broadly across the School and University.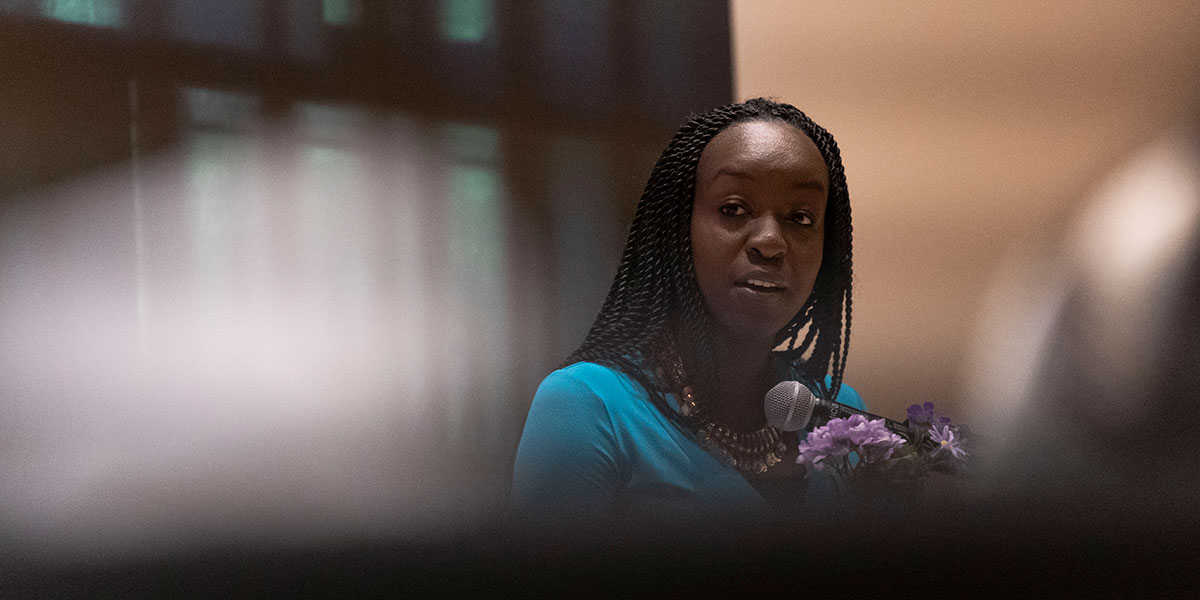 Marie-Claire often serves as a spokesperson for the diversity committee. She led a mini-workshop on microaggressions last spring for faculty and staff attending a biannual department retreat. She also gave last year's keynote speech at the first annual Anti-Racism and Community Health Conference held by the Students of Color for Public Health in collaboration with the UW School of Public Health.
She ended that speech with a call to action for white students, faculty and staff: "First recognize then use your privilege to support and fight for those of us victimized by it and the systems we all operate in."
Her nominators called her speech "brave," and said, "Her work has pushed us all to be better about upholding ethical principles in global health. She is a role model."
With master's degrees from both the Johns Hopkins Bloomberg School of Public Health and the London School of Hygiene and Tropical Medicine, Marie-Claire has implemented large-scale, community-based public health interventions in sub-Saharan Africa and South Asia. She is passionate about health and economic empowerment and poverty alleviation, and she works to accomplish this through community-based participatory research; capacity building of African research institutes and public health professionals; and mentorship, specifically for girls and young women of color.
She has been a mentor to several UW undergraduate students over the years, including Christelle Silué, a recent graduate of the School's Public Health-Global Health Major.
"Claire has been a mentor to me in many ways – from helping me through imposter syndrome while at the UW to helping me get my first job after graduation," Christelle said. "She's always been there for me, not only as a mentor but as a sister. She is someone I look up to as a woman of color in the public health field because she never let obstacles stop her from being an advocate and a voice for her community. She has taught me to always stand up for what I believe in and to make sure that my voice is heard."
Marie-Claire has taken part in several mentorship initiatives led by the UW's Student of Color Affinity Group and Students of Color for Public Health. She was also instrumental in helping the School of Public Health to develop its new mentorship program, which aims to match undergraduate and graduate students from an equity lens. This means, in addition to looking at areas of interest, the program matches mentors with mentees based on shared identity. The program is currently being piloted through the School's Office of the Dean.
Her message to students, staff and faculty: "Take the time to understand how you can use your talents to serve your community in the most genuine and impactful way. Then, just serve. Talk, write, protest, teach, heal, feed, produce, design. Do whatever you do best, because as Dr. King elegantly said, 'Everyone can be great, because anyone can serve.'"