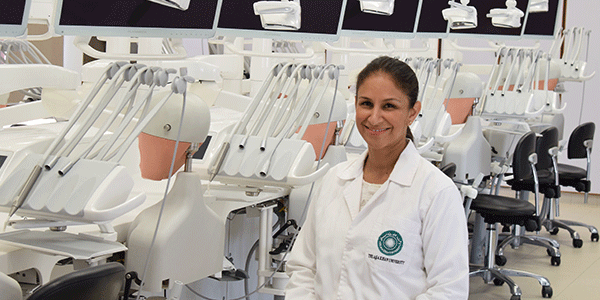 While visiting rural villages in Pakistan in 2015, Salima Alibhai (Executive MPH '13) was stunned to see children, sometimes as young as 5 years, with red-stained teeth.
It was the mark of the betel nut, a carcinogenic berry commonly chewed in parts of Asia as an energy boost or appetite suppressant. Chewers' mouths turn red as the juice soaks into the cracks of their teeth and builds up around their gums, before it's spat out. Though socially and culturally accepted in the region, betel nut is highly addictive and long-term use could lead to serious oral health issues.
"Pakistan has one of the highest oral cancer rates in the world," Alibhai says. "When I first came here, I was floored by the number of head and neck cancers that were brought to the dental clinic, many that seemed preventable if screened for earlier."
Alibhai was a visiting professor, gathering information about oral health to guide the development of a new preventive dentistry program at the Aga Khan University in Karachi, Pakistan's most populous city. She became the program's director in August.
In collaboration with local and international faculty, Alibhai is working to strengthen Pakistan's dental hygiene profession by training a workforce, building capacity and creating jobs. Dental hygienists are licensed professionals who provide oral health care to patients. They specialize in the prevention and treatment of oral diseases, from gum disease and gingivitis to oral cancer.
Alibhai had to establish an entirely new scope of study and clinical practice. Together with colleagues, she formed partnerships with dental clinics that provide real-world opportunities for students, while educating dentists about the need for oral health promotion and disease prevention. To convince the community, the program offers screenings for oral cancer and periodontal disease.
Aside from curriculum development and program advancement, Alibhai teaches courses in dental hygiene and theory. She also runs the dental simulation lab, where students can practice clinical methods on mannequins designed to mimic the challenges of a clinical environment.
"I never thought my path would lead me to promote oral health in communities where prevention is lacking," Alibhai says. Born at the foot of Mt. Kilimanjaro in a small town called Moshi, in Tanzania, Alibhai wondered why some people had decaying teeth, while hers were healthy. Encouraged by her parents to brush and visit the dentist, she did not know that others might not have had the same guidance. This sparked her interest in oral health care.
Later, her studies and community engagement as a UW student ignited her passion for public health and education. Alibhai received her Master in Public Health in 2013 through the executive MPH program, housed in the Department of Health Services. For her thesis, she explored the barriers faced by caregivers in providing oral care to vulnerable patients, particularly those with traumatic brain injury. The program allowed Alibhai to continue serving patients in Seattle as a dental hygienist and training students as lead lecturer of periodontics at Seattle Central College.
Alibhai fully immersed herself in public health projects as a UW undergraduate in dental hygiene. She provided dental hygiene education and services to underserved populations across Washington state, including Native Americans on the Colville Indian Reservation and children in the Yakima Valley.
Her two worlds collided recently when the UW and the Aga Khan University, as part of the Aga Khan Development Network, announced a new partnership that will "link the UW's Population Health Initiative with the network's efforts to advance health and well-being in some of the most challenging regions of the world," Alibhai said.
So far, more than 20 students have graduated from the Aga Khan University's dental hygiene program. The next big step, Alibhai explains, is getting more dental hygienists out into rural areas to deliver care to people who need it most. The program is unique in that it attracts students not only from Pakistan, but also from other developing countries such as Kenya and Uganda.
"We're in a unique position globally to train students from countries that may not have preventive oral health care," Alibhai says. "We're saying, 'Come to us, we will help you, we will train you,' with the hopes that they will go back and serve their communities."
No other dental hygiene program in the world is taking this approach, she adds. "I see the potential and the growth. And when it works, it's going to be tremendous."
This story was featured in the fall 2018 issue of SPH Connect. Read the full publication here.