Changing to a diet low in fat was linked to small but significant improvements in older women's general health, and physical ability to perform everyday activities, according to new research from the Fred Hutch research center, University of Washington School of Public Health, and collaborating institutions.
Women who reduced their fat intake and ate more fruits and vegetables also reported having more energy, according to the findings, published in the February issue of the Journal of the Academy of Nutrition and Dietetics.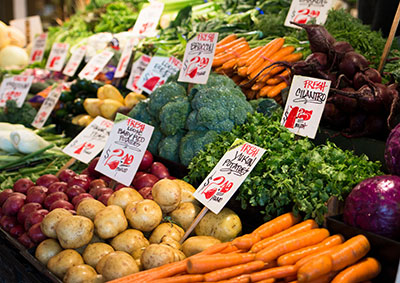 photo by Katherine Turner
"Women in the trial likely had been consuming a high proportion of fat for many, many years. Making these dramatic changes in their eating choices led to measurable improvement in these variables of quality of life—vitality, general health, and physical functioning," said co-author Shirley A.A. Beresford, senior associate dean and professor of epidemiology at the University of Washington School of Public Health.
She said researchers adjusted for weight at both the start of the study and the end of the first year, meaning the remaining changes in quality of life could be attributed to the dietary modification.
The study analyzed data from the Women's Health Initiative Dietary Modification Intervention Trial. That randomized trial followed more than 48,000 healthy women between the ages of 50 and 79 from across the U.S. for about eight years to test whether a low-fat diet would reduce their risk of breast and colorectal cancer and cardiovascular disease. This additional set of analyses was conducted on quality-of-life outcomes.
At the start, participants had to have a fat intake that accounted for at least 32 percent of their daily calories. More than 70 percent of the women were overweight or obese. The nearly 20,000 women in the intervention group were given a goal to decrease their fat intake to 20 percent of total daily calories and to increase their consumption of vegetables, fruits and grains. The comparison group of nearly 30,000 women received education materials only.
The women answered questions on a standardized survey of health related quality-of-life before their first screening visit and at the two follow-ups reported in the publication. After one year, small but statistically significant improvements in general health, physical functioning, and vitality were found in the intervention group compared with the comparison group, Beresford said. The greatest benefits were seen in the heaviest women. The study also found a continuing but smaller benefit from a low-fat diet at an average of 8.1 years of follow-up.
Social support offered to participants through group sessions may have been important. "The changes could be partly attributable to dietary changes and partly to the benefit of participating in the group intervention," Beresford said.
Other research partners were Pfizer Inc., Brown University, University of Nevada, Ohio State University, University of Massachusetts, University of Iowa, and Emory University.
Link: https://www.andjrnl.org/article/S2212-2672%2815%2901225-3/abstract