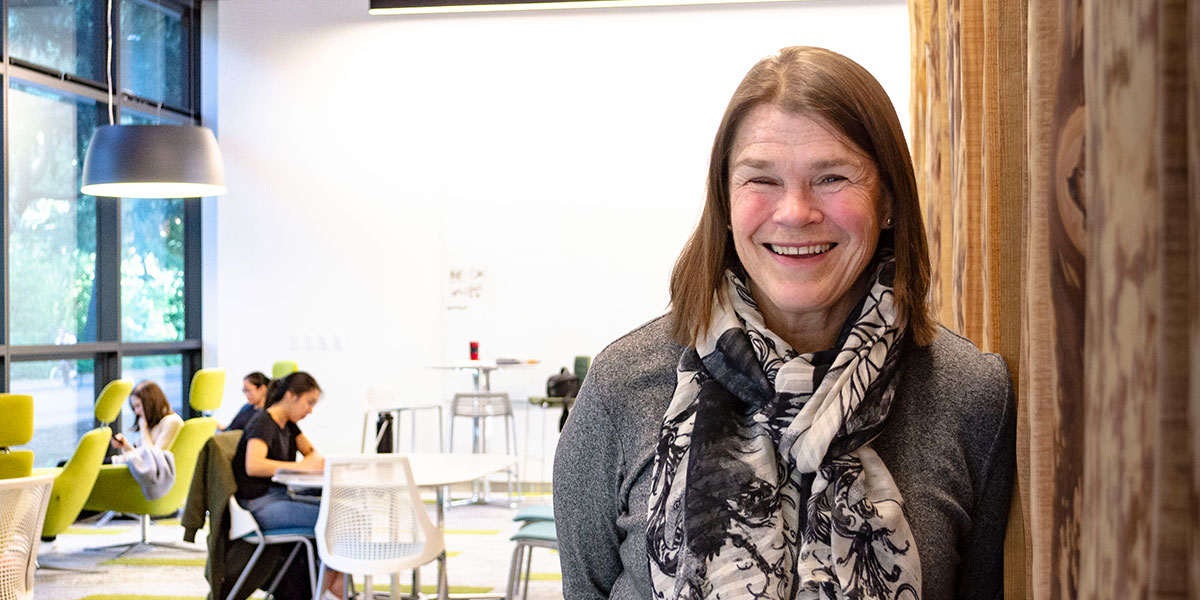 Christine Hurley (MHA '77) will receive the University of Washington School of Public Health's 2020 Distinguished Alumni Award, the School's highest honor, for her distinguished service and achievement in public health.
Hurley is a trailblazing health care leader and fearless advocate for vulnerable communities in Seattle and the Puget Sound region. Over the last four decades, she has worked tirelessly to reduce barriers to health care, safe and stable housing, and other social services for the elderly, the homeless and LGBTQ individuals, including those suffering from AIDS.
Her innovative efforts have informed national models for equitable health services, including a groundbreaking community health center model that now addresses some of our nation's most persistent health care issues. She also teaches and mentors the next generation of health care leaders as a clinical assistant professor in the Department of Health Services at the UW School of Public Health and a core faculty member of its Community-Oriented Public Health Practice (COPHP) program.
"Chris represents the kind of alumna we are the most proud of at the UW School of Public Health: she took her training and the privilege and power it created for her, and used it to advance the health and well-being of people struggling to survive in tough circumstances," said Amy Hagopian, professor of health services and global health and director of the COPHP program. "She's served people experiencing poverty, homelessness and despair in ways designed to bring them dignity and agency. She brings the right values, the right attitudes and real heart to her work."
Hurley was a leading figure in Seattle's community health center movement of the late 1970s, "a time of significant organizational advancement and growing political support," Hurley says. In 1977, she founded the Pike Market Medical Clinic, a grassroots community health center serving very low-income residents in downtown Seattle. As executive director, she designed services to match the special needs of the clinic community, primarily older adults. The clinic developed a national reputation for its geriatric services, "offering specialized services rarely seen in other primary care settings," says Hurley, "including community nursing outreach, foot care, housing advocacy, social work and internal medicine providers."
The clinic was recognized as an innovative model of care and service by the U.S. Department of Health and Human Services in 1980. Hurley also co-founded the Pike Place Market Foundation, which has since raised $30 million for a web of social service organizations in Pike Place Market. More than the city's beloved public market, the Pike Place community provides affordable housing and creates a safety net for low-income seniors, the disabled and the homeless.
In 1991, Hurley embarked on the most challenging project of her career. In the early days of the AIDS epidemic, she was founding director of Seattle's Bailey-Boushay House, the nation's first nursing home serving people with AIDS at the end of life. At the time of its founding, a death from AIDS occurred in Seattle nearly every day. Hurley led the home through "a dynamic and demanding environment of social, political and public health challenges and change," she says. "I learned more about what it means to be a human being while at Bailey Boushay than any other place."
Hurley built the facility's successful fundraising program, which raises $1 million annually from private sources. The facility is now owned and operated by Virginia Mason.
Prior to the Bailey-Boushay House, Hurley worked for the Group Health Cooperative of Puget Sound (now Kaiser Permanente Washington), where she led the development of an innovative risk-based breast cancer screening program and, at Eastside Hospital, partnered with Public Health – Seattle & King County to provide maternity services to 150 low-income women annually.
Later in her career, in 2006, she worked with the Committee to End Homelessness to design and secure funding for a social services program that diverted mentally ill and/or addicted homeless individuals from jails into safe, stable housing and treatment. In yet another innovative project, in 2010, she worked with the county health department to expand a respite program into a 34-bed medical respite facility – now called the Harborview Respite Center – that would provide short-term housing and health care for homeless patients discharged after hospitalization. Hurley was integral in securing funding from eight area hospitals and building the facility in a low-income housing community.
Hurley has served as a faculty member in the UW School of Public Health since 1996. She has mentored cohorts of students, many of whom now play leadership roles in the local and regional health system. With colleagues, she remodeled a critical component of the COPHP program's curriculum and was a contributing author to the program's book, Experiential Teaching for Public Health Practice.
Hurley has a strong and innate commitment to community service. She serves on the Board of the Burke Museum Associates, which promotes the new Burke Museum of Culture and Natural History and where she has served as president, vice present and secretary. She has also served on the Seattle Council of the United Way of King County and volunteered as a board and executive committee member of the Pike Market Medical Clinic post-employment.
Additionally, Hurley was chief executive officer of Whidbey Island's Goosefoot Community Fund, a nonprofit economic development organization that reinvested profits from a small grocery store for community benefit. Even on sabbatical to India in 2012, she kept busy. She provided fundraising and training support to 150 community organizations that make up Avahan, an initiative sponsored by the Bill & Melinda Gates Foundation to reduce the spread of HIV in India.