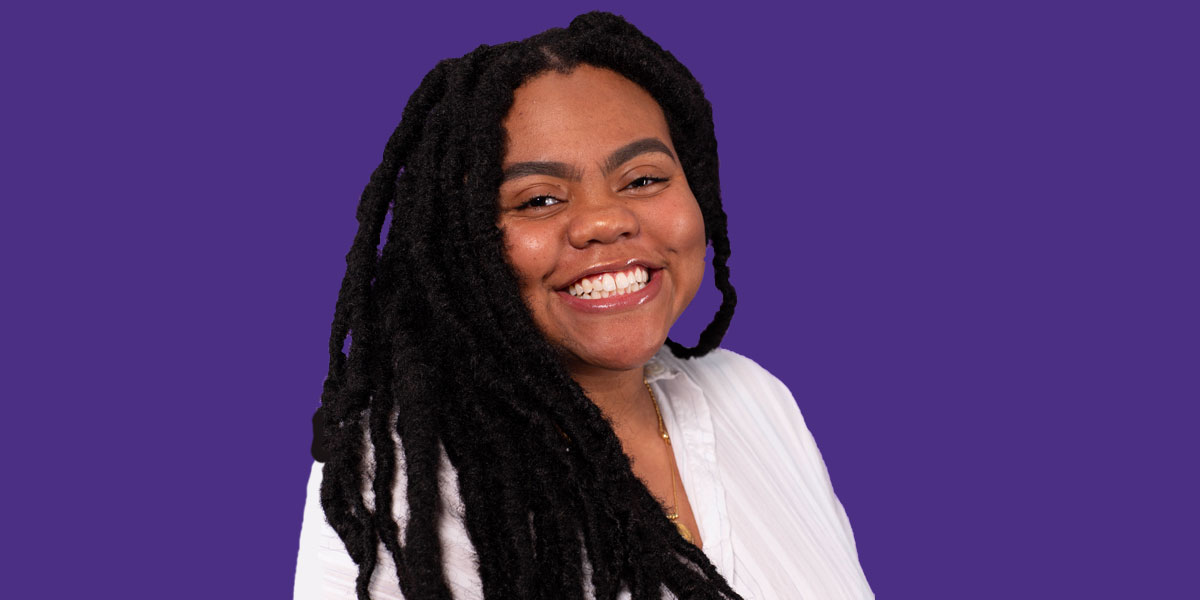 Erin Lee brought a level of dedication and well-crafted intention to her work as a Department of Health Services master's student at the UW School of Public Health that was on par with the efforts and skills of many first- or second-year doctoral students.
Lee, who graduated in July, has earned numerous honors for her work — Husky 100, UW Bonderman Fellowship, School of Public Health's Outstanding Student Community Service Award, and the Office of Minority Affairs & Diversity's Graduate Opportunities and Minority Achievement Program (GO-MAP) Scholar of the Year.
When Lee told her thesis chair Jodie Katon that she wanted to do primary data collection for her thesis project about community-based doula work for women of color, Katon was concerned (at first) about the time it would take, from building the skills for developing an interview guide to analyzing the data. 
"Two years in a master's program is not a lot of time to do that on top of building the needed relationships with organizations," Katon noted. But she wholeheartedly supported Lee in moving forward with the work, providing guidance and assistance along the way.
In the end, Lee was not only able to workshop and create an interview guide that helped propel her project to success, she also built relationships from the ground up with Open Arms Perinatal Services. Her thesis gives voice and uplifts the experiences and motivations for community-based doulas who are primarily women of color.
As one doula shared, "... institutions they see us and assume certain things. And because of those assumptions, we're dying. And our babies are dying. And even if we are not dying, we are suffering health outcomes that are completely preventable."
Lee's ability to ask thoughtful questions and genuinely listen is another testament to her skills and empathy.
"She has a certain joy and warmth, along with a certain gravitas and seriousness," Katon said. "She has a way of setting people at ease. She knows how to build and reinforce trust. Many doctoral students aren't doing that level of work, and it is really powerful."
When it comes to her own motivations, Lee is clear that her experiences as a Black woman are central. "I am a Black woman, born from a Black woman, raised by a Black woman," she said. "At the core of why I chose to go into public health is because of my intersecting identities as a Black woman…I understand what it means to not be seen and not be heard."
Lee was born and raised in Cleveland, Ohio, and is the middle child of five. Lee's biggest challenge hasn't been how to successfully complete her ambitious ideas, it has been the impacts and results of racism, including a lack of representation in her education at the University of Washington and at The Ohio State University where she earned her bachelor's in sociology. The lack of representation is not only in the faculty but the curriculum, she noted.
"There is a lack of acknowledgement of racism as a public health issue," she said. "A lot of the things we are learning are white, and there are so many different scholars who have contributed to the field that are important."
Lee knows that without representation among faculty and within the curriculum, future public health practitioners aren't always being prepared to tackle the root causes of public health issues. It can also cause gaps in coursework and lectures that cause unintentional harm to Black students.
"Often when in a classroom, we are saying, 'Black people die earlier.' That second-hand trauma is extremely horrible," Lee said. "It's hard sitting in a classroom when I am the statistic we are just throwing around."
Lee also noted that all public health students need to be prepared to effectively support the diverse communities they want to serve.
"People are saying they want to work with Black and Brown communities but they've only learned a blanket version of what racism is. I think we need to better prepare practitioners to acknowledge and fully understand what racism is and how it impacts entire communities," she explained.
Lee's perspective is one that Katon sees as the future of public health. "Erin represents the kind of scholarship we need to be promoting," she said. "This is where the future is. We need to start encouraging our students and building those skills ourselves as faculty."
During her time at UW, Lee built herself a network of faculty support in the Department of Health Services — Katon, Clarence Spigner, and Lisa Callegari (only one of whom is Black) — that helped her navigate difficult situations and speak up about gaps in curriculum, among other issues. Lee also worked to connect with faculty of color outside the School of Public Health, such as Kemi Doll in the School of Medicine and LaShawnDa Pittman in the Department of American Ethnic Studies. Doll is also list as an adjunct professor in the Department of Health Services.
"Even though my network was small, we were mighty," Lee said. "They were extremely invested in giving me the tools and resources so that I could not only do my own learning, but they were also my guides on the side in helping me be successful."
Lee also greatly credits the Graduate Opportunities and Minority Achievement Program (GO-MAP) in helping her build support systems for scholars of color in white spaces and effectively advocate for herself and others. GO-MAP provides personal, social, and professional development programming specifically for graduate students of color. It provided her a space where her experiences and voice felt validated, she said. During her two years at UW, Lee served on GO-MAP's Graduate Student Advisory Board.
Lee's dedication to improving birthing outcomes for women of color extends beyond her course work. She volunteered for SURGE Reproductive Justice, a nonprofit focused on reproductive justice in Washington state, where she led efforts to implement a doula program for people who are incarcerated and create a training manual for the program.
Lee recently accepted a job where she will be continuing her work in around birth equity, and hasn't ruled out the possibility of pursuing a PhD (in sociology) someday.
Lee is also still hoping to be able to complete her UW Bonderman Fellowship, which enables students to "undertake independent international travel to explore, be open to the unexpected, and come to know the world in new ways," according to the program's website. Students travel to eight countries in eight months based on a selected theme or topic. Lee's focus will be exploring how Black knowledge and Black history are archived (from music to recipes to hair styles), inside and outside of institutions, in countries that have been impacted by slavery. "How is our history being transferred from generation to generation, and how are our identities shaped by our history, especially in relation to slavery and racial injustice around the world?" Lee asked.
Regardless of where she is or what project she has her eyes on, Lee will continue centering Black women and Black experiences.
"My priority is making sure Black women feel safe no matter what."