More evidence that fish is good for you: A study from the University of Washington School of Public Health found that people who ate high levels of oily fish tended to live longer than those who ate no fish at all.
People who regularly ate so-called dark fish such as salmon and fresh tuna and who took dietary supplements of fish oil had an 18 percent reduced risk of overall mortality, compared to those who ate no fish, researchers said. Those who consumed high levels of fish also had a 23 percent lower risk of cancer death, according to the study, published in the American Journal of Epidemiology.
"The preponderance of evidence indicates these things are good for your health," said lead author Griffith Bell, a fourth-year PhD epidemiology student who conducted his research with the Fred Hutchinson Cancer Research Center in Seattle.
What's the magic ingredient? Researchers measured two types of long-chain omega-3 fatty acids known as EPA and DHA. (White fish does not contain the same levels of these chemicals as dark fish or supplements.) Some studies have hailed the benefits of omega-3 fatty acids, especially for the heart, although epidemiological evidence has been mixed, UW researchers say.
UW researchers followed more than 70,000 people aged 50 to 76 years in western Washington state for about five years, using questionnaires on diet, lifestyle and supplement use.
"If this is true that long-chain omega-3 fatty acids reduce mortality, it's likely through their anti-inflammatory properties," Bell said. "There's a fair amount of lab science that explores their anti-inflammatory properties. Animal studies show they reduce the kind of inflammation that leads to cancer."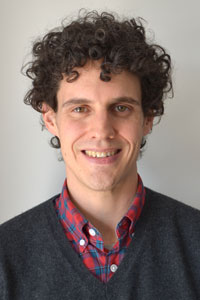 Griffith Bell
Bell cautioned that more research is needed and that it was difficult to precisely measure things like diet. Some studies have shown the risk of eating dark fish, he said. A recent study out of Ohio State University found a link between high levels of omega-3 fatty acids in men and an increased risk of prostate cancer. Another study showed an increased risk of endometriosis in overweight and obese women.
Fish also could contain metals that could be harmful to pregnant women and to children, Bell said. But overall, omega-3 fatty acids appear to reduce the risk of death from cancer. The UW study also found that those who consumed high levels of omega-3 fatty acids had a reduced risk of death from cardiovascular disease, but the association was not significant.
"People who eat a lot of fish and take a lot of dietary fish oil supplements tend to care about their health," Bell noted, "and they tend to be a little wealthier." The research found that people who consumed higher levels of omega-3 fatty acids also tended to see doctors more regularly for screening, were highly educated, and ate more fruits and vegetables.
Senior author was Emily White, professor of epidemiology and member of the Fred Hutchinson Cancer Research Center. Co-authors were Elizabeth Kantor, Johanna Lampe, Alan Kristal and Susan Heckbert. The School's Interdisciplinary Program in Nutritional Sciences and the Department of Pharmacy and Pharmaceutics, School of Pharmacy, also took part in the study.