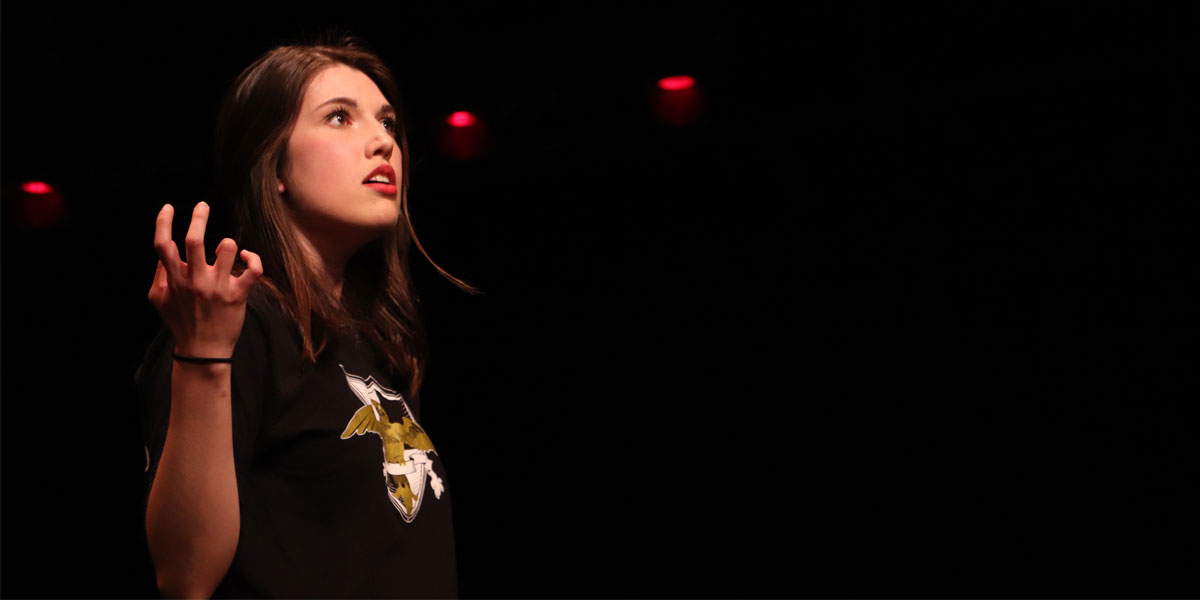 Emma Spickard never thought of herself as "one of those funny people," but there she was on stage at a college improv tournament, playing an overly competitive cousin from a wacky family trying to rig an Easter egg hunt. And she had the audience in stitches.
Spickard is a member of the University of Washington's improvisation or improv troupe, and this was their biggest show of the year. Using a variety of games and acting techniques, the artists work together to create dialogue, action, narrative and characters as a performance unfolds in real time, without using a prepared script.
"A big part of improv is trusting yourself and your teammates and knowing that you have everything inside of you to make a scene go well," said Spickard, a graduating senior in the Public Health-Global Health major at the School of Public Health. "I use improv all the time in real life. I know I have the skills, I just need to take the leap – ask a question I'm scared to ask, state my opinion, write a paper on a topic that makes me uncomfortable."
This approach has catapulted Spickard to the top of the UW charts. She was recently selected to receive the UW President's Medal, the highest honor awarded every year to two graduating seniors. Her accomplishments will be recognized today at the University's Awards of Excellence.
Spickard is in the competitive Public Health Honors program, where students take a deep dive into public health and global health topics. She completed the program in conjunction with the Interdisciplinary track of the University Honors program, which engages students in critical thinking beyond silos.
Having uncomfortable conversations about homelessness
Spickard has been doing improv for six years, and within these creative spaces she not only found a family, but she also found her voice.
"Improv gave me a love for public speaking and storytelling," she said. It also prepared her to have uncomfortable, but necessary conversations with strangers.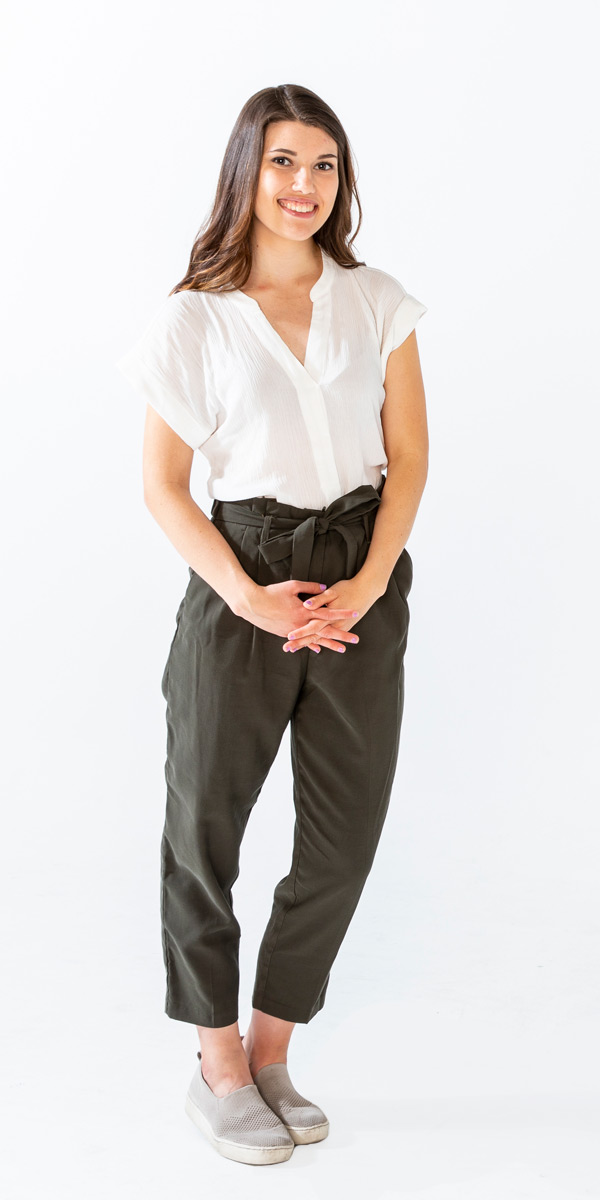 Last winter, she could be found walking door to door in Magnolia, handing out fliers and talking to residents about the root causes of poverty and homelessness. She was part of a team of advocates working to facilitate community conversations around a proposed plan to redevelop unused Army land by Discovery Park into open spaces and about 240 affordable homes. The initiative was led by Real Change, a nonprofit that offers immediate employment options for low-income and "un-housed" individuals. The organization is best known for its award-winning weekly newspaper. Spickard's involvement with the group grew out of a class assignment in Honors 231: Citizenship Acts to Challenge Poverty.
She helped organize a public panel of stakeholders, including some who were homeless, to "put faces to the homelessness crisis." The goal was to use evidence to dispel common misperceptions of this vulnerable group. The Seattle City Council, on June 11, approved the long-delayed plan.
Spickard continued to work with Real Change as a summer intern to help facilitate a survey for vendors (low-income folks who sell the paper) to capture their experiences with and expectations for the organization. She presented her work at the SPH Undergraduate Symposium in May.
Turning research into action
Originally from Bainbridge Island, west of Seattle, Spickard was attracted to the UW because of its Public Health-Global Health major. She was also excited to continue a family legacy — her parents, both teachers, received their master's degrees from the UW, and her grandmother attended as an undergraduate.
"Seeing them as public school teachers made me interested in the workings of the government, and the relationships of state/federal politics," Spickard said. She often accompanied her mom to Olympia to advocate on behalf of education and teacher rights. She would later return to the state capitol as a college student to talk to lawmakers about public health.
Earlier this year, Spickard teamed up with fellow senior Abby Jernberg and Affiliate Professor Stephanie Farquhar to organize a panel for students taking part in Legislative Education Day, held March 6. This is a day every year when more than 120 public health advocates convene in Olympia to learn about the legislative process and to educate lawmakers about the importance of public health funding.
Panelists gave students tips on how to tell a story and how to frame research for lawmakers.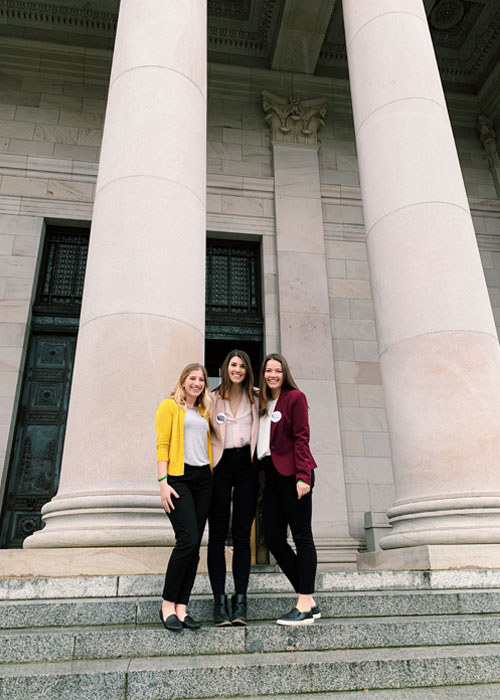 "Emma and Abby identified a need and then they took action," Farquhar said. "I see a lot of people identifying a need and not taking action, but they were incredibly proactive. They made it happen."
While in Olympia, Spickard learned valuable lessons in using evidence to influence policy. Skills she gained while competing in the UW Global Health Business Case Competition, hosted by the Foster School of Business, made a world of difference. The experience solidified her interest in policy. She plans to pursue jobs as a legislative aid in the future.
"It excites me to think of myself as someone who can reframe public health issues and research for advocacy, and who can ensure that information is used in an effective way," she said.
Traveling the world to explore health and healing
On campus, Spickard led new student orientations, took prospective students on tours, taught her own classes as an Honors Peer Educator and provided support as a research intern for the UW Resilience Lab. Last year, she was named to the Husky 100, which recognizes students who have "made the most of their time at the UW." She is set to graduate summa cum laude this month.
Next on her list: traveling through South America and Central and Southeast Asia as a Bonderman Fellow. These unique fellowships allow students to independently travel across at least two continents and six countries for about eight months. Students are barred from taking courses, writing papers or doing any kind of formal study. Spickard plans to explore what health, healing and resilience look like within the context of culture and religion.
"Travel allows you to move through spaces different from your familiar contexts and to engage with people whose backgrounds differ from your own," she said. "I am excited to do this on a global level, and to be able to apply that global mindset when I return to the U.S."