For nearly three decades, Grace John-Stewart, a professor of global health and epidemiology at the University of Washington School of Public Health, has devoted her career to improving HIV prevention and treatment.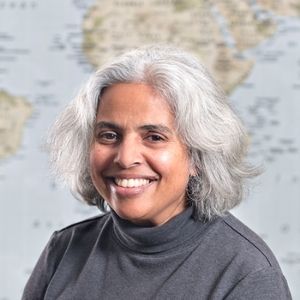 Now, the Association of Schools and Programs of Public Health (ASPPH) recognizes John-Stewart's outstanding accomplishments with its 2021 Research Excellence Award. This award celebrates both her leadership in academic research and her impact on the health of the communities she serves.
"Throughout my career, it has been a huge privilege to collaborate with so many wonderful people to change things for the better," says John-Stewart, also a professor of medicine and pediatrics at the UW School of Medicine.
She and her colleagues have contributed to a dramatic reduction in rates of HIV transmission from mothers to children. Their impact has been felt particularly in Kenya, where John-Stewart has worked with local researchers, students and communities since 1993.
"After my medical training at the University of Michigan, I knew I wanted to work in underserved communities," she says. "As part of my Infectious Disease Fellowship at the UW, I moved to Kenya to study how babies became HIV infected, and that organically led to more and more studies on how to prevent and treat HIV in women and children."
John-Stewart went on to live in Kenya for almost 12 years, conducting research through the Kenya Research Training Center, a collaboration between the University of Nairobi and the UW's Department of Global Health, which sits jointly between the Schools of Public Health and Medicine.
While serving women and children in Kenyan clinics, she and her teammates made significant contributions to research demonstrating how HIV was transmitted from mothers to their infants and that treating mothers with antiretroviral therapy could prevent HIV transmission to children. Her team — and the rest of the world — soon saw far fewer cases of mother-to-child transmission.
Building on that success, John-Stewart transitioned from the clinic to leading research on how to optimize transmission-prevention programs.
"It has been so exciting to see these programs expand and then to try to understand where there might be residual gaps and how to ensure that women and children get the treatment they need," she says.
Today, John-Stewart continues to lead and advise on numerous HIV projects, including studies aimed at helping women who may be at risk for becoming HIV-infected during pregnancy and studies to improve the long-term health of children living with HIV. This includes understanding how to help children learn their diagnosis and navigate transition to independent adult care. She and her Kenya-based colleagues are also tracking the long-term health of children without HIV who were born to mothers who had HIV and received treatment in pregnancy.
In addition to her HIV work, John-Stewart has forged collaborations that address the interwoven nature of women's and children's overall health. Through the Department of Global Health, she helped establish and co-directs the Global Center for Integrated Health of Women, Adolescents and Children.
"Grace is an exceptional scientist, mentor and advocate who has dedicated her life to improving the lives of women and children," says Judd Walson, a professor and vice chair in the global health department. "I came to the UW specifically to work with her as my mentor and stayed largely because the community of researchers that she has brought together under her leadership embodies both the quality and the values in science that I wish to pursue."
Reflecting on her career so far, John-Stewart emphasizes her dedication to mentoring the next generation of leaders, such as Walson, who will improve public health in Kenya and beyond.
"As a mentor, I can promote equity and inclusiveness in the field as I help new trainees move towards research independence and leadership," she says. "It is deeply fulfilling to help people who might go on to improve health outcomes and save lives."
John-Stewart will formally receive the ASPPH Research Excellence Award at the organization's annual meeting in March. Learn more about the organization's 2021 Excellence Award here.