Amy Hagopian of the University of Washington School of Public Health will receive the Victor Sidel and Barry Levy Award for Peace from the American Public Health Association (APHA) at the APHA Annual Meeting & Expo in San Diego on Nov. 13.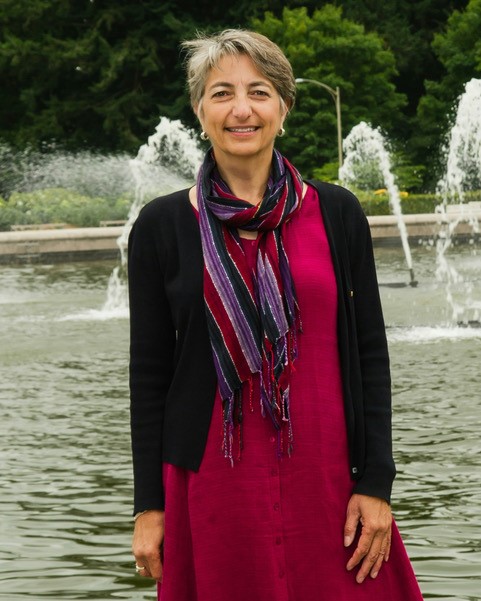 Hagopian is being honored for her leadership, enduring passion for advocacy, and mentoring of colleagues and students around the prevention of war and the promotion of peace worldwide. She is an associate professor of health services and global health, who has studied the effects of war on global health for many years. (Learn more about Hagopian's work on war and health in a Q&A)
"I am so thrilled to get this honor from APHA," Hagopian said. "Nothing could make me happier – except, of course, world peace, or at least stopping the bombing of Yemen."
Hagopian directs the School's Community-Oriented Public Health Practice program, which trains master's students using problem-based learning techniques. She teaches courses on health policy, global health workforce analysis, program evaluation and community development. She also teaches War and Health alongside Evan Kanter, a clinical assistant professor of health services, who specializes on the mental health effects of war. Just this summer, Hagopian and Kanter were among 20 experts invited by the The Lancet to Beirut, Lebanon, to discuss ways to advance research and action on health during times of war.
Hagopian's research focuses on international health workforce issues, including the global migration of health workers from low-income to wealthy countries and the role of armed conflict in population health. She also conducts research on international health workforce issues and heads efforts to improve workforce capacity at Health Alliance International, a nonprofit public health organization based in Seattle that supports local government partners in Mozambique, Timor-Leste and Côte d'Ivoire to strengthen primary health care.
Hagopian is active in the APHA's international health section and peace caucus. She holds a Master of Health Administration and a Doctor of Philosophy, both from the UW School of Public Health.