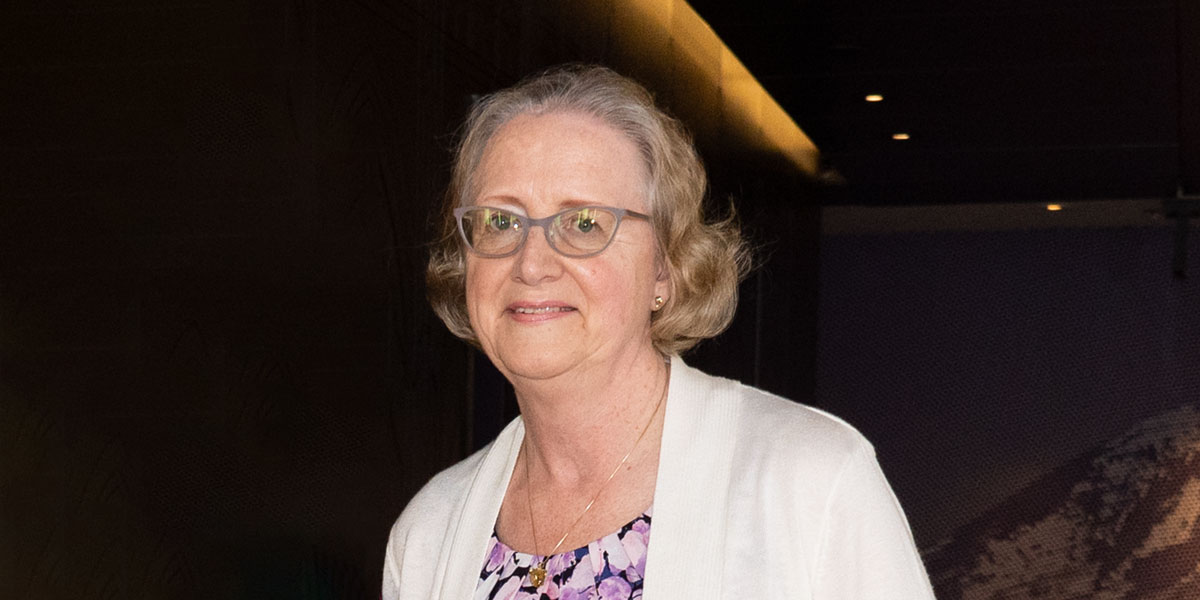 When there weren't many jobs in education in New York in the 70s, Kathleen Peterson, an aspiring high school teacher, took some advice and chased down an opportunity in an emerging field where she could apply her skills in science and data.
She moved to Baltimore to study how to compile and use the health information of patients at the United States Public Health Service Hospital, part of a nationwide network of health care facilities originally formed to care for sick and disabled seamen. At this time, advances in technology began to inspire the development of computer systems designed to manage health care data. But widespread acceptance of these systems was still years in the future.
"It was an exciting time to be part of the competitive program and to do the work," says Peterson. Later, she took on various roles in military hospitals – from a quality review specialist and inpatient auditor to chief of health information management – as well as in academia and the private sector.
"I never turned down an opportunity," she says. "I think you have to be open to different experiences because it allows you to explore different pathways, learn new things and make connections."
This was a lesson Peterson carried with her through her career – and it even helped her land a job at the University of Washington School of Public Health. It's also a message she shared with students in the School's Health Informatics and Health Information Management (HIHIM) programs. Peterson led the HIHIM bachelor's program for eight years and the master's program, which launched in 2013, for the last three years. She retired last month after 12 years as senior lecturer in the Department of Health Services.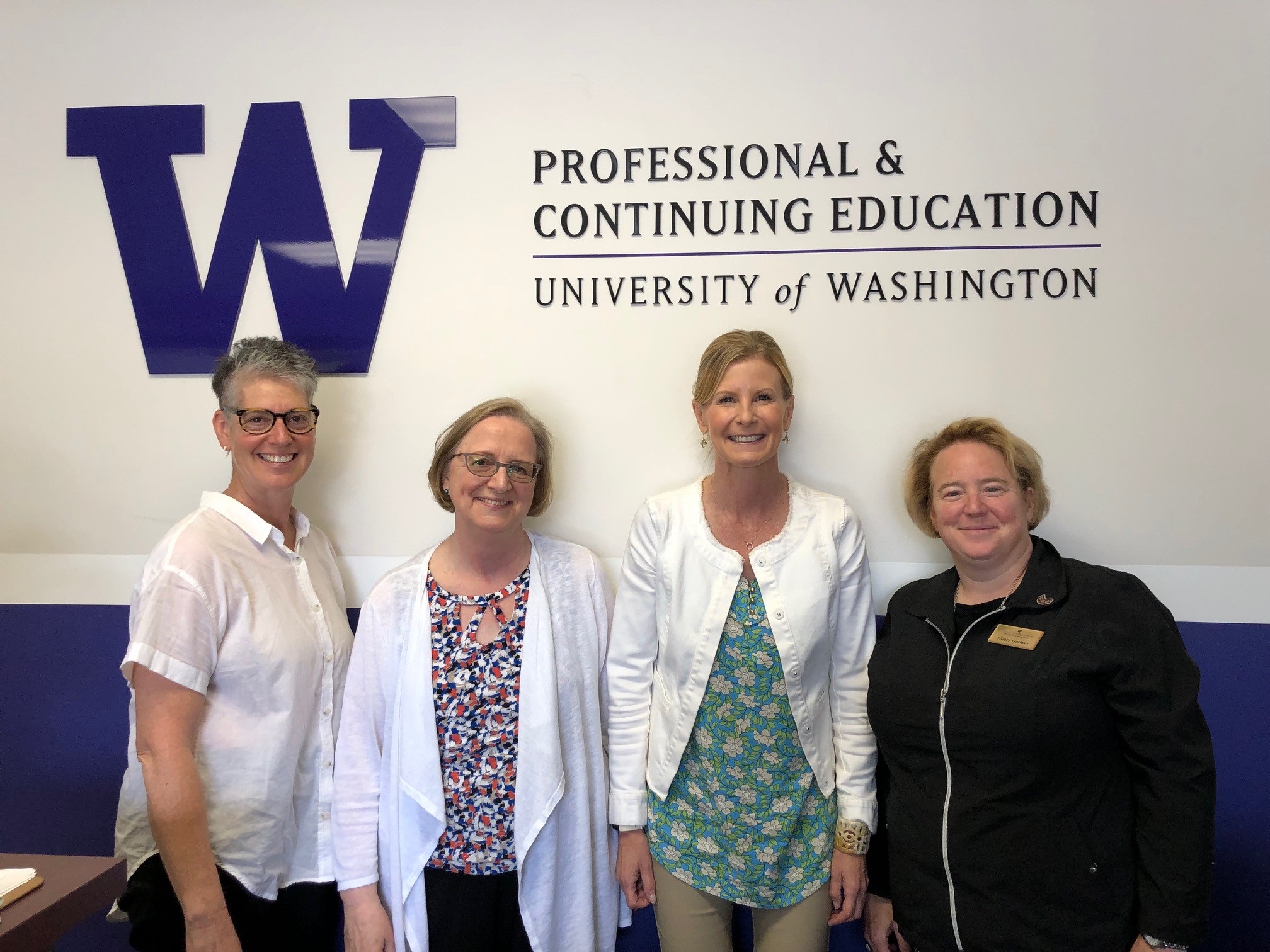 Peterson had been connected to the School as an adjunct professor, and was teaching an online program at a community college, when there was a need for a health information professional to teach a course in the department. She was referred for the job and hired by Gretchen Murphy, a national leader in health information who helped to bring HIHIM to the UW.
"From there, she gave me more opportunities to work in other areas around capstones and professional development, and I took advantage of those chances," Peterson says. She would become integral to the growth of the HIHIM programs and to the development of their robust curricula, designed to adapt to the fast-changing health care and technology landscapes.
The bachelor's degree in HIHIM had just seen a significant drop in enrollment when Peterson began to oversee the program in 2012, largely due to increased competition from other health information management programs, including those online. Peterson made it a priority as director to find better ways to market the program and to recruit the right students.
Under her leadership, enrollment numbers jumped by 86.5% between the 2012-2013 and 2019-2020 academic years. Her strategy included hiring the program's first dedicated recruiter and putting a heavier emphasis on cultivating relationships with graduates who could later serve as ambassadors. She also worked closely with the program's advisory board to market the program to potential students and maintain its excellent standards.
"The members of the advisory board are the ones who tell us what's happening in the industry," Peterson says. "It's really important to nurture those relationships and to keep it a lively network."
Also key to designing curricula that adapts as new trends arise in health care is having strong faculty and staff members who are interested in change and keep up to date themselves, according to Peterson. The program also has a mentorship initiative that pairs HIHIM students with industry professions to keep students rooted in the community and aware of the most pressing issues.
Peterson applied a lot of the same thinking as director of the master's program or MHIHIM, which she took over when Murphy, its founding director, retired in 2017.
"I'm most proud of working with students, having them become excited about the field and watching them establish their own pathways," Peterson says of her UW career. "It's great to see the things that they're able to do with the basic knowledge provided to them. They've been so successful."
More than 330 students have graduated from the undergraduate HIHIM program and the MHIHIM program - which had it's first graduating class in 2015 - has more than 100 alums.
Health information management has come a long way since Peterson's first introduction. The personal desktop computer helped to revolutionize the field in the 1980s, making processes for scheduling, checking in and billing patients more efficient. Throughout the first decade of the millennium, electronic health records became more commonplace and helped to improve health quality, safety and delivery as well as reduce disparities in health care. Now, health information is much more accessible, even to patients, and it can be shared almost seamlessly across health care products and systems.
"We know that everybody's going to need health care at some point in their lives," Peterson says. "What's great about this field for our students is that they're supporting the general population. They're giving back. They're contributing to the greater good."
Originally from Elmhurst, Queens, in New York City, Peterson and her husband, Kert, have moved around a lot throughout the years. Kert served as a U.S. Army officer for 27 years with duty assignments throughout the U.S. and Europe. The couple recently moved to the Boise area, in Idaho. During her retirement, she plans to spend more time with family and friends. She's designing health informatics courses and she may do some teaching.
"I'm not ready to give it all up quite yet," she says.
Should you wish to honor Kathleen Peterson as she transitions to Senior Lecturer Emeritus, please consider making a gift to the Gretchen C Murphy HIHIM Student Support Fund.