Noel Weiss, professor of epidemiology at the University of Washington School of Public Health, gave the prestigious Cassel Lecture this week at the 50th annual meeting of the Society for Epidemiologic Research in Seattle. Weiss explored the perils in the current public health trend of recommending interventions aimed at certain groups of people.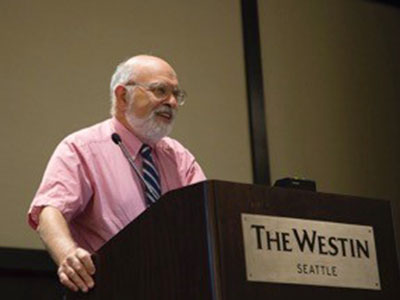 Following advances in precision medicine, which targets treatments to people most likely to benefit from them, public health researchers are also looking for opportunities to make recommendations for select groups.
"There's this tendency nowadays for people to really get excited about these subgroups and making differential recommendations," Weiss said, but in many cases, there is "too much enthusiasm for this idea."
Weiss highlighted one study that found higher rates of smoking among women who were victims of intimate partner violence. The study authors suggested using smoking as a guide to target assessment of intimate partner violence. "If you didn't know anything about smoking status," Weiss said, "it may still be a good idea to assess the presence of intimate partner violence."
In other cases, there is strong evidence for focusing interventions on certain groups. For example, Weiss said, ACE inhibitor drugs such as benazepril have been shown to substantially reduce blood pressure in white patients but not in African-American patients.
In contrast, many studies simply document a difference in disease or mortality risk across different segments of the population. However, that does not mean that those at high risk will necessarily benefit more from an intervention, Weiss said.
Any differential recommendations must also take into account factors such as the seriousness of the condition, the cost and risks of the intervention, the effect on other illnesses, and the number of person-years (not just lives) that could be saved.
Recommendations about interventions "generally shouldn't be made in an article that's actually describing the results of the study, because there's too much that goes into such a recommendation beyond what the study results are," Weiss said. That task, he said, is best left up to those writing editorials or doing cost-benefit analyses.
Weiss has published close to 650 papers on topics spanning behavioral, social, environmental and occupational epidemiology. His current research focuses on cancer epidemiology and epidemiologic methods.
Sponsored by the University of North Carolina, Chapel Hill, the Cassel Lecture honors the legacy of Dr. John Cassel, the first chair of the school's Department of Epidemiology.