Anne McTiernan was sent off to boarding school at the age of four. Emotionally starved, she went on to struggle with food, body image and weight fluctuations for more than a decade.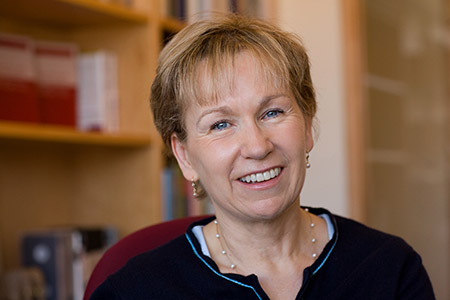 Today, as a medical doctor and nationally recognized epidemiologist, she helps other women overcome their own battles with food. McTiernan (PhD 1982, Epidemiology) chronicles her journey to adulthood in a new memoir, Starved: A Nutrition Doctor's Journey from Empty to Full.
McTiernan is a research professor at the UW Schools of Public Health (epidemiology) and Medicine (geriatrics) and a member of the public health sciences division at the Fred Hutchinson Cancer Research Center. She has spent 25 years researching, writing and lecturing about the effects of diet, weight loss and physical activity on cancer and health.
What happened in your childhood that influenced what you ate and how you viewed your body?
The book begins in the 1950s. I was four years old when my mother first dropped me off at a Catholic boarding school outside Boston, in Watertown. My mother was a single mother. My father had left before I was born. And I was left on my own at a young age, at this school, from Monday through Friday. I was emotionally starved. As a result, I stopped eating and starved myself. Our family doctor recognized how unhealthy I was and told my mother to take me home. Professionals call it a "failure to thrive."
What does "failure to thrive" mean?
It refers to children whose current weight or rate of weight gain is much lower than that of other children of similar age. It can be caused by medical issues or other factors in the child's environment, such as abuse or neglect.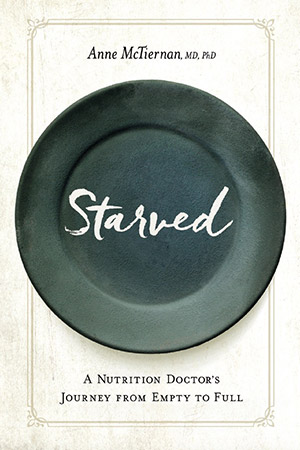 What happened after you were removed from boarding school?
More than a decade of physical and emotional abuse followed, as did a vicious cycle of food and body-image issues. I was dealing with a mother who didn't give me emotional nourishment, so I overate and became obese. In high school, the holy grail for me was getting a boyfriend. I thought that he, whoever he was, could save me. I started obsessively dieting in order to lose weight and attract the attention of boys. It really wasn't until I moved away from my mother's house that I started my healing process.
Was there anyone who supported you in your younger years?
I found love and friendship in friends and neighbors. My aunt had issues, but she loved me. She provided much better loving than my mother ever did.
How has the adversity you faced as a child impacted your work?
It molded me into a better researcher. You have to be very persistent in research, especially as a woman and especially back when I started in the early '80s. Nailing down grant funding is extremely difficult when you're starting out. It's one thing that pushes people in my field to look for careers outside of research.
Did you get into this field of research deliberately based on your history with food?
Some of it was just by chance, like the Women's Health Initiative, which I got involved with when I first came to Fred Hutch. But some of it was deliberate. I feel like I understand what a lot of our study participants are going through. I know what they are dealing with when they talk about not wanting to give up a food or an eating behavior. I absolutely empathize with them.
Why did you decide to write about these personal experiences?
An awful lot of people are dealing with overweight and obesity, not only here in the United States, but also globally. It's useful for people to see that an experienced researcher in this field has also dealt with similar issues. I thought it would be valuable to share my experiences. Plus, I was reading a lot of memoirs and really enjoyed them. In particular, Angela's Ashes by Frank McCourt. He wrote about a miserable Irish childhood and I thought to myself, Hey, I had a miserable Irish-American childhood. I could write a book.
I eventually enrolled in a certificate program in memoir writing at the UW and got to work. I received a lot of help along the way from my writing group and editors.
How long did it take to write?
Five years. I was working full time, so writing was an evening and weekend sort of thing. When I had to write research papers or grant proposals, I put the memoir on hold for a bit, then returned to it later.
What do you hope is the book's takeaway?
I want people to understand that if they're dealing with food issues or obesity, they can make decisions today that could impact the rest of their lives. Perseverance and education helped me to escape and build a better life, and there are ways for them to do the same. They can survive it.
McTiernan is having a book launch at 7 pm Monday, Jan. 23, at University Bookstore in Seattle. She'll also appear at Ravenna Third Place Books at 7 pm Thursday, Feb. 16. Starved can be purchased at bookstores and online.
(By Ashlie Chandler)