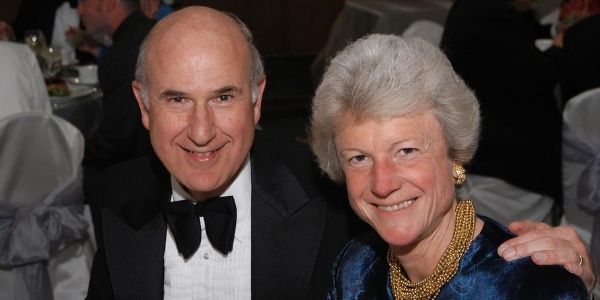 Former Dean Gilbert S. Omenn, MD, PhD, and his wife, Martha A. Darling, have made one of the largest individual gifts to the University of Washington School of Public Health in support of the 50th Anniversary for the SPH and the launch of the UW Population Health Initiative. These funds will create modern research and service lab facilities in the Department of Environmental & Occupational Health Sciences (DEOHS), facilitating collaboration, intellectual exchange, training, and public/private innovation.
Omenn joined the UW in Medical Genetics in 1969, launched the Clinical Scholars Program in 1975, became a full professor in Medicine in 1979, and was dean of the School of Public Health from 1982 to 1997, when he moved to the University of Michigan to be CEO of the Health System and UM Executive VP for Medical Affairs. He was DEOHS chair before becoming dean and remains an affiliate professor.
"This generous gift will accelerate public health research, teaching and service that improves people's health and well-being," said SPH Dean Hilary Godwin. "The impact of their donation will be felt well beyond the walls of our School, accelerating scientific discoveries about how pollutants, chemicals and other environmental and workplace hazards affect population health."
A new home for environmental health research
The couple's gift will modernize and consolidate the existing molecular toxicology, vivarium, cell culture and microbiology labs in the department's Roosevelt Building adjacent to the UW campus at NE 42nd Street and Roosevelt Way NE.
New lab spaces will be created at Roosevelt, including a mass spectrometry lab, biosafety level 2, trace metals, inorganics and gas calibration analytical facilities.
In addition, the department's Field Research and Consultation Group lab will be renovated to provide a flexible space for prototyping devices and staging sample collection equipment used in DEOHS occupational health and larger population-based research studies. 
Fueling public health impact
The Omenn-Darling gift "fills a critical gap in our research infrastructure. It creates modern wet labs optimized for interdisciplinary collaboration to accelerate cutting-edge environmental health research," said Michael Yost, DEOHS professor and chair. 
The new facilities at Roosevelt will complement the department's recent move into the new Hans Rosling Center for Population Health on the UW campus. About half of DEOHS faculty and staff will occupy the Roosevelt building, mainly focused on research activities, with the other half at Rosling, including teaching faculty and administrative offices.
Roosevelt's integrated learning and work spaces "will help us recruit outstanding faculty and students, enable collaboration, enhance capacity for lab research and cross-disciplinary training and create an innovative learning environment to advance evidence-based solutions to today's environmental health challenges," Yost said.
The team-learning environment will give DEOHS students opportunities for hands-on learning and field investigations, bringing theory to life through research-oriented applications. "Students will become fluent communicators and effective professionals across broad aspects of toxicology, microbiology, risk assessment, environmental epidemiology and exposure sciences," Yost said.

Roosevelt's newly modernized, integrated learning and work spaces "will in turn help us recruit outstanding faculty and students, enable collaboration, enhance capacity for lab research and cross-disciplinary training and create an innovative learning environment to advance evidence-based solutions to today's environmental health challenges," Yost said.
Co-locating the department's expanded labs, mass spectrometry capability and Field Group expertise will enhance the department's long-standing partnerships with state agencies, community organizations, health departments, unions and large and small businesses across the Pacific Northwest, accelerating the pace of scientific discovery and risk reduction that can improve health. 
Long-time SPH benefactors
"My wife and I are proud to celebrate the 50th Anniversary of the UW School of Public Health and the tremendous UW Population Health Initiative of President Cauce," Omenn said. "I was there in 1970 when the Department of Preventive Medicine, led by Tom Grayston, was transformed into the SPH. In 1973, Robert Petersdorf challenged me to prepare a grant proposal for the Robert Wood Johnson Clinical Scholars Program, which bridged the SPH, School of Business, and School of Medicine. When I returned from service in the Carter White House, Bob Day recruited me to chair the Department of Environmental Health based on my extensive work on eco-genetics and on what became known as the Risk Assessment/Risk Management Paradigm. Fifteen years later, I had the privilege of chairing the Presidential/Congressional Commission on Risk Assessment and Risk Management across all the federal environmental agencies."
Omenn and Darling have made previous gifts in support of the UW School of Public Health. They established the Gilbert S. Omenn Endowed Chair in Biostatistics and the Robert W. Day Endowed Professorship in Public Health Sciences. They also supported the UW Institute for Public Health Genetics research project fund. The School's annual Omenn Awards recognize two standout SPH graduate students for their academic excellence and commitment to public health. During his time as Dean, Omenn played a paramount role in establishing the Sheldon D. Murphy Endowed Chair in Toxicology and Environmental Health and the Rohm & Haas Endowed Professorship.
About Gilbert Omenn
Omenn is currently the Harold T. Shapiro Distinguished University Professor of Computational Medicine & Bioinformatics, Internal Medicine, Human Genetics, and Public Health at the University of Michigan (UM). His research interests include cancer proteo-genomics, electronic health record-based global analyses of the Covid-19 pandemic, bioinformatics, science-based risk analysis, and science and health policy. 
Earlier in his career, Omenn served as associate director of the Office of Science and Technology Policy and the Office of Management and Budget in the Carter Administration. He served on the National Cancer Advisory Board; National Heart, Lung, and Blood Advisory Council; and Scientific Management Review Board for the NIH. He currently serves on the boards of the Foundation for the NIH, Hastings Center for Bioethics, Weizmann Institute for Science, and Center for Public Integrity. He has long been active in the biotechnology sector.
He is a past president of the American Association for the Advancement of Science and a member of the National Academy of Medicine of the National Academies of Sciences, Engineering, and Medicine and the American Academy of Arts & Sciences.
About Martha Darling
A graduate and long-time trustee of Reed College, Ms. Darling worked with the OECD in Europe in the 1970s, then on the staff of Governor Dixy Lee Ray, a White House Fellow at the Department of the Treasury in D.C., a Vice-President of SeaFirst Bank, and then in multiple senior roles at The Boeing Company.  She serves on several national and international boards, including the Institute for Women's Policy Research, the Salzburg Global Seminar, National Wildlife Federation Action Fund, and the Visiting Committee for the Gerald R. Ford School of Public Policy at University of Michigan.