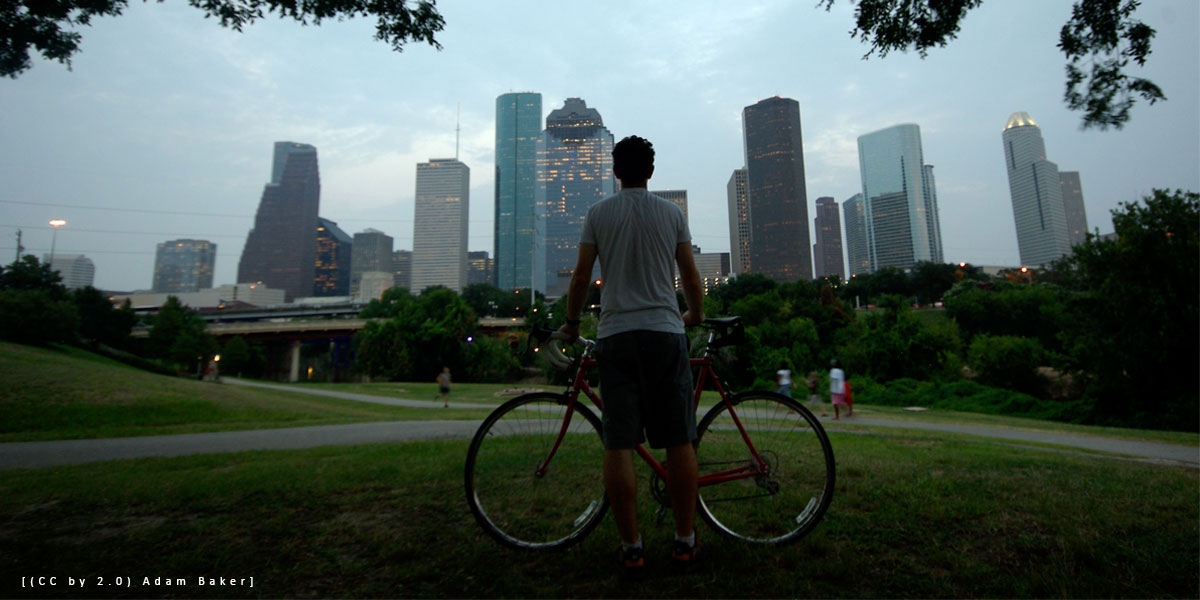 Biking and walking data may be useful to understand the impact of a disaster on a community and its recovery progress, according to an interdisciplinary team of University of Washington researchers.
In 2017, Hurricane Harvey dumped over 40 inches of rain on parts of Houston over the span of two days. With systems already in place to monitor trail usage, the disaster provided a chance to test how storm damage impacted levels of walking and biking, which may reflect community well-being.
"By using data that is already being collected to understand well-being following a disaster, we can better understand short- and long-term disaster impacts and inform approaches to recovery that build health and resilience," said senior author Dr. Nicole Errett from the UW School of Public Health. The study, which she developed in collaboration with the College of Engineering, was published August 8 in the International Journal of Environmental Research and Public Health.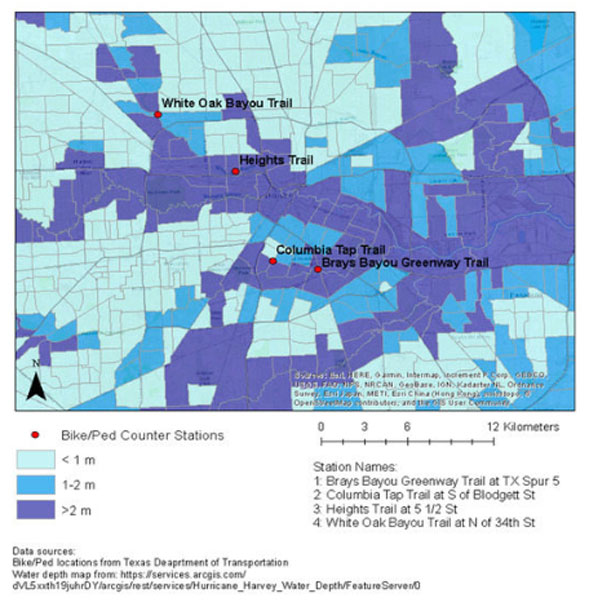 The researchers used counts of the daily number of bicyclists and pedestrians on four commuter and recreation trails around Houston in two six-week spans, before and after the hurricane. While walking and biking dropped, as expected, immediately after Harvey, the trails showed similar or increased average usage in the six weeks after the hurricane compared to the six weeks before (excluding the two weeks post-landfall).
Many studies have shown that disasters have lasting consequences on health. Following a disaster, subjective well-being has historically been measured through self-reported data, but such methods are burdensome and prone to bias. More immediate assessments of community impacts, such as the daily bicycle and pedestrian counts from the Texas Department of Transportation used in this study, could more efficiently inform resource allocation.
Exercise and outdoor time have been shown to improve – and increase with – physical and mental health and, therefore, can make good proxies for measuring and assessing how disasters impact well-being. "We are trying to enhance understanding of what it means about a community's recovery when its members are doing things that can make them happier and healthier," said lead author Annie Doubleday, a recent MPH graduate from the UW School of Public Health.
While this less-traditional assessment of disaster recovery suggests a rapid return to physical activity among Houston's nearby residents, the researchers caution that the daily counts may reflect other impacts of the hurricane. For example, residual trail flooding would have decreased trail use, but automobile and road damage could have increased bike commuting. While these variables make it difficult to definitively link trail usage to the well-being of individuals, they do present an opportunity to study the diverse and interacting impacts of disasters.
The authors noted that the study captures only the segment of the population that has access to and utilizes bike and pedestrian trails. Longer-term tracking of trail use is needed, especially because the results conflict with previous studies that found drops in individuals' physical activity even a year after other types of disasters.
The work was performed as part of a pilot project funded by the UW's Population Health Initiative. Doubleday and Dr. Errett are from the Department of Environmental and Occupational Health Sciences. Other co-authors were Dr. Youngjun Choe from the Department of Industrial and Systems Engineering and Dr. Scott Miles from the Department of Human Centered Design and Engineering. Bonnie Sherman at the Texas Department of Transportation and employees at the Texas A&M Transportation Institute provided the bicycle and pedestrian count data and technical assistance.
"Disaster recovery is inherently a complex and cross-sector process," said Dr. Errett on the importance of having an interdisciplinary team. "Our collective expertise in data science, disaster recovery, community-engagement and public health allows us to stay true to our goal of doing research that benefits communities impacted by disaster."