Rogelio Riojas (MHA 1977) has been named the UW School of Public Health's 2016 Distinguished Alumnus, the highest award given by the School. He is a leader in the field of public health, a dedicated community advocate, and an inspiring example of the impact of SPH alumni in ensuring the well-being of communities.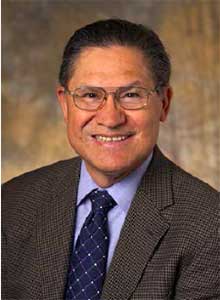 In 1978, Mr. Riojas founded Sea Mar Community Health Centers and currently serves as its President and CEO. From one location in King County, he has expanded the organization to 11 counties in WA state. The Centers' mission is to provide quality, comprehensive health, human, and housing services to diverse communities, specializing in service to Latinos. Their services include not only affordable health care but also employment training, scholarships, and youth internship programs.
The son of migrant farmworkers, Mr. Riojas was one of the first in his family to finish high school and attend college. He enrolled at the University of Washington in 1969 and quickly became a leader among Latino student activists. He was involved in campaigns both on campus and in the community, including fundraising for the United Farm Workers, El Centro de la Raza, and a successful effort to bring public health services to his hometown of Othello, WA.
As a junior at the UW, Mr. Riojas worked at a community health clinic in eastern Washington, and realized the significant impact that public health professionals could have on a community.  He had planned to attend law school after graduation but instead applied to the MHA program. He founded Sea Mar after earning his degree.
Mr. Riojas oversaw the development of the first community family practice residency program, in partnership with Swedish and the University of Washington.  He also heads a scholarship program in partnership with UW, recruiting and mentoring students who are the children of migrant farmworkers. He passionately believes quality education is the first step in empowering future generations to become strong, professional members of diverse communities.
In 2012, Mr. Riojas was honored with UW's Charles E. Odegaard Award. It honors a community member whose leadership sustains the former UW President's distinguished work on behalf of diversity at the UW and for citizens of the state. In 2013, Governor Jay Inslee appointed Mr. Riojas to the UW Board of Regents.
 The Distinguished Alumni Award recognizes a School of Public Health alumnus or alumna with a demonstrated record of distinguished service and achievement in any public health discipline or setting.