An international team of researchers has identified six new locations in the human genome where people could be more at risk for colorectal cancer. The findings, based on an analysis of numerous independent studies including more than 18,000 cases of colorectal cancer, were published this month in the journal Nature Communications.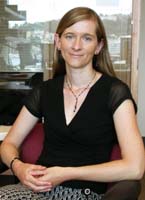 "These findings are partly pointing to new pathways or genes that provide new knowledge about the underlying causes of colorectal cancer," said senior author Ulrike Peters, a research professor at the University of Washington School of Public Health and a member of the Fred Hutchinson Cancer Research Center in Seattle.
The researchers reported a 9 percent to 16 percent increase in the odds of developing colorectal cancer for each risk variant a person carries, compared to the risk of a person not carrying the genetic variant. A person can carry no, or one or two, risk variants.
"We are identifying more and more of these common genetic variants," Dr. Peters said, "and we can now start to use these variants to define the genetic risk profile of individuals." Such information can be used to identify those who can benefit from earlier or more frequent screening, such as colonoscopy or stool blood tests, Dr. Peters said, while those with very low risk can wait until they are older to get screened. "Overall," she added, "this can lead to improved early detection of colorectal cancer, when treatment of this severe disease is improved."
Colorectal cancer is the second leading cancer killer in the United States; about 4.5 percent of men and women will be diagnosed with it during their lifetime.
The research team included institutions from Australia, Canada, China, Germany, and Israel and was co-led by the University of Washington/Fred Hutchinson Cancer Research Center and Keck School of Medicine at the University of Southern California.
The genome-wide association study combined data from the Colorectal Cancer Transdisciplinary Study, the Colon Cancer Family Registry, the Molecular Epidemiology of Colorectal Cancer Study and the Genetics and Epidemiology of Colorectal Cancer Consortium. "This is only possible through very large international collaborations of many studies," Peters said.