Teaching Public Health to Diverse High School Students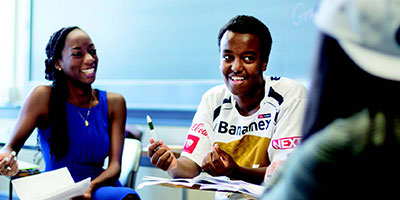 Photo: Katherine Turner
More than 80 Seattle high school students were immersed in public health topics during a summer course co-taught by Assistant Dean Sara Mackenzie. The School hosted the core curriculum for the UW Upward Bound program—a federally funded project to help aspiring college students from low-income families. "My biggest goal is to get a much broader percentage of our population informed about public health," Mackenzie said. Subjects included epidemiology, biostatistics, behavioral change, health policy, public health genetics, health literacy, and the social determinants of health.
Delivering Health Across Disciplines
A UW effort to teach and deliver health sciences across disciplines recently wrapped up its second year. About 650 students from the six Health Sciences schools took part in the Interprofessional Education Initiative program. Faculty member Michelle Averill led planning for this year's session, on pediatric dental caries, or tooth decay, a major public health problem. The exercise was part of an effort to get professional students to consider the root causes of a larger health issue rather than focusing solely on the individual patient.
Tracking School Lunch Times in Seattle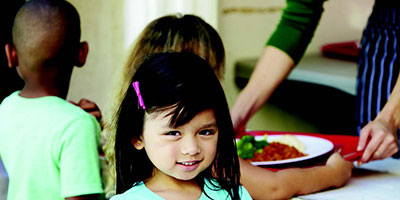 iStock/Thinkstock
Elementary school students in Seattle don't get enough time to finish lunch, according to research from Nutritional Sciences students. Eighteen graduate students in Donna Johnson's Public Health Nutrition Class—working with instructor Mary Podrabsky—spent winter quarter documenting lunch time at seven city schools. They found children had only 12 minutes of "seated time" on average; district policy calls for 20 minutes. Their report was presented earlier this year to the Seattle Public School's Wellness Task Force.
Creating Safer, Healthier Public Spaces 
Students in a Health Impact Assessment (HIA) course teamed with the Seattle Department of Transportation and the Department of Planning and Development to conduct an HIA of the Delridge Multimodal Corridor Project in West Seattle. The project aims to transform the area crossed by busy roads into safer and healthier public spaces. The course is taught by Andrew Dannenberg and Edmund Seto of SPH and Fritz Wagner from the Department of Urban Design and Planning. The students came mostly from the School of Public Health, College of Built Environments, and Evans School of Public Policy and Governance.
Preparing Pharmacy Assistants in Malawi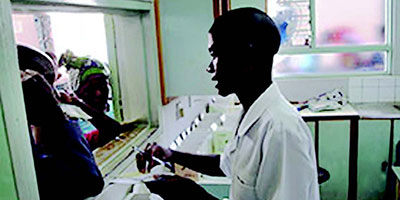 Natalie Hawwa/USAID
The first 50 students have graduated from an innovative pharmacy assistant training program in Malawi. They will work in rural health centers, dispensing medication and managing inventory. Graduates are expected to make an immediate impact, allowing health workers to devote more time to patient care. The program was a collaboration between the UW Global Medicines Program, the Malawi Ministry of Health, USAID, the Malawi College of Health Sciences, and Seattle-based NGO VillageReach.