The University of Washington's Latino Center for Health has moved to the Department of Health Services within the School of Public Health.

Founded in 2014, the center had been based administratively within the University's Health Sciences Administration. It officially moved to SPH in September, in part because the Department of Health Services was able to provide more administrative and financial support aligned with the center's community-oriented research mission, said founding co-director Gino Aisenberg, an associate professor of social work and adjunct associate professor of health services.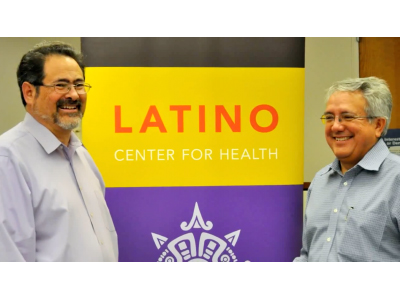 "It is the first research center in the state of Washington that focuses exclusively on issues of Latino health," said Aisenberg, also an associate dean of the Graduate School, where he works to promote diversity and inclusion across graduate programs.
The center is a natural fit for the Department of Health Services, with researchers examining how to increase cancer screening and prevention among Latino populations, how to improve the mental health of Latina immigrant women, and how to improve the health of Latinos residing in rural communities exposed to pollutants and pesticide drift, said Department Chair Jeffrey Harris. Latinos account for 12 percent of Washington state's population, but often lack access to critical health services that are linguistically and culturally competent.

Harris said the School will ensure the center continues to serve the entire UW and collaborates closely with the health sciences schools in tackling Latino health disparities.

"The School is dedicated to promoting health equity, and really is a leader across the University in addressing social determinants of health," Harris said. "The Latino Center for Health tries to promote Latino health and also addresses the special challenges of a population that is largely immigrant and faces socio-economic and other challenges, including racism."

Part of the center's mission includes engaging community stakeholders and informing policy makers of evidence-based research. Earlier this year, the state legislature renewed $500,000 in biennial funding for the center.

The Latino Center for Health also recently held a fundraising breakfast to support a small grant program that supports graduate students working on Latino health issues, Aisenberg said. The center will continue to be located in the George Russell Hall building at 42nd Street and 15th Avenue East, just west of campus.

Leo Morales, a professor of medicine and adjunct professor of health services, is founding co-director of the center. India Ornelas, associate professor of health services, is the center's research director. Antoinette Angulo is special projects advisor. In all, 25 faculty members are affiliated with the center, Aisenberg said.