The Strategic Analysis, Research & Training Program (START), which started as a faculty- and student-led effort to provide strategic analysis to The Bill & Melinda Gates Foundation in 2011, is expanding to become a Center in the Department of Global Health and will begin offering analysis to other organizations this fall. START has supported over two-dozen graduate students in Epidemiology, Global Health, Sociology, Business, Public Health and Nursing to provide analysis and the program has already completed over 75 different projects with the Gates Foundation.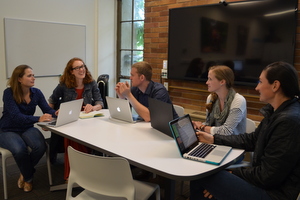 Under the direction of faculty co-leads Judd Walson (Global Health, Medicine, Pediatrics and Epidemiology) and Lisa Manhart (Epidemiology and Global Health), the program will expand to provide research and analysis to additional global health organizations as well as domestic-focused organizations. The addition of the Domestic component will allow START faculty and students to provide support to local health organizations, including Public Health - Seattle & King County. The START Domestic Program is being led by Tao Sheng Kwan-Gett (Department of Health Services), who is also the Director of the Northwest Center for Public Health Practice. The START Center will also continue their partnership with the Foster School of Business students through the Arthur W. Burke Center for Entrepreneurship to increase collaboration and further integrate business approaches into their analysis.
"We are very excited about the University of Washington START Center. It's a great way for students to engage in local and international projects in the global health community," said Saara Romu of the Gates Foundation.
START has been helping the Gates Foundation answer questions surrounding diarrhea, pneumonia, the scale-up of oral rehydration salts, and scientific advances to fight tuberculosis. Many of their reports delve into the tradeoffs of focusing on one disease or intervention to achieve the biggest impact on health.
"I just don't think that there are groups who do a better job than START," said Grace John-Stewart, professor in Global Health. "The products I have seen and the approach that was built is exceptional. I haven't seen anything quite like it." John-Stewart partnered with START to learn from their approach to research and analysis as part of her work with the Global Center for Women, Adolescents and Children (Global WACh).
In addition to their work with the Gates Foundation, START created a report in collaboration with Center for Strategic and International Studies last spring examining the sustainability of global health programs at universities. The report, "Sustainability and Growth of University Global Health Programs," examined the rapid growth of global health programs at U.S. universities, and provided a framework for analyzing whether universities can continue to produce successful graduates given the job market and funding availability.