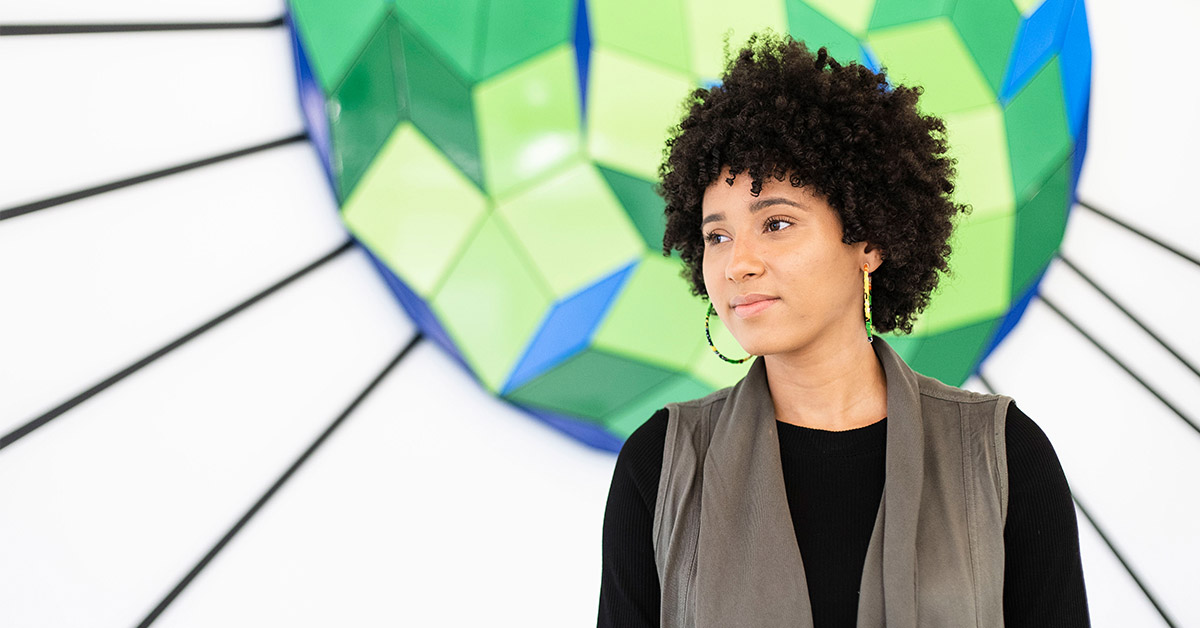 Sitting on her grandpa's porch in a small village in northern Côte d'Ivoire, in West Africa, eating peanuts and simmering in the summer heat, Christelle Nidafolo Silué could not have been happier. It had been six years since she last saw her grandfather, who she calls her "favorite person." And she had so much to tell him about her life in Seattle and her studies at the University of Washington.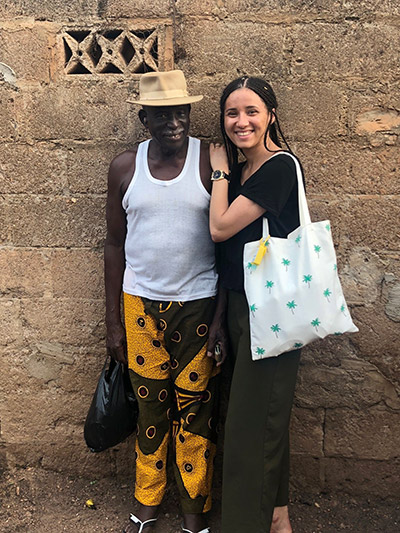 Silué was born and raised in Abidjan, a big city that sits on the country's southern coast, and moved to Everett, Washington, when she was 15 years old. Now a college senior, Silué recently returned to her home country to reconnect with her family and to put to practice the skills she has learned at the School of Public Health.
While there, Silué, who also majors in French, embarked on an independent study of the former colony's history, including its civil wars, and the legacy it left on public health. She visited local hospitals and clinics and met with health care providers, including several overburdened midwives. She learned that though maternal and child health had improved in the country over the years, women and newborns were still dying at alarming rates during childbirth. And she wanted to know why.
Silué complemented the things she learned on the ground with insights she gathered from previously published studies. After four weeks of research, she made an interesting discovery: that cultural norms and beliefs could influence maternal and child mortality rates.
In Côte d'Ivoire, as with other countries in the region, people treat the placenta as part of the newborn and they give it full burial rites. "There is a fear that, if women give birth in a hospital, their placenta would be thrown away," Silué said. Instead, many women choose to have their babies at home, which – due to complications that could arise – puts women and their babies at higher risk of death. In her final report, Silué recommended that more midwives be trained to help women to give birth safely at home.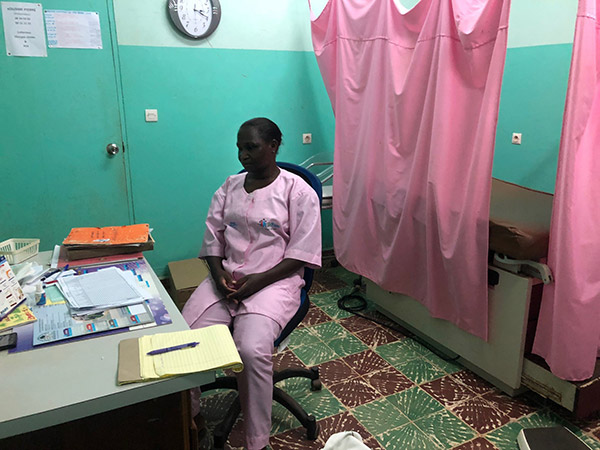 Outside of research, Silué spent time with family members at the beach and at her grandfather's house, where he raises goats, chickens and cows. She also visited a local school to deliver a luggage full of notebooks, pens and calculators she had collected through a drive at the UW before her trip.
Connection is important to Silué and it is something that she has struggled with since moving to the United States. She did not understand more than five words in English when she first arrived. She didn't even have the right words to describe her experience living through a devastating civil war. Unable to connect and communicate at school, she ate her lunch alone and used Google Translate to do her homework. When things were particularly tough, she called her dad from empty classrooms, so she could talk to the only other person she knew nearby who spoke French.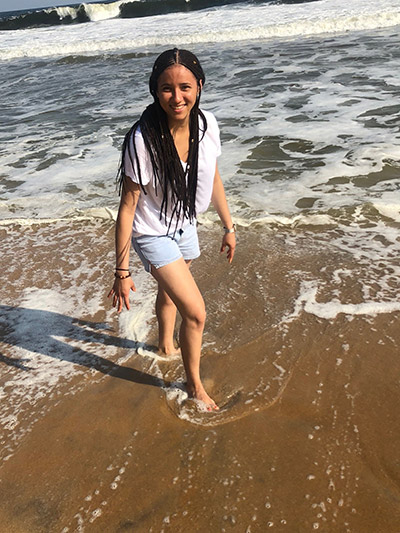 Silué pushed through and graduated at the top of her class. But this feeling of being an outsider returned later when she enrolled at the UW. "I remember sitting in my first class and scanning the faces of students around me," Silué said. "No one looked like me. I didn't feel like I belonged."
The UW has grown more diverse over the years but in 2015, when Silué was a freshman, more than 46 percent of all students enrolled at the UW were white and just over 3 percent were Black. Silué knew that to thrive she had to build a community. One place she looked was the UW Black Student Union (BSU), where she found a group of friends and connected to causes she believed in.
The BSU has been the organizing body of Black students at the UW since its founding in 1968, as well as a strong advocate for making campus more inclusive and equitable. The group has also been integral in reshaping educational opportunities for young people of color in Seattle and the state.
"I found people I felt comfortable with and a space where I could express myself without fear," Silué said. The group also gave her the opportunity to be of service to other students of color and it led her to public health as a path toward social justice. "When I go to BSU, I feel like I am home."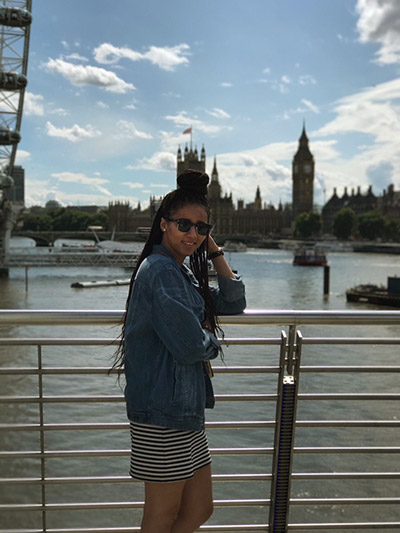 Shortly after joining, Silué traveled to London for a four-week exploration seminar called Dark Empire: Race, Health and Society in Britain, which examined the social determinants of health for minorities in the nation. The program connected her passion for health equity to the field of public health in ways that medicine and nursing did not, and "that was it," she said. "Public health was where I wanted to be."
In 2017, Silué received an award from the School of Public Health's Undergraduate Student Assistance Fund to support her studies. Now Silué is helping other students of color in the School to navigate opportunities that will elevate their Husky experience. She is the mentorship chair of Students of Color for Public Health, a registered student organization that provides professional, academic and social support for students passionate about the field. The group is also committed to promoting health within marginalized communities through education and service.
In her role, Silué connects undergraduate members to graduate students at the School who can offer guidance on transformative opportunities on campus and life after graduation. In November, Silué invited a panel of graduate students and working professionals, including the director of equity for the Washington State Department of Health, to share stories about working in public health as a person of color. She hopes that the group will be able to do similar outreach at local high schools.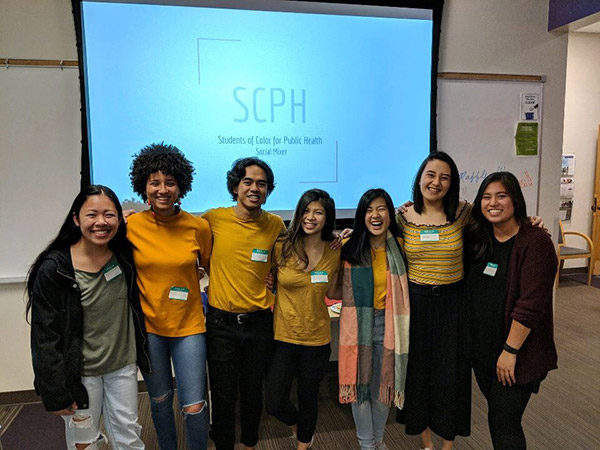 Silué is also part of Public Health Dawgs, a group of public health students charged with educating other students on campus, particularly prospective students, about the field and the impact they could make. Last year, wanting a structured way to fulfill her commitment to public service, Silué joined the UW Carlson Center's Undergraduate Community Based Internships program and was placed with Horn of Africa Services, a nonprofit that serves East African immigrants and refugees in Seattle. She began as a youth tutor, but over time took on a more creative project to improve the way the organization recruited its volunteers. Silué was selected to take part in the program again for 2019, this time working with the International Rescue Committee,
Silué plans to graduate in June 2019 and find a job that will expand her knowledge and skills in public health. Interested in global health and health care policy, she hopes to pursue an MPH.
In some ways, enhancing the experiences of other students has deepened her dedication to the UW. "The UW has pushed me to embrace my identities and made me more proud to be Black and African," Silué said. "And these identities have led me to do the work that I love to do – to advocate for people of color and other underrepresented groups."