Hosting an organized tent city at the University of Washington has helped to transform the way students, faculty and staff understand and approach the challenge of homelessness, while providing people without shelter a safe place to live.
As the nearly 60 residents of Tent City 3 packed up this week to move to Skyway, graduate students from the UW School of Public Health shared this insight and other results from an evaluation of the tent city's stay on campus.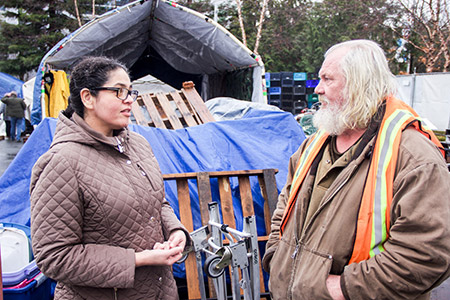 © MEDEX Northwest
Students found that 90 percent of residents were satisfied with their stay and all felt safe. Most in the UW community viewed the stay as positive and said there weren't any major surprises or issues. What stood out most was that 19 percent of the UW community became more supportive over time.
"Our data show that the tent city created new opportunities for students and changed people's minds," said Kira McCoy, a graduate student evaluator who presented the findings to a group of stakeholders and interested students on March 9. "People at the UW grew through the experience, lost some of that original stigma and created relationships, which then had a ripple effect in the community."
UW students engaged with tent city residents more than 1,200 times over the course of three months this winter. Some conducted research or wrote academic papers, while others volunteered, attended events or joined advocacy groups.
"I want to thank the UW staff and students for their graciousness, for being brave and having Tent City 3 inside the campus," a tent city resident said of the experience. Another, Jason, who attended the recent presentation, spoke positively about working with students and faculty. "They were all cool," he said. "And we want them to know that just because we're moving, doesn't mean the relationship has to end."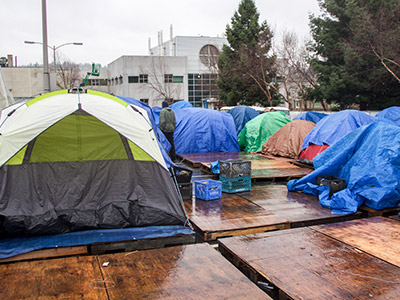 © MEDEX Northwest
About 61 percent of students, faculty and staff surveyed thought the UW should host again in the future, while 18 percent were neutral and the rest disagreed. McCoy highlighted that "people may have reasons for not supporting that aren't just hurtful." Some may think the UW isn't the right place or there may be concern about the fishbowl effect.
Local businesses mostly approved of the experience, with 84 percent noting positive effects on their business or none at all. When asked if they would consider the UW a valuable partner in addressing the homelessness crisis, 70 percent said they would.
McCoy noted that there was some strain and a lot of work for members of the Tent City Collective, a student-led organization integral in bringing the camp to the UW. There was also some strain on Tent City 3 residents, including the additional cost to build a fence. Though most residents wanted to stay longer, McCoy noted, "there was a bit of stigma and slight disconnect between what residents needed and what was provided."
Students from the Community-Oriented Public Health Practice (COPHP) program in the School's Department of Health Services conducted the assessment as part of a course on program evaluation, taught by Director Amy Hagopian. They worked with representatives from the UW administration, Tent City 3 and the Tent City Collective to identify and evaluate short- and longer-term goals. SHARE served as a preceptor to the project.
"We wanted to learn whether Tent City 3 at the UW was meeting their goals, such as providing a safe place for residents to live, whether the UW was strengthening its response to homelessness, and whether community partners were benefitting from the experience," said graduate student Hena Parveen, who designed the logical framework of the evaluation.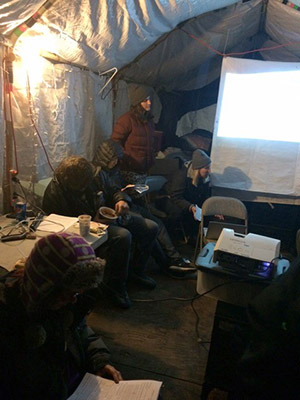 SPH students evaluated questionnaires from more than 2,300 people from the UW community. They also received survey responses from 39 tent city residents and 19 businesses. Students held focus groups and interviewed key informants. Results are based on data gathered thus far. However, the UW community survey will remain open, as some COPHP students will expand the evaluation this spring. The student evaluators also plan to submit an abstract to the American Public Health Association.
"They learned everything from statistical analysis to the role of politics and ethics in evaluations," said Hagopian, an associate professor of health services and global health.
While at the UW, from Dec. 17 to March 18, the tent city clocked in 5,040 person-nights (that's providing an average of 56 people with a safe place to stay for 90 consecutive days). According to the report, at least 400 students and faculty from eight UW classes formally engaged with Tent City 3 or homelessness, in general.
Several dozen health sciences students learned to engage the homeless around their health care needs in the UW's first ever course on homelessness. "I was reminded that it is often only a few unfortunate circumstances that separate homeless individuals from the rest of society," said graduate student Sara Marquis, who was among six students from the School of Public Health to sign up for the course. "I've also learned that the best insight into possible solutions comes from individuals experiencing homelessness themselves."
Through UW Medicine's MEDEX Northwest, students explored societal factors such as domestic violence, mental health, drug use and debt.
"Medical debt of $150 was enough to create housing instability and ruin credit scores for some," said Jessica Bielenberg, who is working on her master's thesis and is part of the COPHP evaluation team. She collaborated with Tent City 3 and Nickelsville residents to design a survey and gather stories about financial hardship and health care.
"I was nervous at first," Bielenberg said. "But I was able to build relationships and listen, and really engage them to be part of the solution."
Bielenberg, Parveen and McCoy conducted the formal evaluation this winter quarter alongside Celia Goetz, Khanh Ho, Ryann Martinek, Daniel Otter, Stephany Ospina and Toni Sarge. 
(By Ashlie Chandler)