The University of Washington will offer a new major this year to undergraduate students interested in the connections between food systems, nutrition and health.
A Bachelor of Arts in Food Systems, Nutrition and Health (FSNH) was approved in July by UW President Ana Mari Cauce and by the Northwest Commission on Colleges and Universities. Student applications will be accepted in the fall of 2018 for enrollment in winter quarter 2019.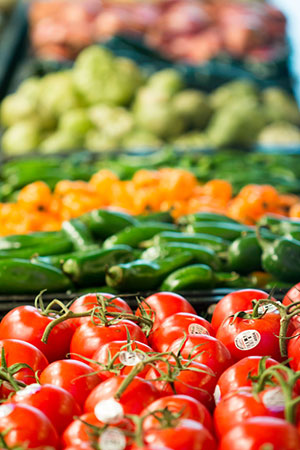 The major will be administered by the Nutritional Sciences Program within the School of Public Health.  It will feature an interdisciplinary curriculum centered around food and nutrition and with a breadth of classes, ranging from anthropology and biosecurity to oceanography and global environmental politics.  "Nutrition is increasingly concerned with personal, public and planetary health," said Dr. Adam Drewnowski, director of the Nutritional Sciences Program. "We embrace the inclusion of the social, behavioral and environmental sciences, and we can deal with food systems at both local and global levels."
Core courses and electives will be offered through the School of Public Health, College of Arts & Sciences, College of Built Environments, College of the Environment, Foster School of Business, College of Education, School of Law, School of Nursing and Evans School of Public Policy & Governance. A core course on food systems modeling was developed with the College of Engineering.
"This new major will address the complexity of modern food systems – including how food is grown, harvested, packaged, transported, sold and disposed – and how that affects our health and well-being," said Dr. Jennifer Otten, faculty member of the Nutritional Sciences Program and associate professor of environmental and occupational health.
"This is an outstanding opportunity for students to build on their knowledge of nutrition to explore food and culture, economics, the environment, population health and more," said Dr. Elizabeth Kirk, director of undergraduate studies in the Nutritional Science Program and a senior lecturer in epidemiology. 
Food-related study programs are growing in popularity across the country, but the UW program is believed to be the first food systems major at an accredited School of Public Health. "Food systems and nutrition courses at the UW are some of the most popular on campus, and we expect this to be an attractive field of study for undergraduates," Kirk added. Dr. Kirk's foundation class, Nutrition for Today, a stepping stone to other classes, enrolls over 1,000 students every year.
A food system is the path that food takes from farm to table. It's an interconnected web of activities that includes food supply chains, the food environment and consumer behaviors, all operating within a larger socioeconomic and geopolitical context. Many of the world's daunting nutrition and health challenges – including malnutrition, stunting and wasting, the rise of obesity, rampant food waste, food-borne diseases and antibiotic resistance – can be viewed as consequences of malfunctioning or broken food systems.
"The new degree will prepare students to understand how the various drivers and components of food systems can affect nutrition and health outcomes," said Shirley Beresford, senior associate dean for academic affairs at the School of Public Health and a professor of epidemiology and adjunct professor of health services. "We believe graduates will be ready to address the impact of food systems on food and nutrition security on local, regional and global scales."
Dean Hilary Godwin said: "This new major highlights the best of the University of Washington – a cross-college effort to train students to think critically about issues that affect population health, and it adds a new dimension to the School of Public Health's thriving undergraduate programs."
The School of Public Health also offers undergraduate majors in Environmental Health, Public Health—Global Health, and Health Informatics and Health Information Management. The Public Health major was recently renamed Public Health—Global Health to better reflect its domestic and global competencies.
Following several years of planning, the School created a minor in Nutritional Sciences in 2013. There is also a Nutritional Sciences option within the Public Health–Global Health undergraduate major. "With the addition of the new major in food systems, we can show that nutrition, health equity and the environment are central to the UW mission in population health," said Dr. Drewnowski.
For more information on the new major, visit:
https://nutr.uw.edu/undergraduate-study/food-systems-nutrition-and-health-major/