Blog Featured Image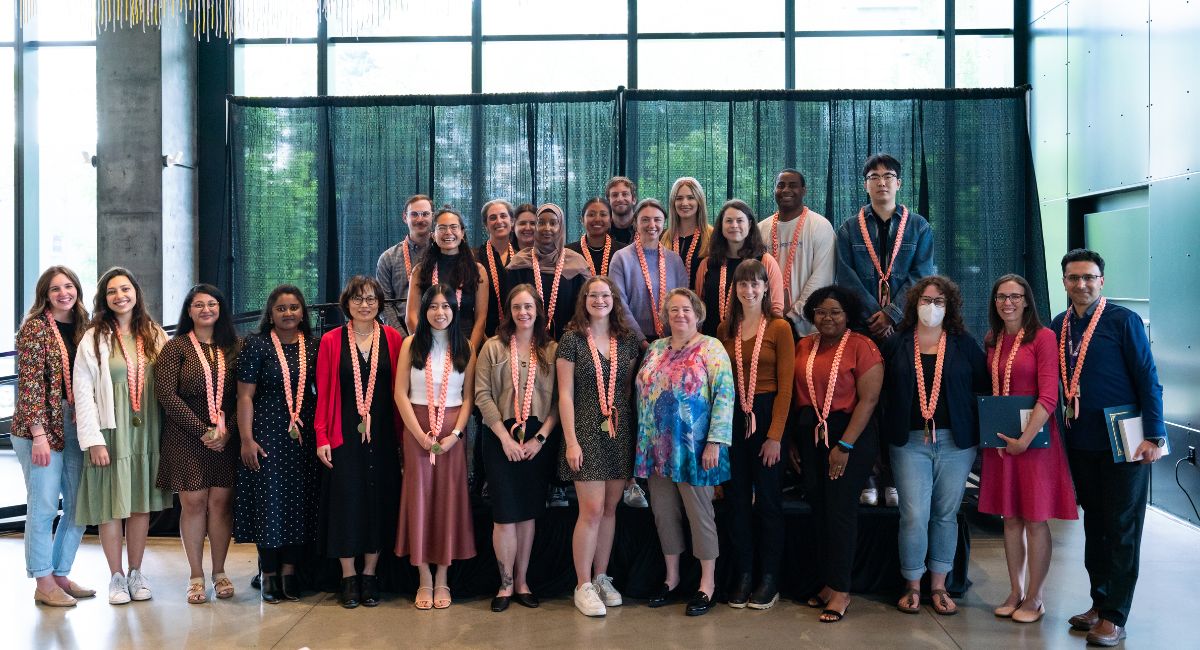 The University of Washington School of Public Health (SPH) recognized dozens of students, staff, and faculty at its annual Excellence Awards celebration on May 23, 2023 in the Hans Rosling Center for Population Health. The Excellence Awards celebrates members of the SPH community for their dedication, service, and many contributions to public health. Congratulations to all our awardees!
 
2023 SPH Student, Faculty, and Staff Awards
GILBERT S. OMENN AWARD FOR ACADEMIC EXCELLENCE
PhD: Lesley E Steinman
Health Systems and Population Health
Lesley Steinman, PhD, MSW, MPH (she/her) is a Research Scientist at UW SPH's Health Promotion Research Center. She partners with community-based social service organizations to disseminate and implement a home/community-based collaborative care model for depression (PEARLS) and other proven programs for healthy aging. Guided by implementation science and health equity frameworks, they conduct community-engaged research, evaluation, training and technical assistance to understand, adapt, and improve program delivery to address inequities in access to care and health outcomes among underserved older adults in low-resource settings. Lesley's other passion is spending time outdoors with family and friends in the beautiful Pacific Northwest.
---
Master's: Carole Green
Global Health
Carole Green is a stellar MPH student, focusing on how climate change is affecting human health and well-being. Carole is making significant academic contributions to the field through the Lancet Countdown, which was formed as a global monitoring system to engage policymakers to promote reductions in greenhouse gas emissions and promote climate-resilient health systems. She ensures the production of scientifically robust indicators and synthesizes indicators into new insights. Carole's thesis topic will break new ground in monitoring adaptive capacity, to better understand the extent to which health systems are increasing their abilities to manage the health risks of climate change.
---
ANDERSON-O'CONNELL AWARD 
FOR OUTSTANDING STAFF SERVICE
Matthew Hawkins
Epidemiology
Matthew Hawkins serves as a Grants & Finance Specialist in the Department of Epidemiology.  The breadth of his positive impact spans numerous finance areas across the Department.  Over the last year, Matthew has been a particular asset for his oversight of training grant activity and his broad support as a leader in preparation for UWFT.  Matthew's proactive, detailed, and thorough handling of these areas has been critical for the Department.  In particular, Matthew's ownership and leadership demonstrated in prepping for UWFT serves as an exemplar of what is characteristic of an SPH Outstanding Staff recipient.
---
Outstanding Staff 
Biostatistics – Maggie Tarnawa 
DEOHS – Deirdre Lockwood 
Epidemiology – Matthew Hawkins 
Global Health – Nami Hirai 
HS Pop – Kathryn Calderwood 
Office of the Dean – Olivia van Brunt
---
DACS Awards
Distinguished Faculty Member for Teaching
Amanda Phipps, Epidemiology
---
Outstanding Faculty Mentor
Ali Rowhani-Rahbar, Epidemiology
---
Outstanding Community Service Student
Patience Jaman
---
Outstanding Teaching Assistant
Jessie Seiler
---
Outstanding Community Partner
The Custodian Project
---
Outstanding Undergraduate Students
PH-GH – Tyree Long
Food Systems Nutrition and Health – Kayla Guzman 
Environmental Health – Bridget Ury
HIHIM – Vivian Ma
Outstanding Undergraduate Student Award 
Environmental Health – Bridget Ury
---
Outstanding Master's Students
Biostatistics – Fang Nan 
DEOHS – Ashton Gilberson 
Epidemiology – Muna Hassan 
HS Pop – Taylor Erickson 
Global Health – Emilia Cardenas 
HIHIM – Madhuri Deepati 
Nutritional Sciences – Andrea Litzow
---
Outstanding PhD Students
Biostatistics – Avi Kenny 
DEOHS – Claire Schollaert 
Epidemiology – Unmesha Roy Paladhi 
HS Pop – Raymond Ruiz 
Global Health – Wisal Ahmed
LIST OF RECIPIENTS