Blog Featured Image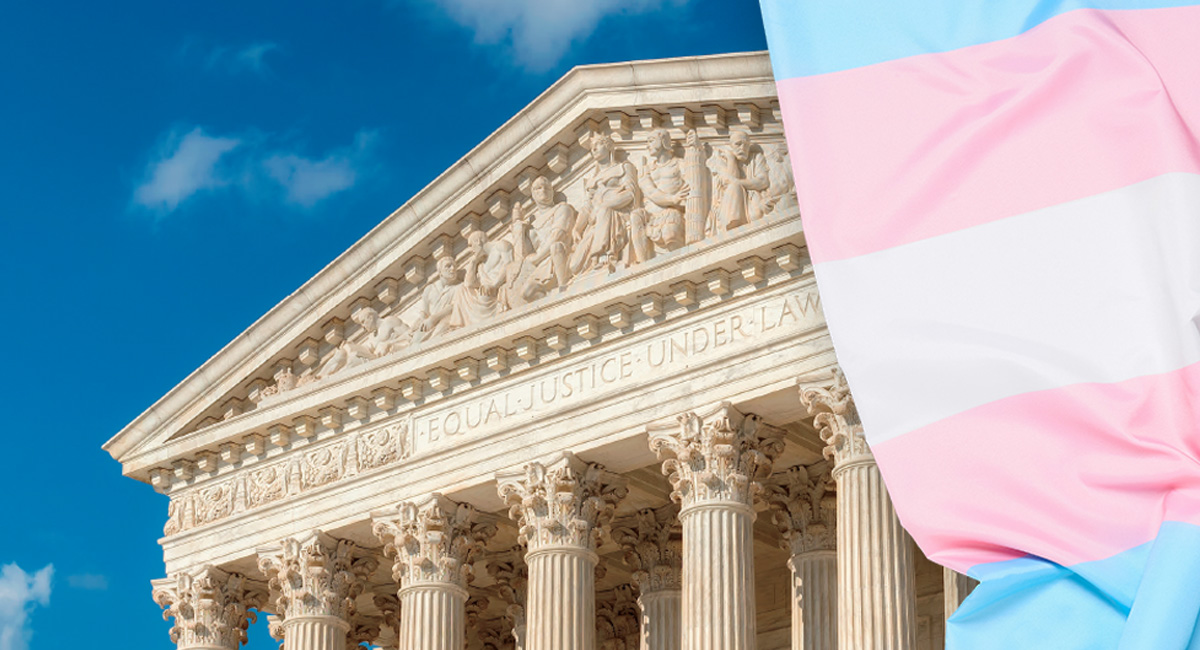 Photo of Transgender Flag overlayed on Supreme Court Building.
Together, we can make health care inclusive for trans youth
There's a reason families across the country drive hundreds of miles to Washington state so their children who are trans can access gender-affirming care: extensive studies have found that this care benefits mental health. As state governments pose challenges to gender-affirming care, researchers, practitioners and students at the UW have been working to document the importance of holistic and inclusive health care services for transgender and nonbinary people.
A study published in JAMA Network Open by first-author Diana Tordoff, a Ph.D. graduate of the Department of Epidemiology, shows that access to puberty blockers and gender-affirming hormone therapy mitigates negative mental health outcomes.
The study — led by senior authors Drs. Kym Ahrens and David Inwards-Breland at Seattle Children's Gender Clinic — found that having access to hormones and puberty blockers for youth ages 13 to 20 was associated with a 60% lower odds of moderate to severe depression and a 73% lower odds of self-harm or suicidal thoughts compared to youth who did not receive these medications over a 12-month period. This adds short-term insight into what was already known about the long-term benefits of gender-affirming care. 
These findings are in line with the multiple medical professional organizations, such as the Endocrine Society, the World Professional Association for Transgender Health and the American Academy of Pediatrics, that maintain expert standards of medical care for trans youths, including the impact of gender-affirming care on mental health. They also align with extensive studies finding reductions in suicidality, depression and anxiety and improvements in mental well-being for trans youth. 
This is critical for understanding how to support the mental health of trans youth, who face significant disparities compared to their cisgender peers. Data from The Trevor Project's 2022 National Survey on LGBTQ Youth Mental Health found that two-thirds of transgender and nonbinary youth reported experiencing symptoms of depression, more than half seriously considered suicide, and nearly 1 in 5 transgender and nonbinary youth attempted suicide.
"It's not just about accessing care; it's about accessing it in a timely fashion," says Tordoff. "Delays in prescribing puberty hormones or blockers may in fact worsen mental health symptoms for trans young people."
Youth who initiated care but hadn't received hormones or puberty blockers by three to six months after their first medical appointment were two to three times more likely to experience depression and suicidality compared to the start of their care, researchers reported. Benefits are also time sensitive: in a sample of trans adults, access to gender-affirming care in adolescence is associated with lower odds of suicidal ideation as compared to initiating that same care in adulthood, according to a 2022 study in PLOS ONE.
These findings are important given the time it takes for a young person to access gender-affirming treatment. Insurance claim denials and lack of access to providers competent in trans health care are some of the factors that can delay treatment for months, if not years. 
Public policy can also be wielded to limit access to care. Last year, Alabama passed one of the most restrictive laws in the nation against gender-affirming care, making it a felony to prescribe puberty blockers and hormones to minors. A similar Arkansas law and a Texas order are being challenged in court. Other states have been considering similar restrictions. Nearly a third of trans youth are at risk of losing access to gender-affirming care, according to a report published in March 2022 from the Williams Institute at UCLA School of Law.
"It is vital to note that almost virtually none of these proposed anti-trans policies include transgender and nonbinary people's voices. Nor do they utilize rigorous evidence-based research and data that sample transgender and nonbinary people — a statement of true non-neutrality bias rooted in transphobia," says Arjee Restar. Restar is an assistant professor of epidemiology and a new faculty member in the School of Public Health who studies inequities in health outcomes and access, particularly those experienced by transgender and nonbinary communities.
Restar points out that medical, legal, psychological or social affirmation of one's gender identity can be protective factors for adverse health outcomes for trans communities. Even changing one's name and gender marker on a driver's license can have an impact.
Arin Collin, a fourth-year UW medical student and one of the researchers on the JAMA Network Open study, has seen the impact gender-affirming care can have, both through her research and through working directly with trans patients in medical settings.
"For a significant portion of the transgender community, gender-affirming medical care is literally lifesaving," Collin says. "When you limit these interventions for reasons that are not medical, you've done unnecessary harm to a group of folks that are already disproportionately experiencing that harm."
Disparities already exist when it comes to who can access care, especially for those who live in rural areas. Nearly 7 in 10 rural transgender adults were denied transition-related surgery by insurers. More than 1 in 5 transgender people of color who live in rural areas travel 100 miles or more to see their transgender-related health care provider, according to a report by Movement Advancement Project.
Washington is one of two dozen states that require insurance providers to pay for medically necessary gender-affirming care, thanks to a rule that went into effect last year to prevent insurance providers from denying coverage for these services.
EJ Dusic, a Ph.D. student in the Institute for Public Health Genetics, advocated with students across the UW in support of this updated rule, as part of a project for the class Advocacy for Health Professionals.
"I suggested that we take on gender-affirming care for trans people because it's something I have personally experienced and something that I am investing my work in for my dissertation," Dusic says. "Working as a group of interdisciplinary scholars was impactful because we could say what kind of care we wanted our patients to receive."
They learned how to add their voice to the legislative process by participating in the public comment period. The group consulted with those who created the law, so they could write an informed statement in support. They also developed an infographic on the importance of gender-affirming care to educate their communities.
"Ultimately my purpose as a public health researcher … is to not only study the things we're interested in, but to influence how policy is going to be shaped and provide data that will support a more equitable health care system," Dusic says. 
You are not alone. The Trevor Project provides counselors and support for LGBTQ youth; call 866 488-7386 or text "START" to 678-678. The Lifeline provides 24/7 free and confidential support for people in distress, prevention and crisis resources for you or your loved ones and best practices for professionals in the United States; call 988.
---