Blog Featured Image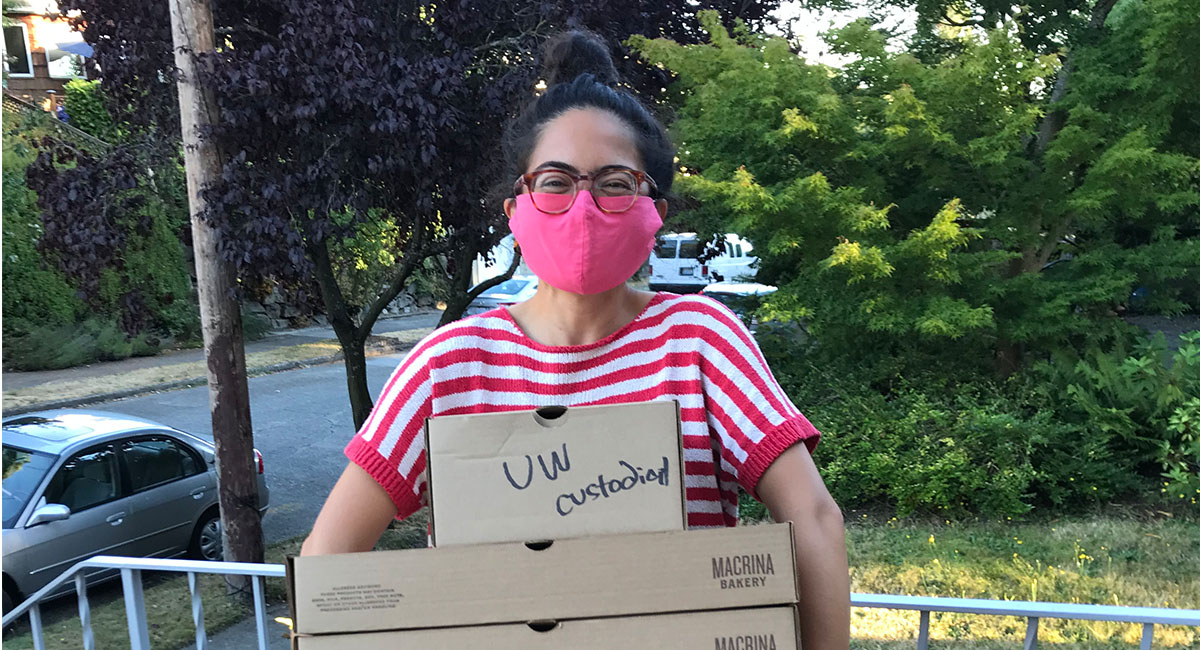 Alumna Evalynn Romano holding boxes of pastries donated by Macrina Bakery. Photo courtesy of Evalynn Fae Taganna Romano.
Together, let's view custodians as public health workers who keep communities healthy and safe
By the time I was born, my father had been a hardworking custodian at the University of Washington for 13 years. My mother, an immigrant from the Philippines, began as a part-time UW custodian a couple of years later and transitioned to full-time the following year. My grandmother eventually emigrated from the Philippines to care for me while my parents worked from 4:30 p.m. to 1 a.m. When I was old enough to attend school, I did not see my parents much during the week due to our schedules. My mother enrolled me in half-day kindergarten so that she could spend time with me before she went to work. My gratitude for their sacrifices has stayed with me into adulthood.
On March 23, 2020, Governor Jay Inslee announced the "Stay Home, Stay Healthy" order. Because my mother is considered essential staff, she did not have the option to stay home. At the time, protection from COVID-19 was uncertain and campus custodians were not immediately provided personal protective equipment. As I worried for the health of my mother and her colleagues, I noticed appreciation efforts focused on health care workers on social media. I began fundraising among friends and family to build awareness and recognition for custodians.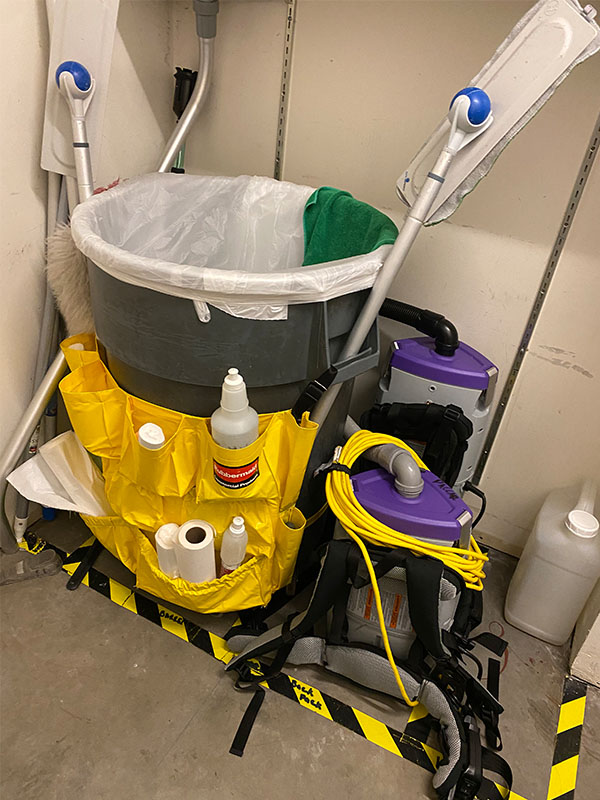 One week after the statewide order, I delivered breakfast and thank-you notes to my mother and over 30 of her colleagues. Before I knew it, it became a weekly effort to serve all UW Seattle campus custodians. This simple act of acknowledgment has transformed into The Custodian Project.
The Custodian Project, is a community-driven, volunteer-led advocacy project. Through appreciation efforts, arts and education, it aims to uplift custodian voices and wisdom, foster understanding and respect, and change culture and material conditions for custodians at the UW and beyond. This culture shift includes viewing custodians as public health workers and guardians of our spaces who keep communities healthy and safe.
As a graduate student in the Master of Public Health program, I learned about the value of community-based participatory research approaches in advancing health equity and, in particular, the photovoice method (photography-based storytelling). I thought it would be a perfect way to partner with custodians to illuminate their experiences during the pandemic. Using photovoice, I heard stories of fear of COVID-19 infection, uncertainty due to confusing guidelines and vaccine eligibility, lack of respect from people on campus, and physical demands of the work.
Building upon the trust I developed with custodians, I connected with the UW Building Services leadership to share what I learned. For example, after a custodian revealed a photograph of their damp surgical mask from a half day of work, we advocated for the provision of two masks per day.  Our partnership over the last two years has established worker-centered solutions, including linguistically accessible COVID-19 resources, such as supporting custodians' vaccine scheduling and creating an educational video.
 
Full Width Image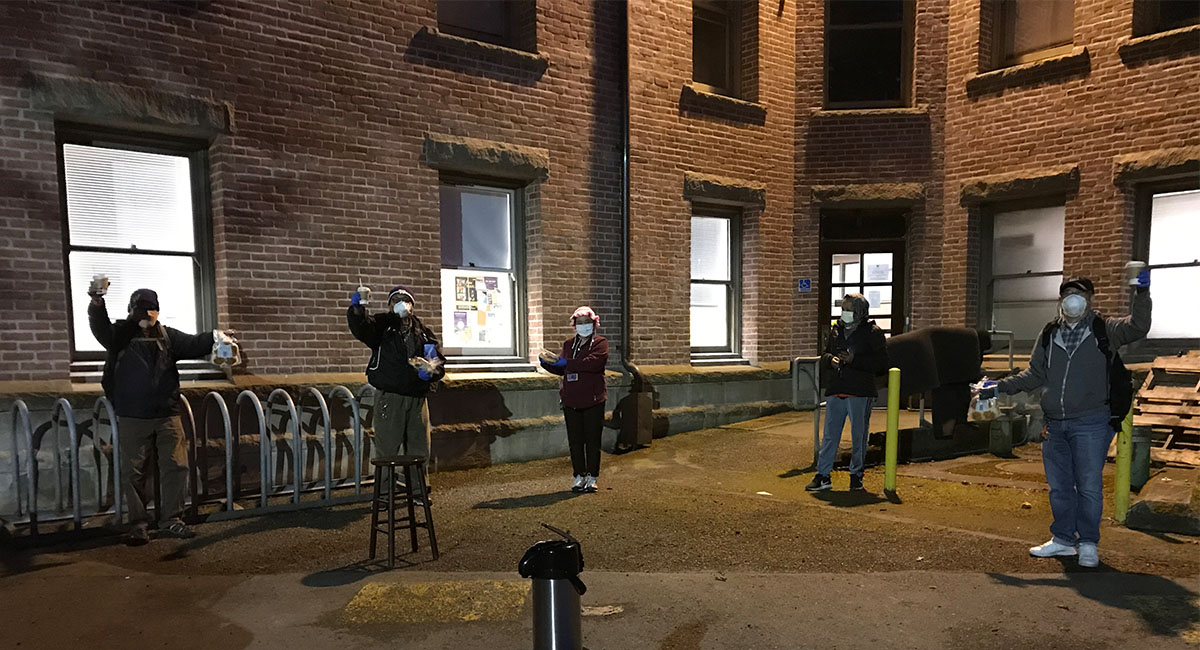 Custodians at the University of Washington begin their day with a 4:30am breakfast delivered by Evalynn and made possible by community fundraising as an appreciation for their commitment to campus health. Photo courtesy of Evalynn Fae Taganna Romano.

Here are some of the great things that The Custodian Project has been able to accomplish, all of which were based on needs identified by custodians:
Ongoing policy change, community organizing and direct service impacts
Supporting others in winning hazard pay and wage increases
Organizing a letter-writing campaign to Governor Inslee to include custodians in early vaccine eligibility
Fundraising over $40,000 to support identified needs, including grocery gift cards, masks and comfortable shoes
Community building
Creating a safe space for custodians to share experiences and ask difficult questions
Connecting with other people who have friends and family who are custodians
Providing consultation for those who would like to replicate aspects of the project for their custodians
Shifting minds and culture
The project continues to evolve based on custodians' needs. Countless people have shared how The Custodian Project has moved them, their friends, and their family to think about the people who clean their spaces and how to show them deeper respect and care. Building personal relationships with custodians has provided a unique insight into the complexities of custodial work. I hope that this project mobilizes individuals and organizations to intentionally create a culture of care and policies centered on custodial workers' voices and essential contributions.
The Custodian Project, is a community-driven, volunteer-led advocacy project.
---