The University of Washington School of Public Health (SPH) is pleased to announce two new leadership appointments of SPH faculty in the Office of the Dean: Dr. Jerry Cangelosi as Associate Dean for Research, and Dr. Elizabeth Kirk as Interim Associate Dean for Education.
 
Dr. Jerry Cangelosi, Ph.D. | Associate Dean for Research  
In his role as Associate Dean for Research, Cangelosi will work with internal and external stakeholders in SPH to foster the research enterprise in our School. His duties include identifying and implementing ways to provide better support for the research activities in SPH, pursuing new and strategic collaborative research opportunities, ensuring compliance with federal and state policies and regulations, and encouraging and supporting the successful funding of research and training grant applications. He serves both as the convener of the School's Research Council and as a liaison to both the UW Research Advisory Board and ASPPH. 
"We're a research powerhouse, and a major contributor to the reputation of the University of Washington as one of the world's leading research institutions," Cangelosi says. "Our faculty, students, postdocs and staff make this possible. I'm looking forward to working with them to identify additional ways to support our research efforts."  
Cangelosi is well positioned to take on this role, with broad experience in conducting interdisciplinary research both in academia, in the biotech industry and in non-profits. He is a professor of environmental and occupational health sciences in the School and an adjunct professor in epidemiology and global health. Cangelosi has been a full-time SPH faculty member since 2012, and his research ­focuses on microbial pathogen detection in clinical and environmental samples, and the epidemiology of infectious diseases. During the COVID-19 pandemic in the U.S., his UW team helped identify non-invasive COVID-19 sampling methods that were implemented worldwide, opening the door to community-based and at-home screening strategies that are now routine. His international research consortium is currently developing and evaluating similar strategies for tuberculosis screening in community and clinical settings.  
"Equally important to his extensive expertise, Jerry brings to this role a great "can do" attitude and passion for supporting researchers across the School, particularly those in the early phases of their careers," says Dean Hilary Godwin. "We share a commitment to making SPH a place where people can have great impact through their work, without having to navigate unnecessary hurdles." 
Cangelosi received his Bachelor of Science degree from Michigan State University in microbiology and public health, and his Ph.D. in microbiology from the University of California, Davis. He replaces Lisa Manhart, who held the role from July 2019 – July 2021 and recently stepped down to focus on her own research projects. Manhart maintained her faculty role full-time in the Department of Epidemiology, continuing her productive and high-impact research on sexually transmitted infections (STI) and human immunodeficiency virus (HIV).
Dr. Elizabeth Kirk, Ph.D., RDN | Interim Associate Dean for Education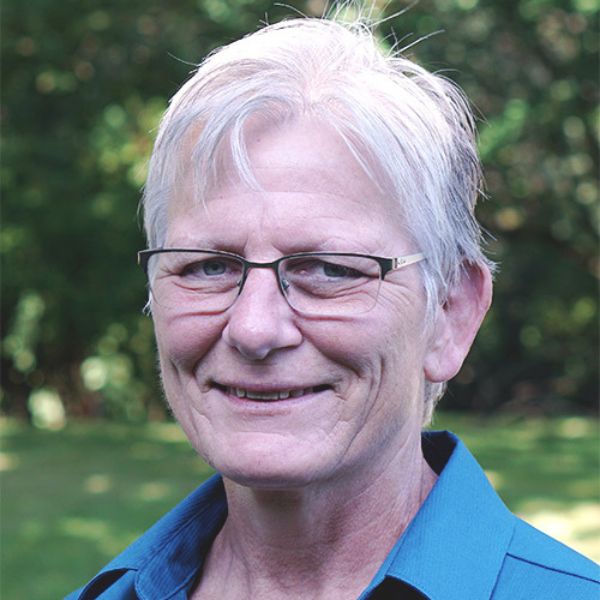 In her role of Interim Associate Dean for Education, Liz Kirk provides vision and oversight for educational activities across the School. Her responsibilities include overseeing curricular issues and academic programs in SPH, developing and implementing professional development training related to pedagogy for new and current faculty, overseeing school-level accreditation, and supporting individual units seeking specialized accreditation. She also serves as the primary liaison for SPH to campus and to ASPPH for matters related to academic programs and curriculum. 
"Our academic programs attract students and faculty with tremendous skill, creativity and vision," says Kirk. "Promoting student growth, progress and success has always been a core value for me. I appreciate that this value is shared across faculty and staff in the School, and I look forward to working together toward our common goals." 
Kirk is a teaching professor in the Department of Epidemiology and in the Nutritional Sciences Program and served as chair of the SPH Curriculum and Educational Policy Committee (CEPC) for AY20-22 and Associate Director of the Nutritional Sciences Program from 2017 to 2022.  
"Liz brings a wealth of leadership and pedagogical experience to the table," states Godwin. "I am deeply appreciative of the work that she did in her role as CEPC chair to develop the new teaching faculty training program in SPH, and for her willingness to step into this role at a pivotal time for the School." 
Kirk replaces Carey Farquhar, who stepped down as Vice Dean for Education to serve as Interim Chair of the Department of Global Health (DGH) while a search is being conducted. She will serve as Interim Associate Dean for Education until the new Chair for DGH is recruited, at which point Farquhar plans to return to her role as Vice Dean for Education in SPH.