Connor Smith (BA, Public Health 2014) made the UW men's basketball team his senior year as a walk-on, a player who is not recruited. "It's all about hard work and goal setting," says Smith. "Life is just too short to not pursue what you want and to do so with total determination."
Smith has always believed this. It was this mindset that sent him on mission trips to Ecuador and the Dominican Republic, and empowered him to serve vulnerable communities in King and Snohomish counties with AmeriCorps. Now, he works in the Neuro Intensive Care Unit at Harborview Medical Center, providing "an extra set of hands" to help "extremely injured and sick people from all over the Northwest," he says.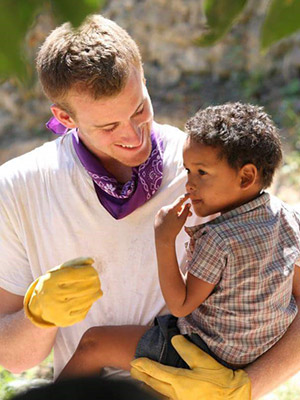 He learned about "the big picture issues of health in America and worldwide" in his public health courses at the UW. He continues to draw on what he learns at Harborview.
"My work has caused me to reflect on the fragility of health and life," says Smith, who will be applying to Physician Assistant schools. He plans to work in underserved areas to bridge the goals of healthcare providers and the needs of patients.
"Vulnerable populations need the most help, yet they tend to have the least access," Smith says. "I get the greatest sense of fulfillment in helping those who need it most. It's a great feeling."
photo: Connor Smith volunteering in the Dominican Republic