Heather Fowler grew up with dogs, reptiles, hedgehogs and a guinea pig named Mr. Guinea. She worked with exotic birds in Hawaii during college and trained to treat small pets in vet school. Later, she studied backyard chickens and dairy cows, and found time to volunteer at a free animal clinic in Seattle.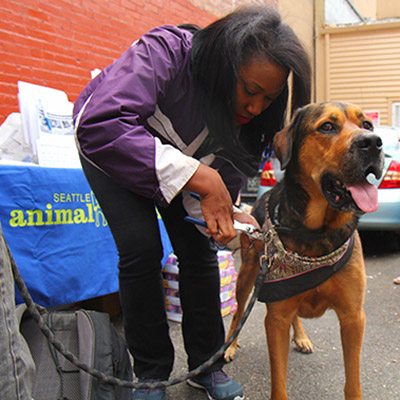 Heather Fowler volunteering at the Doney Clinic.
Now, Fowler, a recent graduate of the University of Washington School of Public Health, is taking on a new role to protect people who produce and purchase the most widely eaten meat in the world: pork.
"My dream job was to be a small animal (cat and dog) veterinary practice owner," Fowler said. "But then I realized I could help animals andhumans by looking at big world, public health issues."
After meeting an officer from the Epidemic Intelligence Service of the Centers for Disease Control and Prevention, Fowler, then a veterinary student, started to think seriously about how public health and animal health converge. She realized many of the same diseases affect both animals and humans, as they share the environment they live in. Veterinarians, she said, were the perfect intermediaries.
"We can help keep people healthy and safe through our understanding of veterinary science and our innate love of animals," said Fowler, who became a doctor of veterinary medicine in 2010. Instead of going into clinical practice, however, she chose to enhance her skills in epidemiology and biostatistics. Later, after completing her MPH, Fowler applied her newly-minted epidemiology skills to issues involving swine flu, salmonella and meningitis as a fellow with the Minnesota Department of Health. The fellowship was through the Council of State and Territorial Epidemiologists.
HIGHLIGHTS
BA, Pennsylvania State University, 2006
VMD, University of Pennsylvania School of Veterinary Medicine, 2010
MPH, Yale School of Public Health, 2011
PhD, UW School of Public Health, 2017
Fowler graduated in June with a PhD from the UW School of Public Health's Department of Environmental and Occupational Health Sciences. She also served as associate director of animal health for the department's Center for One Health Research, led by Peter Rabinowitz, her mentor.
"One Health is a research approach that recognizes the health of people, animals and the environment are inextricably linked," Fowler said. It encourages researchers from across disciplines to work together to address complex issues, including emerging infectious diseases, such as Zika, and antimicrobial resistance.
Recent headlines have warned of poultry farms breeding drug-resistant superbugs and of tick and mosquito populations spreading diseases farther and faster. The center, a collaboration with the School's Department of Global Health, has made it a priority to develop strategic approaches to prevent these global health issues from happening.
For her dissertation, Fowler applied the One Health approach to study the occupational health and safety of animal workers. She worked with veterinary clinics in the Seattle area to understand how and why physical injuries – animal bites and scratches, cuts and needle sticks – occurred on the job.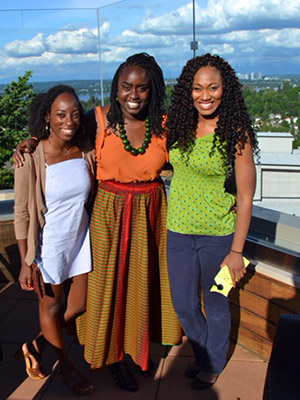 Heather with fellow SPH grads, Dorothy Thomas (left) and Linda Oseso (center).
Fowler found that injuries were often due to animal behavior, which can become aggressive. Risk of injury increased when animals weren't handled, restrained or transported in a safe and effective way. Communication was also an important factor in workplace safety. For example, posting caution signs on kennels or sharing safety concerns with clinic leadership.
As a Bullitt Environmental Fellow, Fowler assessed large-scale dairy practices in Washington state over four years and investigated issues affecting human, animal and environmental health. She interviewed farmers, veterinarians, consumers, environmentalists and other stakeholders to understand their concerns and to get ideas for the future of the dairy industry. Results from her research will hopefully be published soon.
In August, Fowler will turn her attention to swine, as director of public health research at the National Pork Board in Des Moines, Iowa. She'll guide studies on the health and safety of people involved in pork production, while focusing on food safety and diseases that can spread from hogs to humans.
Fowler hopes to become an expert on the U.S. swine production system, which accounts for more than 23 million pounds of pork produced every year, according to the North American Meat Institute. About 20 percent of that is shipped overseas, making the U.S. the world's largest exporter of pork (also the world's third largest producer and consumer). Pork also accounts for more than 36 percent of the world's meat intake, followed by chicken.
"I'm excited to finally put all my degrees to use," said Fowler, who has completed four degrees in 15 years. "I've put so much time and effort into gaining expertise in various areas and I'm happy to have a job where I can put all my skills to work."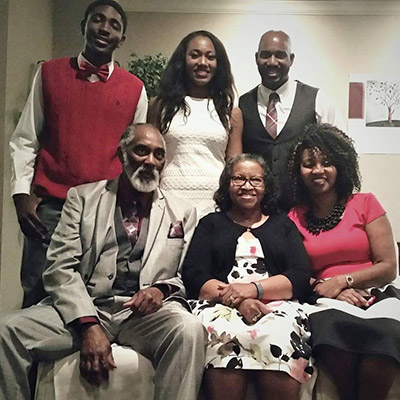 Heather with her family. Back row: Heather's nephew (left) and brother (right); Front row: Heather's father (left), mother (center) and sister (right).
Fowler is also looking forward to traveling for the job – something she wasn't able to do very often as a graduate student. It also doesn't hurt that she loves to eat bacon, she joked.
In her free time, Fowler volunteered at the Doney Memorial Pet Clinic, which offers free veterinary care at the Union Gospel Mission in Seattle. During the school year, she mentored two Native girls, ages 6 and 13, with the United Native American Educational Alliance's Clear Sky Program.
"As an underrepresented minority, both as a vet and as a public health researcher, I know how hard it can be when no one else looks like you," said Fowler, a New Jersey native and first in her family to finish college. "I want to show these girls and others like them that they don't have to look like everyone else. They have options for their future."
(By Ashlie Chandler)
Originally published: 2017